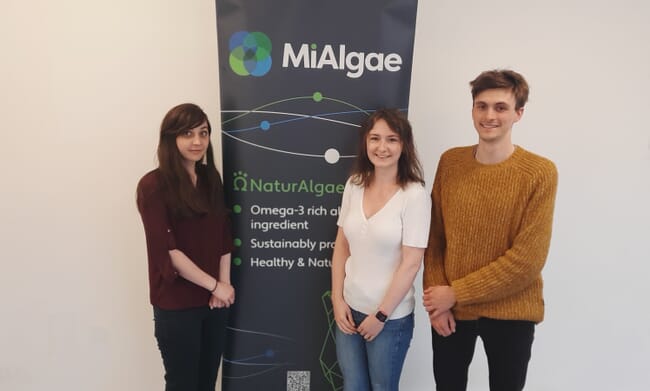 The two Foundation Apprentices joined MiAlgae - a biotech company which grows Omega-3 rich algae using by-products from the whisky industry - at the beginning of September. Through the apprenticeships, MiAlgae aims to offer valuable practical work experience in the company's research lab, and the opportunity to learn more about Scotland's thriving biotechnology sector. Jason Talac and James Blakely, who both attend Musselburgh Grammar, will work within the research and development team as part of their 8-month placement.
Alongside the addition of the apprentices, 3 PhD students also joined the MiAlgae team in July 2023 and have already contributed significantly to the company's research and development programme, which covers process optimisation, technology transfer and future applications of MiAlgae's proprietary platform.

Researcher PhD student, Charlotte Lee, joined the company as a research intern from the University of Stirling, where she is a tutor for Biological and Environmental Sciences. Charlotte contacted MiAlgae directly, interested in sustainable solutions and inspired by the company's work.
"I'm incredibly passionate about marine ecosystems and reducing the pollution that can harm them. It's really exciting to be working with a company that is driving such positive change across the aquaculture industry, protecting wild fish and reducing waste in the process. During my internship, I've gained great insight and experience and I also hope to play a role in MiAlgae's vision in the future," said Lee, in an announcement by MiAlgae.
Ben Baker and Iseabail Farquhar also joined MiAlgae as research PhD interns from the University of Edinburgh School of Biological Sciences, with MiAlgae sponsoring Iseabail's industry-led PhD.
"Scotland is bursting with young talent and at MiAlgae, we recognise the importance of enabling our next generation of biotechnology leaders to gain the real-life experience needed to thrive in their careers. There are many routes into biotech and we're championing apprenticeships alongside more traditional academic routes," said Jo Partridge, operations director at MiAlgae.