Briefly describe your aquaculture career
I've been in the aquaculture industry for four years now. In 2018, I started my journey as an intern with SejFarms Ventures, which was during the penultimate year of my undergraduate studies. Then, in 2020, I started working part-time with Orisha Farms, which is where I now work full-time. I am a fish expert, senior farmer and co-founder of the cage culture production team. At Orisha Farms, we have over 30 workers. We run a cage culture system that has the nursery and grow-out phases. We also have a processing unit. Every year we produce 32 tonnes of tilapia and 36 tonnes of catfish. We sell 90 percent of our products fresh.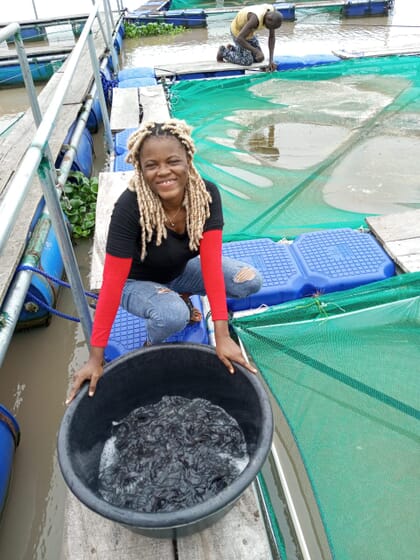 In 2021, I won the Kvaroy Arctic's global women's annual scholarship award. It's rewarding to know that somewhere in the world, a group of people care about women in the aquaculture field and that aquaculture is more than just a way of solving hunger and other socio-economic problems. I felt it was a sign that I am on the right career path.
What drew you to aquaculture in the first place?
I grew up in Lagos State, a coastal community in Nigeria where fishing has traditionally been a key occupation to provide local livelihoods. but overfishing and pollution have become widespread. I realised this is a serious issue and wanted to help make a difference.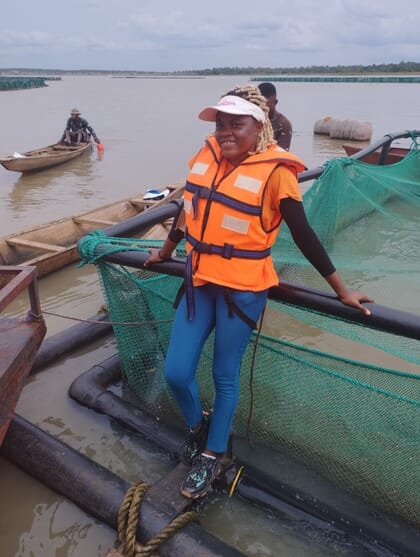 I went on to study fisheries and aquaculture technology at the Federal University of Technology Akure. On finishing my degree, I understood the need to reduce capture fisheries and practice more aquaculture.
Describe a typical day in your current role
My role mainly involves monitoring growth and fish health. I manage the feed intake, create records to track activity and carry out water quality tests. On an average day, I get to the farm at 6.30, check the water quality parameters and supervise feeding by 9.30, followed by a break at noon before another round of feeding and water quality checks. At the end of the day I do record keeping. Other tasks include stocking, harvesting, processing and marketing.
What are the major challenges you face on the farm?
From September until February, reaching the cages can be difficult because of the water hyacinth blooms, as their roots can clog our engines. Meanwhile in the dry season, from March to June, we can have high water salinity in Lagos Lagoon, which prevents us from stocking and could hinder our year-round production cycle.

What are the main differences between farming tilapia and catfish?
Tilapia has a higher market value and demand than catfish – due to the catfish's slimy nature and shape, some cultures believe it brings bad luck if eaten. In contrast, tilapia is seen as a wealthy man's fish because it looks like the expensive croaker fish in Nigeria. Some believe it tastes better and brings good fortune.
Catfish have a high tolerance to changes in water quality and grow faster than tilapia. Both are omnivorous.
Why has cage culture been largely overlooked in Nigeria to date and do you think this will change?
Cage culture has been hampered by the lack of infrastructure near suitable water bodies and because people are not aware of the technology. That's why there is a need for training and empowerment programmes and is one of the reasons why we have a system at Orisha Farms where we can train smallholder farmers and youths. With funding from international agencies like USAID and IFAD, we have already reached out to over 500 farmers and aim to do more. We can create a ripple effect that can bring change into play.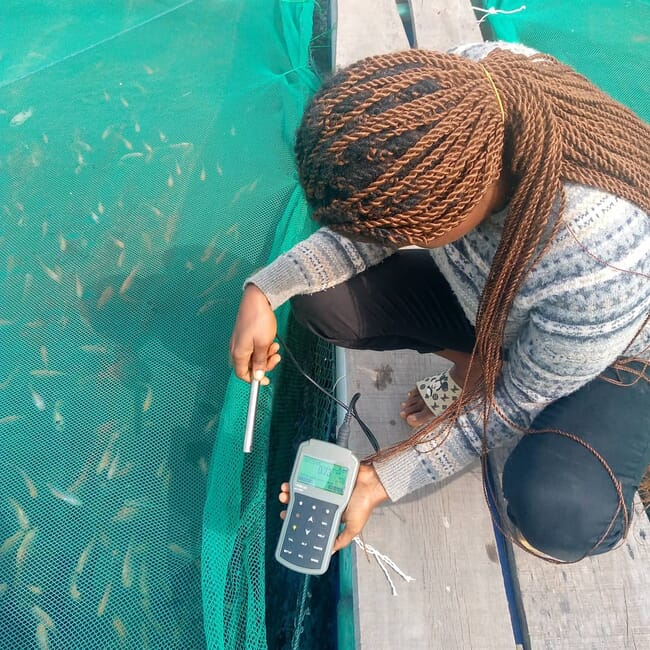 What's your proudest aquacultural achievement to date?
I am most proud of the time when I successfully impacted my local community through the implementation of two different projects: Promoting Cage Aquaculture in West Africa (ProsCAWA) and Advancing Cage Culture Fish Farming in Nigeria (ACCFIN).
ProsCAWA was funded by IFAD and WorldFish and ACCFIN by USAID. Through these initiatives, I connected with over 500 smallholder farmers, including 30 women. I first trained them on cage culture. And now, I have about 20 of them practising the cage culture system under the Lagos State appeal project, which provides youths and women with cages, juvenile fish and feed.
I am happy to share my knowledge of proper cage culture methods to ensure best management practices will have a positive impact on aquaculture production and food security in Nigeria.
What has your experience of working with NGOs been like and how important are these organisations for the development of the sector?
Working with NGOs has been insightful. I am captivated by their emphasis on women and smallholder farmers. They have various projects that can drive positive change by funding training and empowering smallholder farmers, which would help them set up and fund their businesses. If these NGOs continue to provide funding, people like me can reach out to more farmers across Nigeria.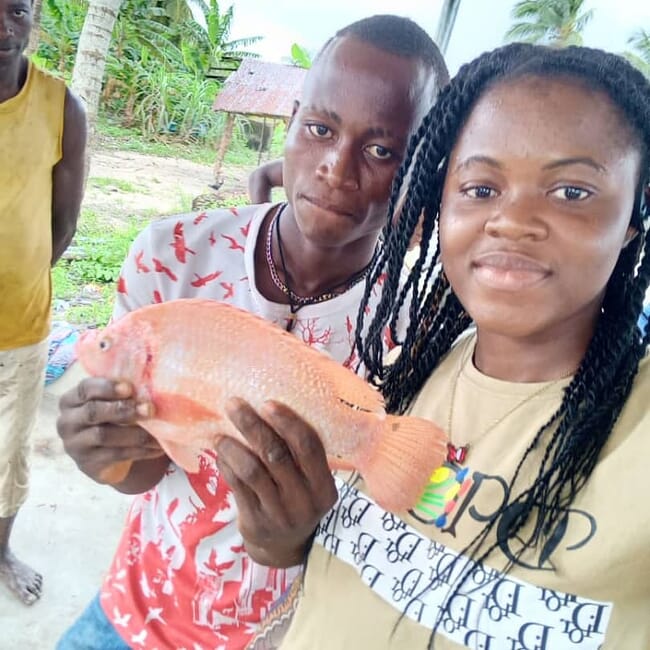 Is there not more scope for aquaculture businesses to thrive independently, without the help of NGOs, given the high demand for fish?
There sure is, but things have gotten difficult since the Covid-19 pandemic. We have a higher cost of feed and an increase in the cost of cage materials. To be profitable there would need to be an increase in the selling price of fish or the introduction of subsidies by the Nigerian government. Investors and cooperative unions could also provide funding for their members.
However, by using best management practices and market strategies, small farms can strive and expand without the help of NGOs, the government or investors.
How do you think aquaculture should evolve in Nigeria to help address the seafood deficit?
Nigeria has a coastline of 853 km, yet very little mariculture production. Our seafood is mainly wild-caught or imported. There is a need to adapt this technology, we need more fish specialists on site, workshops and training to share this technology. I believe aquaculture has significant potential to reduce food insecurity, increase employment and build the economy of Nigeria.

What would you like to be doing in 10 years' time?
I hope to have my own farm that can be used as a training site for all those young women interested in aquaculture. I have a dream of sponsoring women, as the sad reality is a lot of people want to study aquaculture but can't fund themselves.