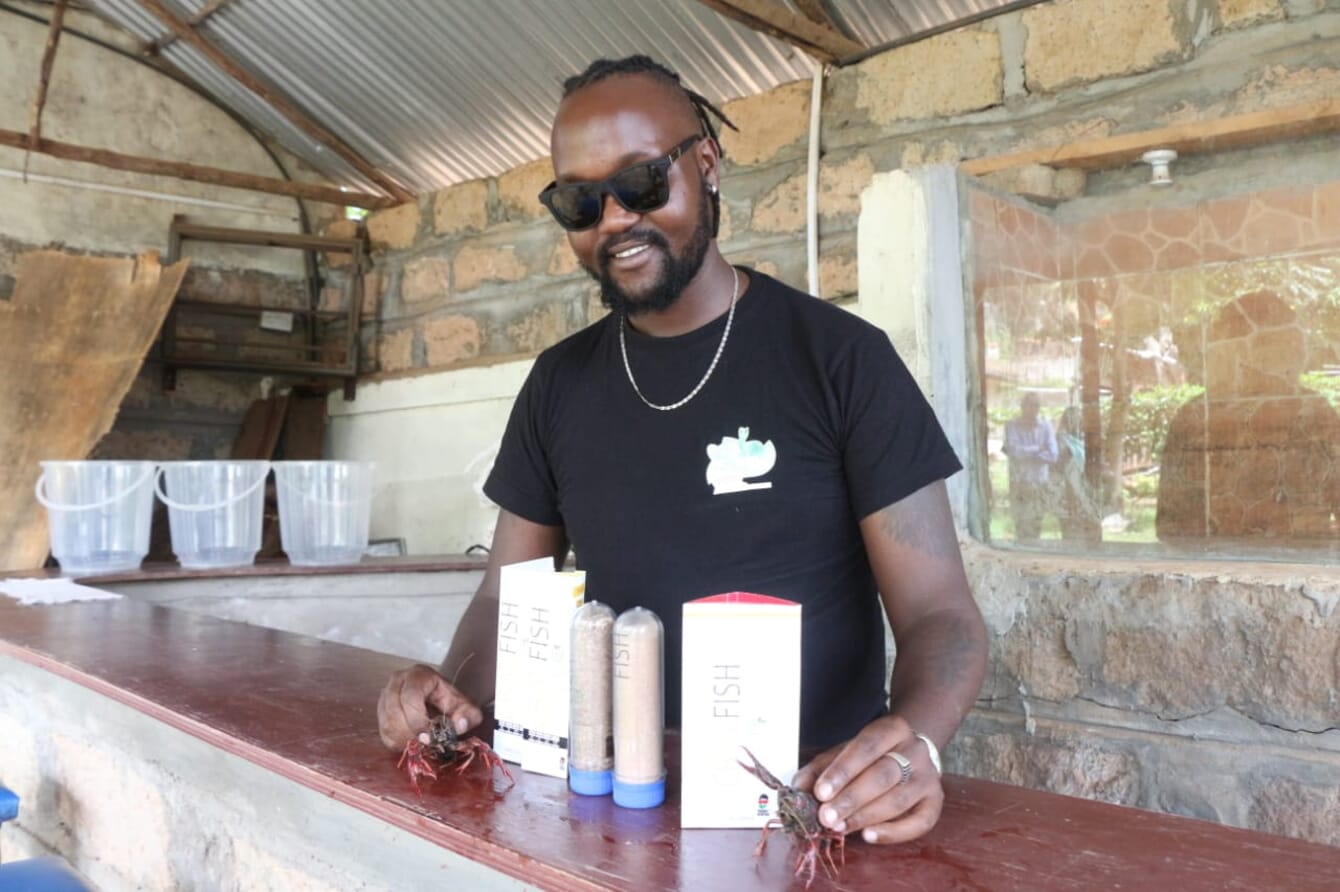 What is your educational background and what sparked your interest in the industry?
I studied computer science and mathematics but have always had an interest in aquaculture and initially did it as a hobby, running an integrated farm stocked with rabbits, chicken, tilapia and catfish. After completing my studies, I was organising events, but when business slowed down, I turned my farming hobby into a business to sustain myself. However, farming tilapia and catfish was expensive due to feed prices, which lowers the profit margins.
Luckily, I came across a big colony of crawfish by chance while fishing with a friend (Mike) in the Kiboko River, a tributary of the Athi. Having eaten crawfish in different countries, we brought them to a pond and started learning online how to profitably farm them.
Why did you decide to grow crawfish rather than other species?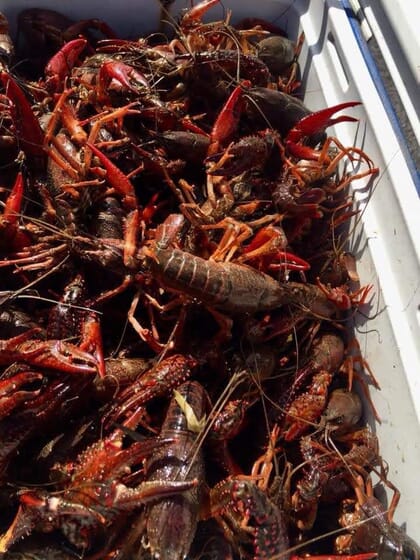 Crawfish are hardy and easy to produce. They are prolific breeders and one female can lay between 600 and 700 eggs, have a high hatching capability and low fry mortality compared to tilapia. Additionally, crawfish fetch better returns because they are considered a premium seafood product.

Are the crawfish native to Kenya?
They are not native to Kenya, however, many people visiting my farm say they have spotted them in Muranga in Central Kenya, and in some rivers in Nairobi in small colonies. From the research we did, we found out that they were brought in by a government project in the late 1960s and early 1970s, and distributed in Lake Naivasha and other rivers in the country. Currently at our farm we have the red swamp crawfish and red claw crawfish, native to Australia, New Zealand and the United States.
How do you tackle biosecurity issues?
Not all crawfish species are invasive. Our intention is to use the crawfish purely for aquaculture purposes in controlled areas. We will not be releasing them to natural water bodies.
Do you ever go back to the river for more crawfish?
Since we got our first stock we have never gone back. We set up our hatchery and have been repopulating dams in a way to ensure continuous supply of growth.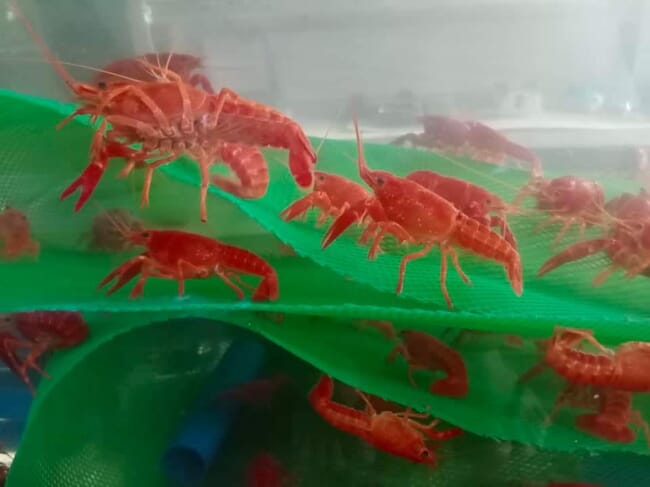 What are the main challenges of raising crawfish from a husbandry perspective?
The biggest challenge was the feeds, especially since we were starting a new value chain in aquaculture from scratch. We knew that crawfish eat decomposed material, but did not know exactly what organic waste they feed on. When going commercial, you need feed that can be mass produced easily, therefore, we developed a specific feeding regimen, which from the initial test is giving us the expected output, although we still need confirmation from the researchers.
We currently supplement the minerals and vitamins lacking in our formulated feeds using catfish pellets. We use 30 percent catfish feed and 70 percent of our own formulated feed, which is made with azolla, algae and black soldier fly larvae. We are now in the process of forging a partnership with a feed miller from France, who will develop a commercial-grade feed that can be fed solely to the crawfish to produce the desired crawfish quality.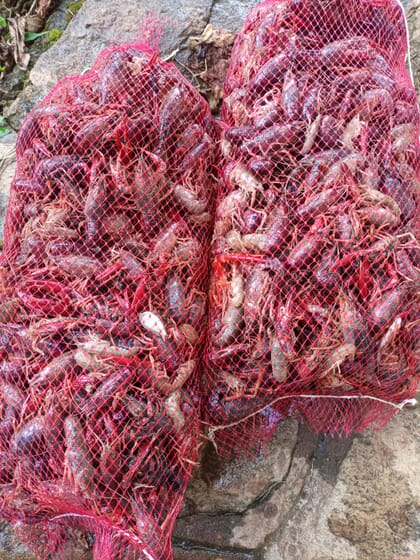 Secondly, we struggled a lot at the beginning, because there was no one doing crawfish farming in Kenya. We didn't know the ideal conditions to ensure continuous spawning, as crawfish only spawn seasonally. We continuously learned from trial and error, as well as learning from other farmers that I knew, who have substantial professional experience in crawfish farming, all the way from Louisiana in the United States, Australia and Singapore. Right now, there is plenty of information and data available online, including research information, and as long as you have an internet connection, you can get a lot of information.
Thirdly, there is still an adoption challenge that needs to be overcome. We are advocating for the adoption of seafood as an alternative to meat and are working to sensitise the local market. Trends are changing and people are looking for healthy alternatives to protein that are not damaging to the environment because they are climate conscious.
What is the size of your farm and how much crawfish do you produce per year?
The main farm is five acres. We have one main reservoir of 2 million litres, two quarter-acre holding ponds, with a capacity of 1 tonne each, and a hatchery. We could produce up to 50 tonnes at our current capacity, but we currently only produce 15 tonnes per 8-month production cycle. The hatchery is an aquaponics system where we also have lettuce, cabbage and kale. In the hatchery we ensure we get quality larvae for one month, after which we move them to the two ponds for two months, before taking them to the reservoir after three months until harvest.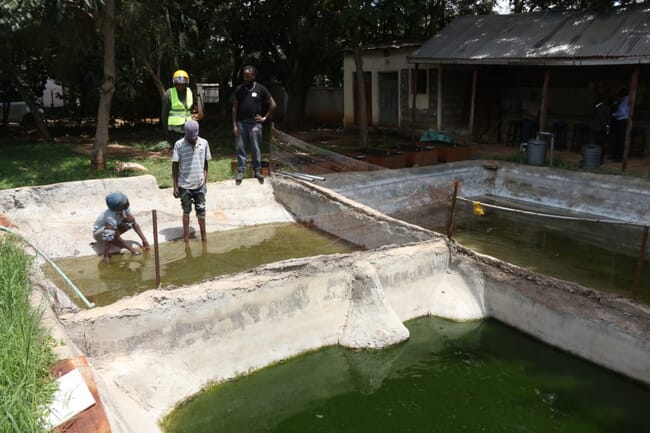 When market-ready, we harvest the crawfish from the reservoir and ponds and bring them to our centre in Machakos, where we have our hatchery. We then purge them by putting in clean water and a little salt, to self-clean so they aren't muddy when taken to the market. We are also working with farmers through a franchise model whereby we provide them with larvae.

How does your franchise model work?
The major requirements for joining are:
You receive training from us
We design the production unit according to the standards we have, in order to get the quality that we need.
We currently have 20 farmers on board, with an average production capacity of between 500 kg and to 1 tonne per cycle. An additional 15 farmers are currently undergoing training and are in the process of setting up their own production. We train the farmers on the basic production of crawfish from pond to fork, and advise them on how to set up their production units. They buy crawfish from us and we offer a buy-back agreement for mature crawfish. This is the only way we realised we can create adoption and have many people know about crawfish. If we need to tap into the export market, we need big numbers and to work with many farmers to increase our production output.

Who are the main customers for the finished products?
We do value addition we harvest the smallest 30 percent of our crawfish at four months old to make crawfish powder which we sell to the West African markets including Nigeria, Cameroon and Ghana. They are big on soups in their food culture and use crawfish powder as a seasoning for their soups. The Chinese market, on the other hand, prefers when the crawfish are bigger, that is, from six to eight months. We currently supply Chinese restaurants in Nairobi with 50 kilograms of crawfish every day or two. And also supply the Nigerian restaurants in Nairobi. We are awaiting certification that will enable us to mass export our products to Nigeria and Cameroon where we have already sent samples and received good feedback.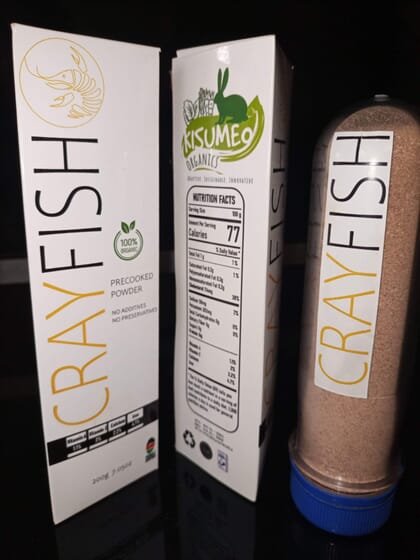 Additionally, we have other diverse consumers who order from our social media pages, where we have set up an e-commerce section. Since many people don't know how to cook crawfish, we have partnered with a chef who prepares the meals and we make deliveries for ready-made crawfish. We sell fresh crawfish at KES 1500 ($12.2) per kg and for ready-made we add an extra charge of KES 300 for preparation, and sell at KES 1800 ($14.6) per kg. The options include crawfish boil (that comes with a soup corn, potatoes and sausages), or sautéed in garlic and butter. One can make orders through WhatsApp, where we have also partnered with SENDY, which has our catalogue of products and delivers once your order is ready.

What has been the feedback from your customers?
The Chinese market wanted a meatier crawfish and, with regards to that, we are bringing in research partners to enable us advance the species to have a higher meat to shell ratio.
Could you tell me what you do with the shells?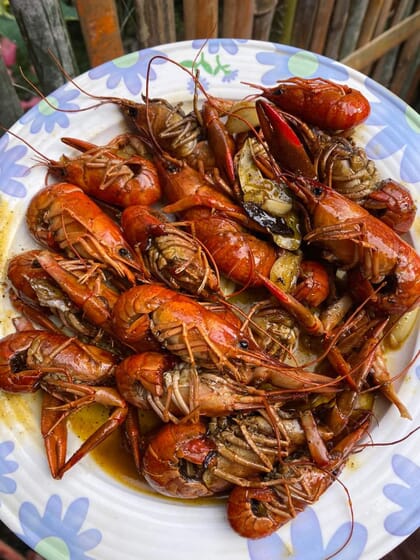 The shells are usually not consumed so we repurpose them by grinding and utilising them as a protein source for chicken, pigs and dog food. We are currently making this in-house, on request, but as we continue to scale our production, we will have more waste which we can repurpose, as it is also a source of different minerals, including calcium and magnesium.
Have you partnered with any research institutions?
We have signed a partnership agreement with Tokyo University of Agriculture, who have a liaison university in Kenya – Jomo Kenyatta University of Science and Technology (JKUAT). We are starting our official research on developing the whole value chain from production, nutritional benefits to the consumer and how we can develop an advanced breeding programme, with the aim of increasing the meat yield by 20 to 40 percent.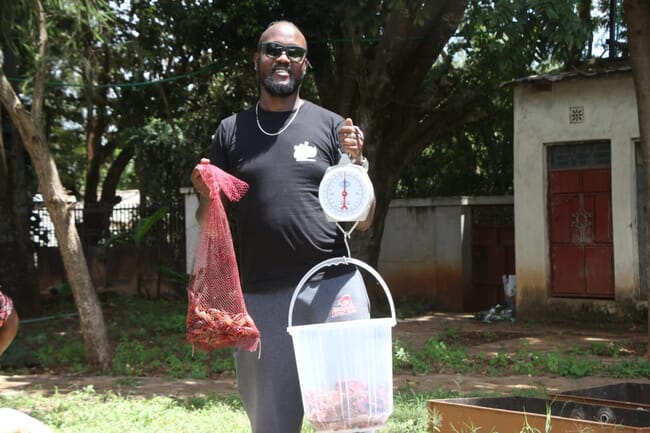 How have you financed the project and how do you intend to scale?
I started with my own savings, then got investors on board. Some venture capital firms funded me when we were testing our production and I have also received a $100,000 grant at the African Youth Adapt Challenge, an annual competition and awards programme for youth-led enterprises jointly organised by the Global Centre on Adaptation (GCA), the African Development Bank (AfDB) and Climate Investment Funds (CIF) as part of the Africa Adaptation Acceleration Program Youth-ADAPT Flagship Program. We were awarded that grant at the COP27 in Egypt and will use it to kick-start the automated hatchery, as we continue fundraising for the remaining parts.
Automation is our main goal, as we aim to automate the process from production to hatchery and orders, with an e-commerce website where we don't only depend on our social media pages. We are currently fundraising and are seeking equity financing of $2 million to support us in setting up a commercial-scale automated hatchery, so that we can reach more farmers. Our target is to work with 2,000 farmers in the next two years and 5,000 farmers in the next five years.
How would you like to grow the business in the coming years?
We have customers who always ask if we provide other kinds of seafood like shrimp, and from that inquiry, we are working on setting up a spiny lobster farm in Kilifi, Kenya to tap into the mariculture economy. We are currently on the pilot stages and will be depending on the wild catches. We have also partnered with a hatchery in the UK, which is working with the Institute of Development Studies to try to determine if we can bring those tested species to Kenya. There is one other person doing lobster farming in Kenya, but we have not yet interacted.