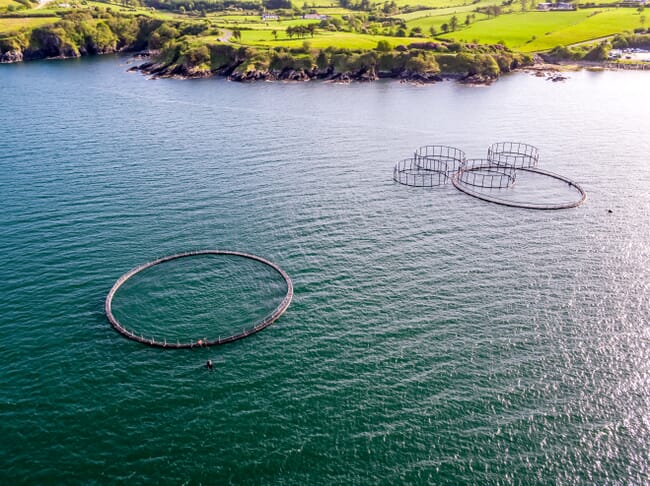 In its annual Business of Seafood Report, Bord Iascaigh Mhara (BIM) announced that the Irish seafood economy grew by 15 percent in 2021, to €1.26 billion.
Despite the dual challenges of Brexit and Covid-19, the industry recovered from the trading difficulties experienced in 2020, with a growth in GDP of 15.3 percent year-on-year – the highest value seen since 2016. This growth was driven by strong exports to the EU and Asia increasing the total value by 11 percent – to €674 million.
Foodservice purchases of seafood in Ireland increased by 12 percent in 2021, following from a decline of 53 percent in 2020. Domestic consumption grew by 3 percent to €418 million, while the seafood balance of trade (exports – imports) also grew by 45 percent, driven by the strong export growth, particularly in EU markets. Overall investment in the sector increased during 2021 to €454 million (+8 percent), showing renewed confidence.

BIM chief executive Jim O'Toole said that the sector had proven to be highly resilient and innovative.
"The key insights from this report are the sector's success in both identifying and driving opportunities in different markets along with an increase in value for some categories.
While Brexit, and the additional impacts of the Trade and Cooperation Agreement [agreed between the EU and the UK] reduced quotas for key species, Government support along with private investment helped mitigate some of these impacts.
The industry continues to adapt, for example in the seafood-tech sector there are now over fifty companies employing more than 700 people from disciplines including engineering, fintech and marketing and we have seen turnover more than double in the past few years.
Although we have seen significant growth last year there are further challenges now being encountered with cost increases for fuel, energy, and materials as a result of the conflict in Ukraine. Support to the industry to help withstand this economic shock will undoubtedly be required."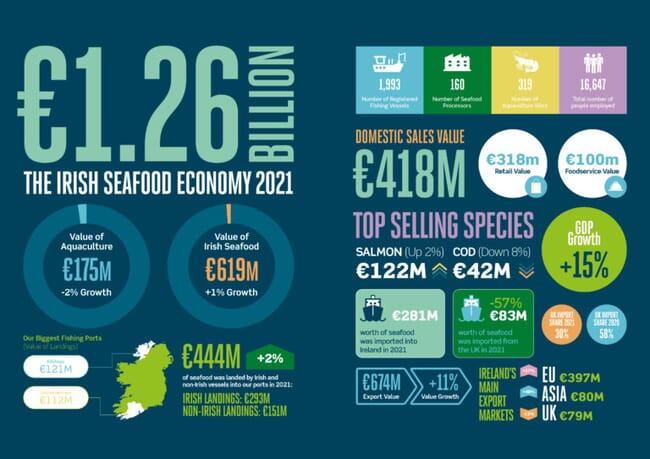 Domestic hospitality sector
Seafood consumption grew by 3 percent in 2021, driven by a partial recovery in the domestic hospitality sector. For much of 2021 the hospitality sector was severely hampered in its operations due to Covid-19 health restrictions, but it did grow by 12 percent as these eased into the summer. Normal operating conditions should see strong growth and recovery in 2022.
Supply and demand on the international markets
While the volume of produced Irish organic salmon remained stable in 2021, the value decreased by 14 percent. This was due to increased international supply of organic salmon by competitor countries such as Norway and Scotland.
The reopening of the foodservice sectors internationally led to strong price growth in shellfish species such as crab, lobster, shrimp and razor clams – with prices increasing over 20 percent.

Investment in the sector
In 2021, Government investment in the seafood sector continued to grow, amounting to €232 million, an increase of 11 percent. Support from the European Maritime and Fisheries Fund (EMFF) along with national investment programmes contributed to a wide range of projects across all parts of the industry.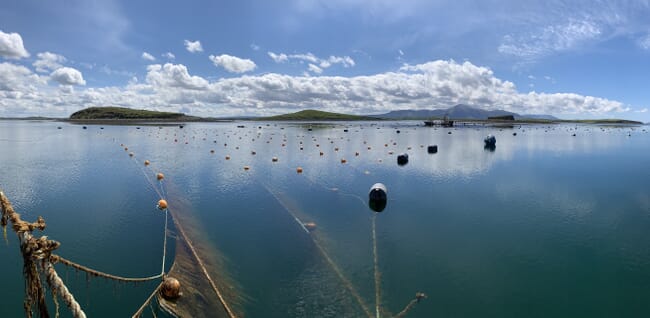 Private investment, after falling quite significantly in 2020, increased by €23 million (+5 percent), totalling €221 million, reflecting the ambition of the sector as it emerged from many challenges.
Employment in the seafood sector
Employment in the sector also remained stable in 2021 despite the hurdles encountered. A total of some 16,650 people were employed directly and indirectly, an increase in overall employment of 1 percent. This comprised 8,700 employed directly in fisheries, aquaculture and processing, with a further 8,000 in downstream employment in ancillary and support sectors.


Rising Costs – the new challenge
The price of marine diesel has increased by almost 150 percent since the start of the Ukrainian crisis, while the price of materials and equipment has also increased steeply. Coming so soon after the economic shocks of Covid-19 and Brexit, the resilience of the sector is going to be tested to the full during 2022 and beyond.
It will require a collective effort from the industry, backed with financial and technical support, to withstand this new challenge and remain profitable.
Click here to read the full report from Ireland's Seafood Development Agency.