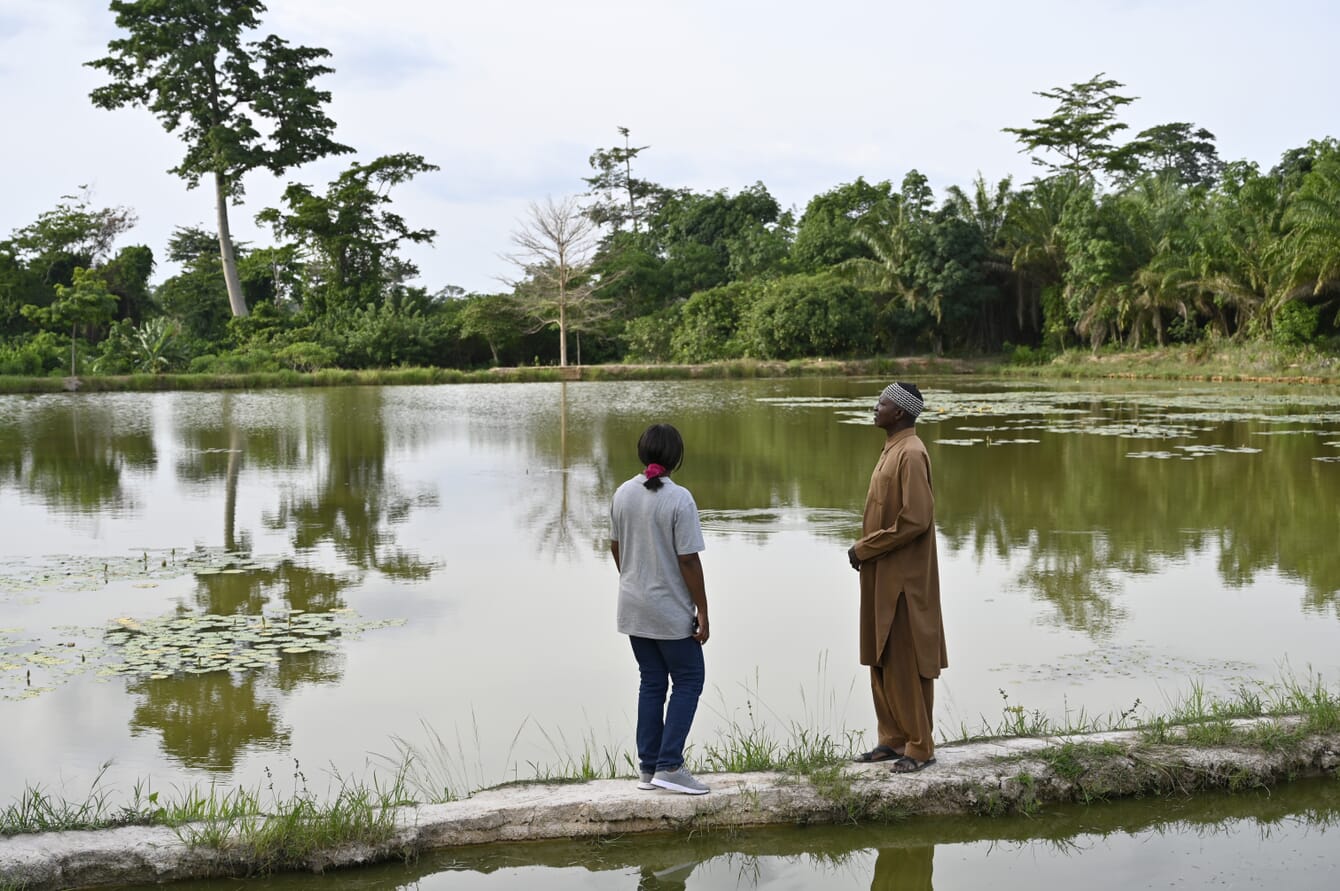 Can you tell me a bit about the Fish4ACP initiative?
FISH4ACP is an initiative of the Organisation of African, Caribbean and Pacific States (OACPS) aimed at making fisheries and aquaculture value chains more sustainable. It contributes to food and nutrition security, economic prosperity and job creation by ensuring the economic, social and environmental sustainability of fisheries and aquaculture in Africa, the Caribbean and the Pacific. FISH4ACP is implemented by FAO with funding from the European Union (EU) and the German Federal Ministry for Economic Cooperation and Development (BMZ).
What's your role within it?
I am National Professional Officer of FISH4ACP in Côte d'Ivoire, coordinating project activities at the national level.

Why did you decide to investigate Côte d'Ivoire's tilapia value chain?
The value chain of Nile tilapia in Côte d'Ivoire is one of the 12 value chains to have been selected competitively among over 70 proposals to benefit from the support of the FISH4ACP programme. Tilapia is the main fish species farmed in Côte d'Ivoire with an estimated annual production of some 7,700 tonnes. Other points in favour of selecting this aquaculture value chain were its strong local demand and potential to displace imports, as well as a relatively established industry, which was once a leader in the West African fish farming sector.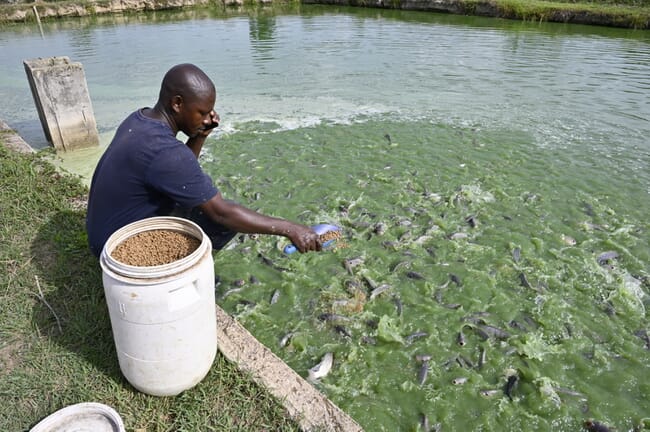 What were the main findings relating to:
Production levels and systems?
The supply of farmed products ranges from 6,000 - 8,300 tonnes/year. The production systems are dominated by extensive and semi-intensive models, with 1,800 farms producing on average less than one tonne (extensive farms) and up to 15 tonnes (semi-intensive farms). Extensive and semi-intensive farmers often perform polyculture in earthen ponds and artificial dams. They use artisanal feeds (eg agricultural co-products) and industrial feeds. New operators are running semi-intensive tilapia cage farms and a few are using intensive models, such as recirculation aquaculture systems (RAS) and biofloc systems.
The market for domestically produced tilapia?
The domestic market demand is estimated at over 45,000 tonnes/year, and the bulk of tilapia consumed is imported (39,500 tonnes/year). Consequently, there is a large deficit in Côte d'Ivoire's trade balance for this product. Locally produced tilapia is often preferred by Ivorian consumers, but is more expensive than imported tilapia. The domestically produced tilapia market has significant growth potential.
The availability of inputs – such as seed and feed – for farmers?
Two of the main constraints to the development of the tilapia sector are the availability of quality fingerlings and affordable quality feed.
A structured seed supply has been supported by previous projects with a genetic programme hosted by the national centre for aquaculture research (CNRA) but the supply still does not meet the domestic demand. The capacity of the public facilities (in terms of infrastructure, equipment and staff) to ensure the supply of quality broodstock and fingerlings to private hatcheries and farms needs to be improved.

Industrial feed is mainly imported, while local feed it mainly artisanal. Nutritional and physical characteristics of locally produced feed differ greatly from imported feed, which can negatively impact production. On the other hand, the average price of farm-produced aquaculture feed is from 400 to 500 FCFA/kg, which is about 45 to 50 percent lower than the price of imported feed, which is heavily taxed.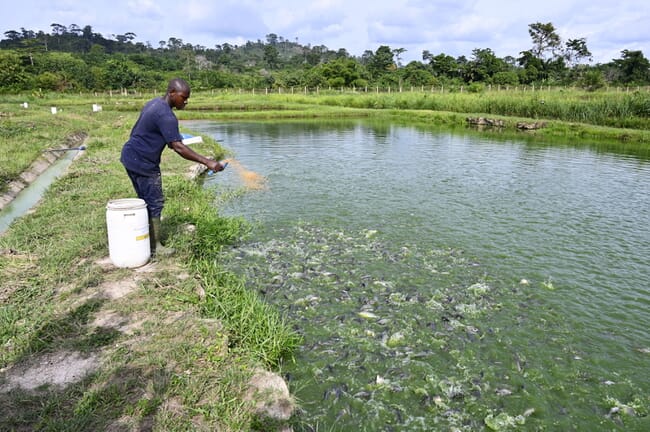 Which of the results were you most surprised about and why?
The national preference for locally produced tilapia was present in all regions where field interviews were conducted. Another positive investigation result was the high interest in sector development in the field and the high interest in both by private and public sector. It was encouraging to see many entrepreneurs – often young – with a strong willingness to upgrade the value chain.
How large do you think the country's tilapia sector can grow?
The actual national demand in tilapia is 45,000 tonnes. This estimate provides an initial growth target for the domestic sector. The objective of the players in the sector is to increase production to gradually meet 100 percent of national demand. The country's main fish farming areas are currently the Western, Eastern and Southern regions. They will most likely be the epicentre of production growth. The increase in the number of semi-intensive farms (average production between 5-6 tonnes per year) using pond and cage systems will be one of the driving force behind this growth.
What are the main challenges it needs to overcome to achieve this level of output?
The main challenge is to reach a commercial magnitude that meets domestic tilapia demand. Once Côte d'Ivoire achieves this level of production, it can maintain an economical and sustainable input and services segment.
Another important challenge is the competition from imported goods. There is a need to lower the price of domestic tilapia to compete with imported products (this links to the cost of the feed and seed inputs) or at least to differentiate the products from imported ones.
What would your advice be to anyone looking to start farming - or investing in - the tilapia sector in Côte d'Ivoire?
The main advice will be on using good quality seed and feed, as well as proper production management to consider their tilapia farming as a business. We would also advise them to secure financing in line with their project before launching it (either through their own funds or banks, and to have contacted the local fish farmers' cooperative).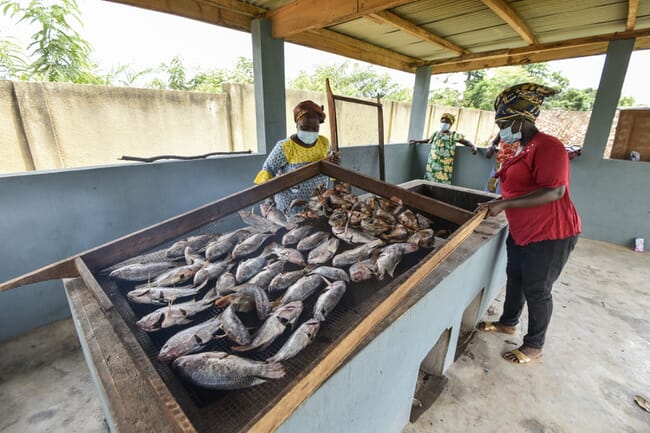 What systems/equipment/inputs etc do you think are the most suitable for the local conditions?
Tilapia farming can be done in ponds, dams and cages systems. All these systems are available and suitable in the Côte d'Ivoire context. Systems should remain simple, mainly in terms of the equipment used, but effective. Management and good-quality inputs will support better results.
Do you think the country has potential to farm other aquatic species?
Côte d'Ivoire has an important area of brackish waters and possibilities to farmed polyhaline species.
Other freshwater species can also be considered. As already mentioned above, most extensive fish farmers raise different species on their farm (eg tilapia, catfish, heterotis and "mâchoiron").
Why has the country been so slow to develop its aquaculture sector?
The aquaculture sector worldwide is facing similar challenges like the availability of competitive prices for inputs, access to finance for the small-scale fish farmers, and the globalisation of the fish market (ie competition to domestic production from cheap imported fish). Côte d'Ivoire is facing the same challenges that are slowing down the development of its aquaculture sector.
Are there any individuals or organisations who you'd like to give a special mention for their role in the development (current and future) of the tilapia sector?
MIRAH and Aquaculture Direction (our technical partners).
CNRA (National centre for aquaculture research) and state feed suppliers.
Fish farmers' cooperatives.
Financial sector (needs to get familiar with the tilapia value chain, and steadily start to provide loans to local actors).
And, of course, the EU, BMZ and OACPS - without whom none of this would be possible.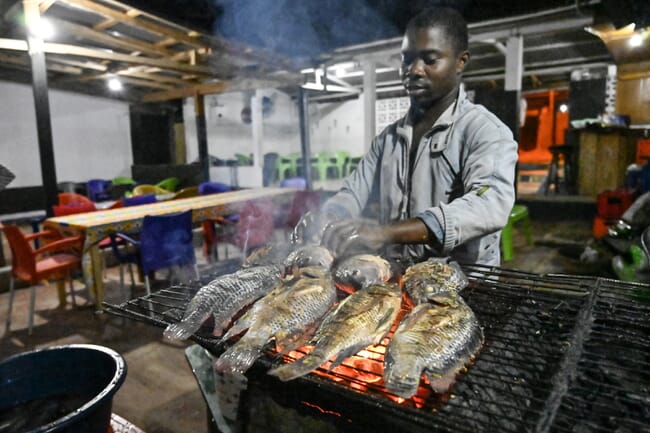 How do you plan to follow up on the findings of the report?
The findings of the farmed tilapia value chain analysis report are the building blocks of the upgrading strategy to improve the tilapia sector in CIV that FISH4ACP has launched last year. The project has initiated several activities aimed at improving the professionalisation of value chain operators, the availability of quality and affordable fish feed and seed, value chain monitoring (environmental, social, biosecurity) and value addition. FISH4ACP is working with all partners of the value chain to implementation and follow up of project activities.
Three key activities are currently underway:
A comprehensive study on the structuring and functioning of fish farming cooperatives;
Support for genetic selection at the National Agricultural Research Centre (CNRA);
The selection of pilot farms in each region of the country to introduce appropriate business models and serve as a model at the local level.