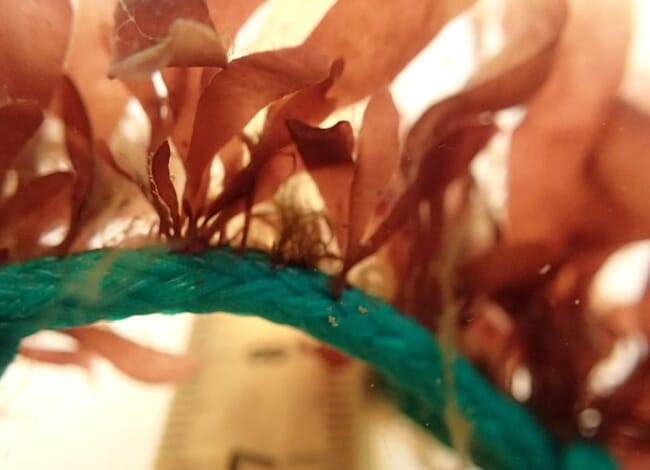 Anholt Offshore Wind Farm – a wind farm developed and operated by Ørsted – is the location of the EU-funded project Ultfarms, which aims to optimise the production of foods under harsh offshore conditions and establish a profitable, sustainable and ecological production chain at offshore wind farms located in the North and Baltic Sea.
Ingrid Reumert, senior vice president and head of global stakeholder relations at Ørsted, stated in a press release: "To solve the climate crisis, we need to look at how we source our energy, but also at what we eat, as many foods emit large amounts of carbon dioxide during their production."
She continued: "We'll be constructing a lot of offshore wind farms over the next several years. If we can use the same areas at sea which are already being used to generate renewable energy to produce new, climate-friendly foods such as seaweed and mussels while simultaneously protecting the marine environment, we can really make a difference."
Seaweed and mussels as climate-friendly foods
The decision to incorporate seaweed and mussels into wind farm locations comes from their ability to sequester carbon dioxide and nutrients, as well as create new habitats for other marine species.
Researchers from the Technical University of Denmark (DTU) are already putting out lines of up to 100 metres in the water around the 111 wind turbines that make up Anholt Offshore Wind Farm. They also plan to start the cultivation of blue mussels, come spring of 2024, by supplementing the seaweed with material that mussel larvae in the seawater can settle on. Producing both seaweed and blue mussels requires very little energy, therefore they are particularly suitable as foods of the future.
Also in spring 2024, DTU will begin harvesting the seaweed at Anholt to determine whether ecological and economically sustainable cultivation of seaweed is possible in the water around the offshore wind turbines.
Jens Kjerulf Petersen, professor at DTU, said: "Seaweed is a plant that absorbs carbon dioxide directly, while cultivating mussels requires very little energy – they feed on what's already in the sea, which is why they've been selected for this project. The area around Anholt has been chosen because the water has the right salinity for cultivating mussels and seaweed."
The hope of wind farm investors
The hope of the three owning partners of Anholt, Ørsted, PensionDanmark, and PKA, is that the results of this project will show that it is possible to integrate the marine environment into the design of renewable energy projects early on, thereby enabling faster administrative processes and consenting times for a sustainable build-out of offshore wind.
"Offshore wind is a key to a green Europe independent of Russian gas, and we need to build at a scale never seen before," stated Jan Kæraa Rasmussen, head of ESG & sustainability at PensionDanmark. "At the same time, the marine environment in Denmark is under pressure, and it therefore makes sense for us as responsible investors to engage in projects that investigate how we can ensure a build-out of renewable energy that isn't only climate-friendly but also nature-friendly."
Dewi Dylander, vice president and head of ESG in PKA, added: "Denmark is an international leader in offshore wind, and now we can also be the first to take the next steps and show that offshore wind can deliver not only renewable electricity but also climate-friendly foods and a more flourishing marine environment."