Seafood is one of the most important food sources for the world's 7 billion people – for as many as 3 billion people, it is their primary source of protein. That significant demand is projected to rise as the population adds upward of 2 billion appetites in the next 30 years.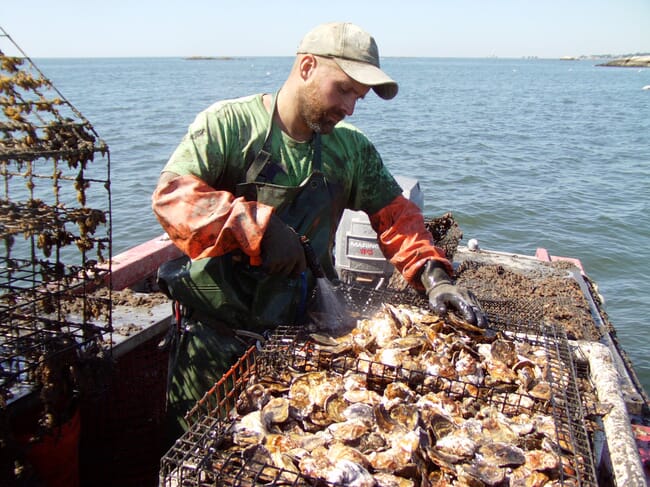 While farming seafood remains one of the most efficient ways of producing animal protein, some forms of aquaculture production have a mixed environmental track record. Poor practices have been linked to water pollution, habitat destruction and a range of impacts on wild fish populations.
Today the industry is at an inflection point. If we can shift production towards the most sustainable forms of aquaculture production, we can not only foster healthier marine ecosystems, but also a stronger global food system. The key will be how we direct future investments in the industry. The growth of aquaculture presents an opportunity that is both environmental and financial in nature. Current forecasts suggest producers will need between $150 billion and $300 billion in capital expenditures in the next 10 years to build out the infrastructure required to accommodate consumer demand.

That means impact investors can steer the future of the industry by directing investments towards the most sustainable forms of aquaculture. Driving additional investment towards these low-impact production methods can help ensure that they achieve commercial scale and become more competitive relative to conventional production systems. Such targeted investments should help catalyse a "race to the top" in the sector and could ultimately tip the balance in favour of more sustainable aquaculture production more broadly.
Capitalising on this opportunity requires two distinct skill sets: the ability to evaluate the environmental impact of different aquaculture production systems and the means to assess key financial considerations, as well as the risks associated with each.
For this reason, The Nature Conservancy (TNC) and Encourage Capital have partnered to create a guide to impact investing in sustainable aquaculture, launched earlier this week. This represents the first attempt to comprehensively assess this space through a financial and environmental lens and provide this information in an open-sourced format. We believe that the industry can help to meet the nutritional needs of a growing global population, while also generating environmental and social benefits and providing attractive investment opportunities with compelling financial returns.
Our guide focuses primarily on the production stage of the supply chain – as opposed to innovative feeds, monitoring systems, or consumer-facing products (all of which are important for sustainability and will be the subject of future analyses). Production systems are the base of the pyramid and core to addressing aquaculture's sustainability challenge, so we determined that this would be an ideal starting point for catalysing the "blue revolution" we envision.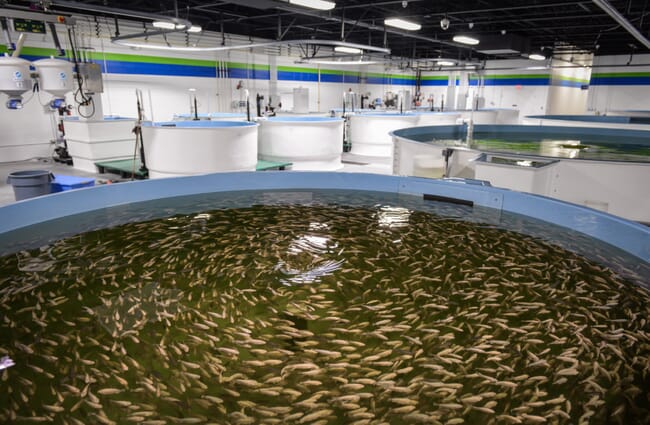 Production systems also represent a unique investment opportunity because of the long-term demand for seafood products and the value inherent in owning a real asset. And while investing in production does carry risks, experience with other emerging technologies – such as wind, solar and battery storage – has taught us lessons about the optimal way to structure capital for these projects. With all this in mind, we have identified three attractive opportunities for impact investment: seaweed and bivalve systems, on-land finfish recirculating aquaculture systems (RAS) and offshore finfish systems.

Seaweed and bivalves – oysters, clams and scallops ­– are an easy sell. Not only do they require few inputs, but each has been shown to have restorative effects on degraded habitats by improving water quality, providing habitat for other species and reducing excess nutrients from their immediate environment. The ecological incentives, combined with a growing interest in both species groups for food and non-food uses, create an opportunity to expand production of these products in terms of both scale and the geographic scope of production.
RAS, an on-land farming method, can drive environmentally friendly production by physically separating operations from the marine environment and treating wastewater. In addition, while offshore finfish systems are relatively new, they could avoid many of the impacts that plague near-shore farming by moving activities away from critical habitats and into deep waters with strong currents. With 90 percent of global wild fish stocks overfished or fully fished, there is hope that these novel forms of fish farming, when practised well, could create an alternative supply to overfished wild stocks and less environmentally responsible conventional aquaculture systems.
While not the focus of our report, we recognise that traditional productions systems, such as coastal net pen aquaculture and shrimp ponds, can also be responsibly managed and represent investment opportunities. Certification standards and ranking systems – such as Global Aquaculture Alliance Best Aquaculture Practices, the Aquaculture Stewardship Council and the Monterey Bay Aquarium Seafood Watch programme – provide important benchmarks for improving the sustainability and traceability of traditional production systems. However, demand for sustainable seafood is growing much faster than the conventional market, demonstrating that there is significant room for market growth for novel, lower-impact production methods.
For investors with a longer-term outlook, offshore, RAS and bivalve and seaweed farming methods present compelling opportunities to invest in the sector while helping to shape a more sustainable emerging food system. All of this adds up to a rare opportunity for impact investing into industry in the truest sense: a chance to generate compelling financial returns while tackling one of the signature challenges of our era – feeding a growing population without degrading the environment.