Can tilapia farmers learn from Europe's tank-by-pond pioneers?
Pond-based tilapia farmers could benefit from adopting a novel method for intensifying the production of carp and other species that has recently been successful in Eastern Europe.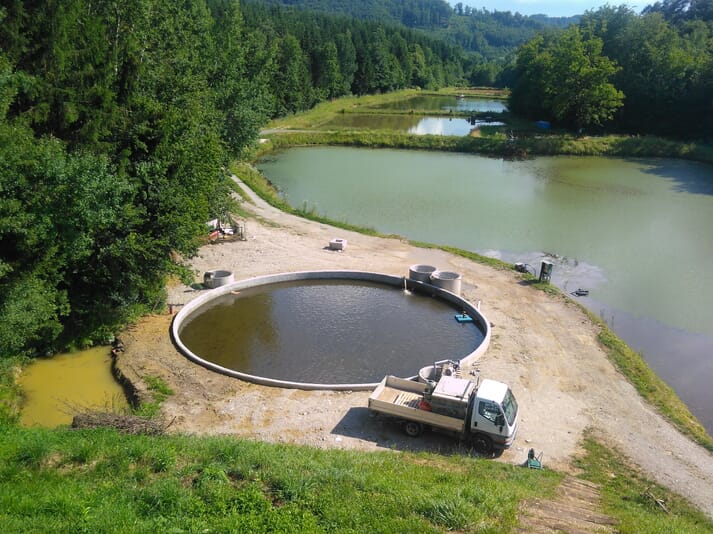 So argues Dr Danijel Gospic, director of G2O, which operates two farms and has helped to develop dozens of others in Slovenia and the surrounding countries – covering a diverse range of species including carp, pike, pike-perch, trout, Danube salmon, catfish and sturgeon.
Their own farms are a tank-by-pond system in an intensive carp farm, and an RAS for brown trout. They are also in the process of building an RAS for African catfish production which is due to become operational this year.

Speaking at a recent tilapia webinar organised by the Association of International Seafood Professionals, Dr Gospic outlined the benefits and key production protocols for using a "super-intensive tank-by-pond system".
This system enabled G2O to produce over 10 kg of carp per m3 per year (200 tonnes per hectare), compared to 0.5 to 1 tonne per hectare in traditional extensive carp ponds – many of which are now abandoned, according to Gospic, due to the high cost of updating the necessary infrastructure after years of neglect and underinvestment.

"Many farms use traditional, or semi-traditional technology, which is not very innovative and we want to include in these farms a step-by-step-system of innovative farming and one of this is the tank-by-pond-system," he explained.
To illustrate the tank-by-pond method Dr Gospic highlighted a 1 ha trout farm that included a number of 50 m diameter concrete tanks at its edge, which receive a low volume of water from the main pond and – with added aeration – are used to produce carp at densities of between 10 to 20 kg per m3.
"With a liquid oxygen supply we can grow up to 50 kg of carp per m3 ," he explained.
"We all know that future production of any species will not be based in the ponds. Because pond aquaculture, including tilapia aquaculture, requires excessive land utilisation; the water footprint is not very favourable because of evaporation, and we know that shortage of water is global at the moment," he added.
Dr Gospic also noted that ponds tend to suffer from large losses to predators, in particular birds; biosecurity issues; high maintenance costs of the infrastructure; and the difficulty of finding "people able and willing to work in these conditions".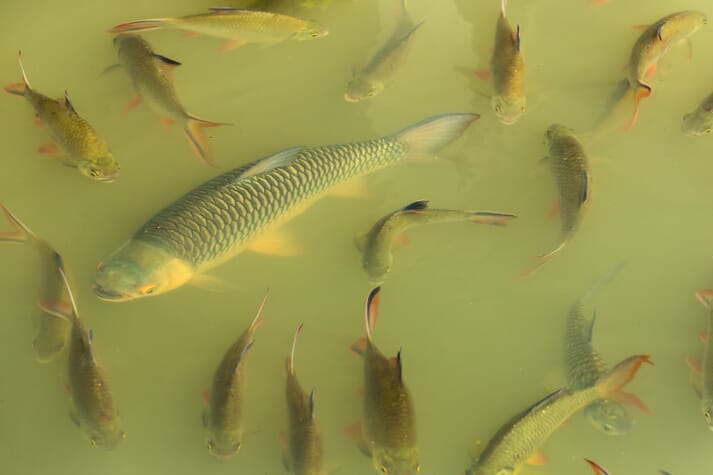 "I think in the future the younger generation will prefer to work in the farms that have automation, digitalisation and a modern approach," he predicted.
Another major limitation flagged up by Dr Gospic relates to the seasonality of pond production – in traditional Eastern European carp farms the two major opportunities to harvest are early winter and spring.
"So you can't constantly supply the market, and when you have the fish everybody has the fish, so at that moment the price of the fish drops," he observed.
Dr Gospic also pointed to the diversification opportunities offered by the tank-by-pond system.
"We can produce a variety of different fish which are not suitable to be produced in the ponds," he explained.
In his case these include high density production of European catfish, black bass (Micropterus salmoides) and hybrid striped bass (Morone chrysops x Morone saxatilis).
A prime example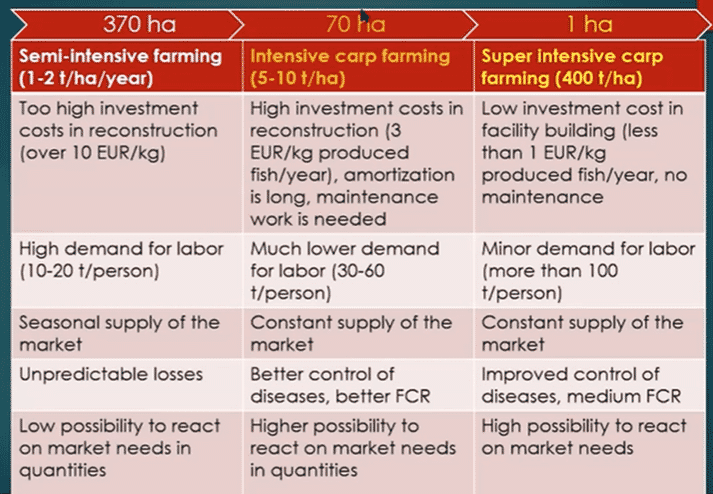 Dr Gospic's company has been involved in the construction of over 50 projects in seven countries. And he highlighted a 370-hectare carp farm in Croatia as a prime example of how using the tank-by-pond system was able to revitalise a farm – for a fraction of the cost per kilo that it would take to return the farm to its original state.
In this case G2O was called in to act as consultants as the farm had dropped from producing 400 tonnes of carp per year to 120 tonnes – following the Balkan War, during which time the farm wasn't properly maintained.
G2O then looked into three options for revitalising the farm – from resurrecting the entire 370 hectares as extensive production, to utilising just 70 ha of the existing site for intensive pond production, to going for the super-intensive option using just 1 ha of the farm.
Their conclusion was that on all counts (other than feed conversion ratios, as the tank system provided no natural feed), the tank system was the best option. And the table below provides compelling evidence to back up Dr Gospic's decision.

"We made three 50 m diameter tanks, which we studied for about five years. Now, the company will probably invest in this technology on a bigger scale," Gospic explained.
"All this is applicable to tilapia, as it's a fish that is also produced in the ponds – everywhere you see carp in my presentation, you can understand it is [also] related to tilapia," he added.
Construction specs
In terms of location, Dr Gospic stressed that while G2O situates the tanks next to their carp and trout ponds – and uses the ponds as the source of water for the tanks – there is scope to locate them close to any water source, including the sea, rivers and even groundwater supplies.
According to Dr Gospic, tanks should be over 50 m in diameter – "bigger is better in terms of cost-effectiveness" he explained – and be round, be made if concrete, be over 3 m deep, and either be aerated or oxygenated.
Round tanks are, he explained, best as they are easier to clean (and require less energy to do so); lose comparatively little water to evaporation, as they can be much deeper than raceways; and require relatively thin walls. However, he did concede that the one drawback was that they can't be compartmentalised, so only one group of fish could be kept in a tank at a time.
In terms of design and construction he noted that – in Slovenia at least – concrete is the most economical option for the tanks themselves; the two most reliable forms of aeration are the airlift or paddlewheel options.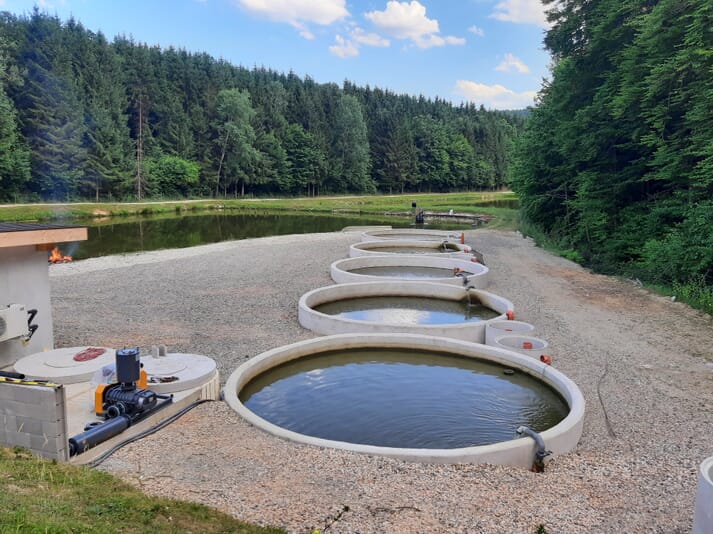 "Paddlewheels are OK, but they have some disadvantages, especially if you have many tanks, because it can be very impractical to have a large number of aerators, because of the maintenance and possible breakage, so we use more and more central blowers with aeration leads to all the points. It's much easier for maintenance," he noted.
Dr Gospic also pointed out that airlift systems mix all the layers of water, helping to stop parts of the tank becoming too hot to support the fish, while paddlewheels are limited to mixing only the top layers of the water column.
In terms of siting the airlift systems, he recommended putting them within smaller tanks – when they can also help generate the circular flow needed to clean the tanks – and beside larger ones. He also noted that airlift systems can help to distribute lime in both the ponds and tanks, saving much time and effort on this otherwise labour-intensive job.
"You have to take care of oxygen levels. [Stocking] densities are quite high, so little mistakes can lead to mass mortalities if you are not very careful about monitoring. It's always good to have double probes because probes can show not correct figures and maintenance of the oxygen monitoring system is very important," he reflected.
According to Dr Gospic, the introduction of oxygen, rather than simple aeration, allows farmers to triple their stocking densities and reduce the farm's footprint to a third of its original size – making it particularly worthwhile in regions where land is scarce and construction costs very high.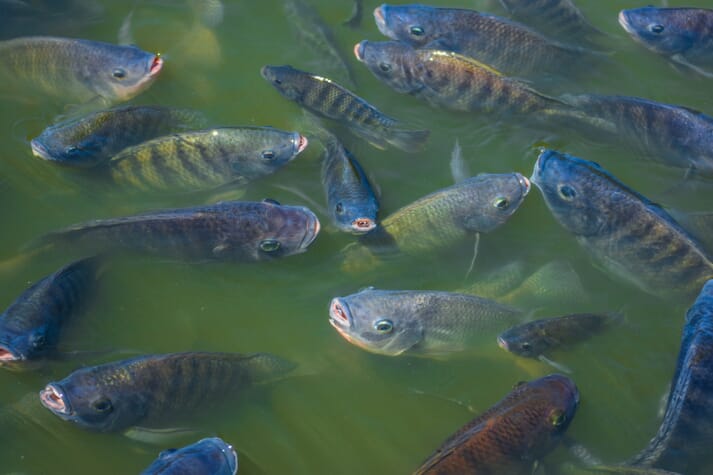 "But if you have a lot of land, then it may be better to go for aeration [rather than oxygenation] and lower stocking densities," he argued.
In terms of using liquid oxygen or an oxygen generator, he noted that the former was potentially preferable as it can be delivered even in times of power cuts.
Biological upgrades
Dr Gospic also mentioned the possibility of using biological filters – such as biofloc or moving bed biofilm reactor (MBBR) to help to improve water quality in the tanks.
"If you have problems with increased nitrogen, then you can upgrade the system with biological compression," he explained.
Conclusions
Dr Gospic wrapped up his talk with a few recommendations for those looking to invest in their farms.
"I believe that existing pond farms should keep their pond production as it is and simultaneously invest in the tank-by-pond system, and gradually build up their experience," he reflected.
"After testing and learning, they should optimise the solution suitable for their specific circumstances and scale it up. Tank-by-pond systems have potential for multiple increases in production in any pond culture farm, without the need for additional natural resources. Investment is much lower compared to investment in pond culture, the technology and operation is simple and it has potential for digitalisation, and automation. Another advantage is diversification – the simultaneous production of different fish species which cannot be produced in pond polyculture with tilapia," he concluded.