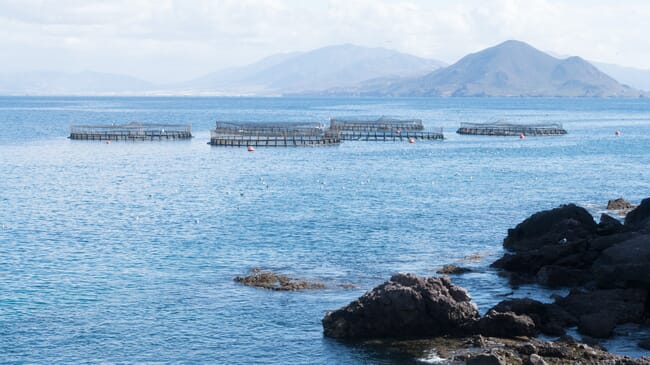 Pacifico Aquaculture recently announced that it has received funding from Equilibrium Capital, in addition to a significant equity investment from a consortium led by Butterfly Equity, and a leading US public pension fund.
The investment will finance Pacifico Aquaculture's nursery facility in Baja California and provide aid to scale its production capacity in meeting striped bass market demand.
Founded in 2010, Pacifico Aquaculture has developed proprietary technology to become the world's only commercial producer of ocean-raised striped bass. With a focus on sustainable aquaculture in North America, Pacifico Aquaculture is also the first marine fish farm in Mexico to obtain a four-star Best Aquaculture Practices (BAP) certification, the highest designation in the BAP programme. In addition, Pacifico Aquaculture is certified as a Good Alternative by the Monterey Bay Aquarium Seafood Watch Programme.
"We are thrilled to partner with Equilibrium Capital and to receive continued support from Butterfly Equity as Pacifico Aquaculture reaches an exciting inflection point in its growth," said Per-Roar Gjerde, CEO of Pacifico Aquaculture, in a press release. "This investment will allow us to build a state-of-the-art nursery facility and unlock 20,000 metric tons of annual production capacity to meet the world's growing demand for healthy, nutritious seafood."
Equilibrium Capital, one of the largest controlled environment agriculture investors, will provide project financing for the entire nursery project. Billund Aquaculture will supply the recirculating aquaculture system (RAS) technology for the nursery.
"Next-generation aquaculture is part of the 'infrastructuring of agriculture,' where investments in controlled environment facilities to improve efficiencies and resiliency are becoming essential," said Nick Houshower, managing director and head of Equilibrium Capital's Controlled Environment Foods team. "These are the same trends that have informed Equilibrium Capital's Controlled Environment Foods strategy focussed on climate-resilient infrastructure, and Equilibrium Capital is excited to be expanding into a new segment of the CEA (controlled environment agriculture) sector with Butterfly Equity, a food investing leader. Pacifico is a trailblazer in sustainable aquaculture, and we look forward to this nursery project allowing them to take their production capabilities to new heights."
Dustin Beck, co-founder and co-CEO of Butterfly Equity, added: "This is a watershed moment for growing sustainable aquaculture in North America. Butterfly Equity has been a long-term, committed partner to Pacifico Aquaculture since 2017. We have witnessed Pacifico Aquaculture tremendous growth since our investment, and firmly believe we're still in the early innings of its growth trajectory. We cannot be more excited to partner with Equilibrium Capital who shares our vision to build Pacifico Aquaculture into a world-class aquaculture platform under Per-Roar's strong leadership."