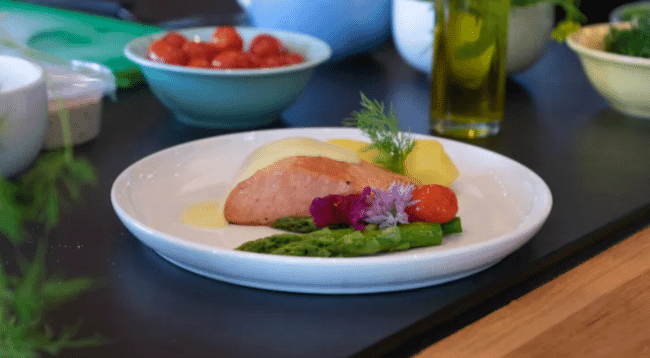 The fillet is part of its 2.0 product generation and was unveiled to ten journalists and gastronomy experts on 30 May. The product tasters had the opportunity to enjoy a three-course meal prepared by the Austrian Michellin Chef Siegfried Kröpf. The menu included appetizers with Revo's smoked salmon slices and its upcoming fish spreads. But the main focus was on the "game changer" salmon fillet. Chef Kröpf prepared a dish that paired the fried plant-based fillet with asparagus, cherry tomatoes, potatoes, and sauce hollandaise. The new product is expected to be on the market in 2023.
"The structure is almost 'too perfect', are you sure this is vegan?", one of the attendees asked our team members.
Although plant-based fish burgers and fish sticks have already entered the global market, developing a texturised fish fillet has been a great challenge. Revo Foods' scientific team developed the first vegan salmon fillet of the so-called "generation 2.0". Unlike the products of the first generation, which were mostly based on tofu, Revo Foods' salmon fillet mimics the taste and texture of conventional salmon. The "fillet" uses pea proteins and algae extracts, is rich in proteins and Omega-3 fatty acids. Moreover, it has been developed with the help of 3D food printing technology and can be prepared just like the real thing. According to a news release from Revo, consumers can steam it or fry the fillets.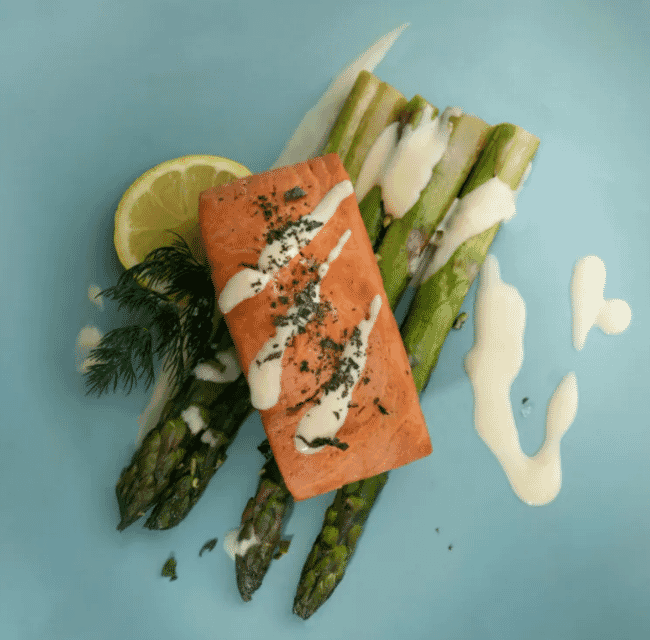 Revo's scientific team spent over two years researching new process technologies and ingredient compositions. The company has applied for two patents for their technology.