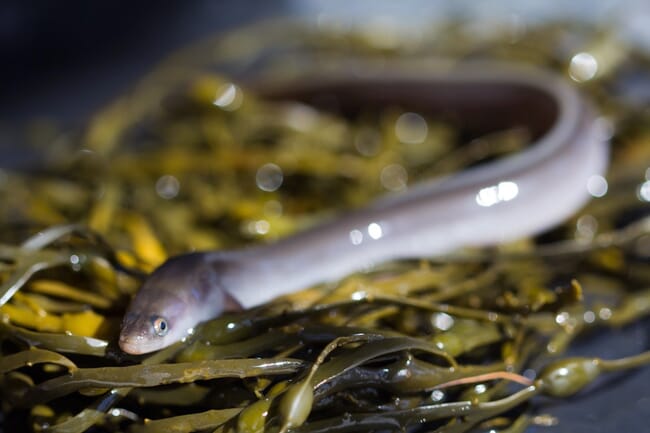 Raising one of the most enigmatic aquatic creatures on the planet might be a challenge, but it's a challenge that Sara Rademaker – founder of American Unagi, the USA's second and largest eel farm – has devoted more than a decade to.
Starting off by growing American eels (Anguilla rostrata) in her basement, she now heads a farming operation that's capable of producing 240 tonnes of market-sized eels from a mere 240 kg of the juvenile glass eels that are captured along Maine's coastline each spring. It's an impressive achievement, and the culmination of lifetime's interest in fish.
"I was a kid with fish tanks, as some of us are, and wanted to take that interest as a millennial and turn it into a career," she reflects.
Her first step on the path was to leave her home state of Indiana and enroll in fisheries and aquaculture at Auburn University in Alabama.
"It's a very hands-on programme and I worked in a fish disease lab for my entire time as an undergraduate and did a bunch of internships, including at an aquarium. Then, right after college I worked on a aquaculture development project that Auburn was doing with USAID in Uganda. That really piqued my interest in the industry," Rademaker recalls.
She returned to the US to work with a non-profit that was helping students – many of whom were children of lobster fishers – to establish small-scale aquaculture businesses, including an oyster hatchery and an aquaponics operation, along the coast of Maine.

Following a stint at Tropo Farms – Ghana's largest tilapia producer – she decided to return to Maine to set up an aquaculture business of her own in 2012.
"I knew I wanted to do RAS, but finding the right species wasn't easy and the economics didn't look that appealing. But around that time the eel fishery in Maine was making headlines, and I wondered why no one was farming eels in the US – we're buying more and more eels for sushi in the US, people care about local produce and eels have a notorious reputation for illegal trade. So I looked at the numbers, looked at the business opportunity and it seemed like a no-brainer: this resource is getting shipped to China to be grown on and then we're buying it back," Rademaker explains.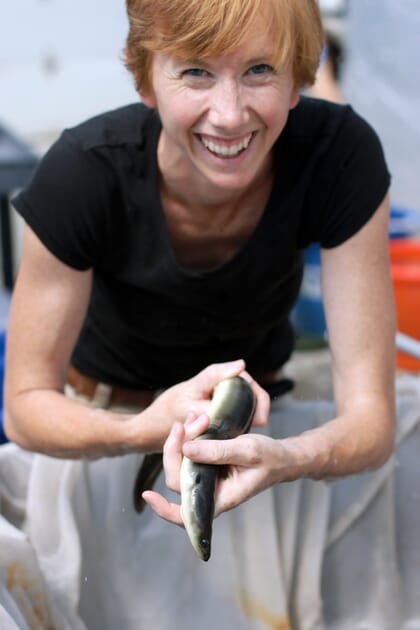 "It gave me pause that the business was still reliant on a wild fishery, but I saw the chance to produce a better eel, one with more traceability and accountability through the supply chain. After the big headlines about the eel fishery in Maine they put in extremely strict conditions on the fishery and are now looked at globally for how they control and monitor the fishery," she continues.
"Connecting aquaculture to a well-managed fishery creates recognition of the management system throughout the supply chain instead of those eels ending up in China with eels from all over the world sourced from all sorts of fisheries, we have a marketable product that's different from all the other eels," she adds.
Maine's eel fishery took off in the 1970s, fuelled by the growth of China's commercial eel-ranching industry and includes a diverse range of characters among its 400 or so licence holders. According to Rademaker, live glass eels are going up in value and are currently worth around $2,500 per pound.

"I'd been and seen a large number of aquaculture operations and knew that – specifically in the US – there have been a lot of failures and not many big wins for RAS. So I started small, growing a handful of eels in my basement in the first year and then scaled to a small facility with a few thousand eels and then started to raise investment, and put together a team of people," she explains.
"By the time we'd built our commercial farm we'd done seven glass eel seasons and had team members who'd been growing eels alongside me for four years. But, as you know, aquaculture is a humbling job – every time you think you know something the universe will tell you otherwise," she adds.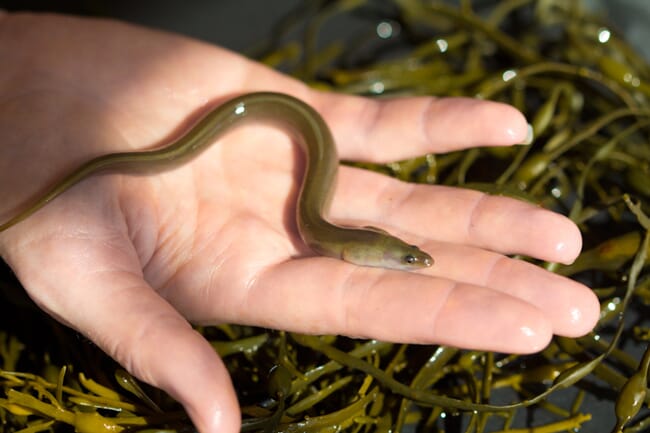 Working out how to feasibly scale the operation has been one of Rademaker's main areas of focus since she devoted herself to farming eels full time in 2017.
"I followed a lot of what the Europeans are doing in eel aquaculture but played around a bit with feed and water quality parameters," she notes.
Despite the difficulty in actually breeding eels, they are – according to Rademaker – a fantastic fish for on-growing.
"It's one of the few fish species to have been grown successfully in RAS facilities for such a long time – they're hardy, they can be grown at very high densities and are a perfect fit for RAS," she explains.
While she is keeping an eye on efforts to close the breeding cycle of the eel, she admits that she's happy to leave that work to researchers for the time being, while her own focus is on ensuring that her own farm is operating according to plan.
"The going to Mars analogy is very similar to spawning eels in captivity – we'll get there eventually, but first you've got to go to space, it's quite a mysterious fish," she reflects.
Rademaker's day-to-day still includes many practical concerns – her daily tasks include site maintenance – but she is currently looking for a site manager so she can focus on other areas.
"I've been working with the team on getting the new place operational, it's very much hands-on," she reflects.
The site, which has the potential to produce 240 tonnes of eels each year, should be reaching full capacity in 2024.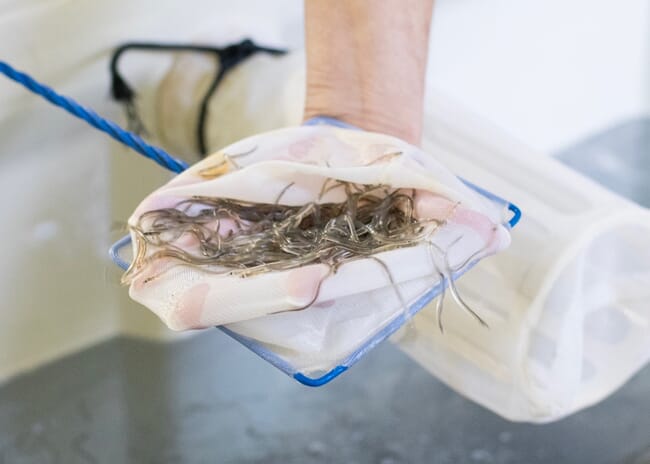 The eels are a mere 0.15 to 0.18 grams "about the size of a toothpick and completely clear" when Rademaker buys them and are ongrown for between eight months and two years, being harvested at a range of sizes between 4 ounces to over 1 lb, depending on the market.
Grading is much of the day-to-day work due to the differing growth rates of the eels – as wild fish they bring a range of genetics.

The company works closely with the eel harvesters to ensure the glass eels arrive in as healthy a state as possible and this has helped to reduce the mortality rates on the farm.
"One pound of glass eels now becomes 1,000 lb when grown out," Rademaker explains.
While most of the eels are sold for sushi (eel is known as unagi in Japanese cuisine, hence the company's name), the company's smoked eel – which is smoked on the premises – is also proving popular.
Looking ahead Rademaker says that the main challenges remaining are scaling up, building a team and smoothing out any bumps in the production process. It's a role that she relishes.
"One of the great things about aquaculture is that you're using so many parts of your brain – you're doing biology, you're doing mechanical stuff and you're running a business," she explains.
Securing investment
Rademaker says that she has been fortunate when it comes to raising investment in the project – which required $10 million to fund.
"I took my time to find the right investors. It was one thing from working with other companies that I saw was important – if you don't have the right-aligned investors it's the same challenge as not having the right people in your team on the ground. I've been fortunate to have a great network of investors as well as a great local bank that we can work with too," she says.

This allowed her to get the farm built, despite the challenges that came with construction during and after the Covid pandemic and has given her the confidence to consider expanding her farming activities in time.
"I don't want to build a massive eel farm but I think there's more of an opportunity to keep more of our eels in the US to be grown. One of our investors and partners is the Passamaquoddy tribe and we're looking to build a facility with them and we think there's scope to build other versions of what we have along the coast of Maine," she explains.
"Eels are a great species as you don't need to build really massive facilities – you don't need much land or water and its easier to get permitted as long as you find towns that want to work with us," she adds.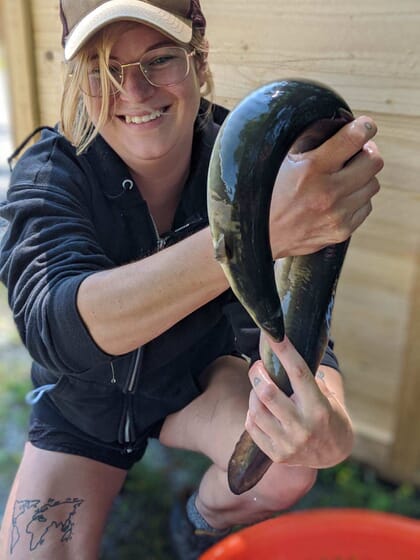 This social licence really sets American Unagi apart from some of the larger RAS projects that have struggled to gain acceptance, and permits, in the state.
"Choosing eel, which has a connection to the local fishery, has been huge – there's a lot more support. In Waldoboro some of the people who might have opposed such facilities don't, because they're connected to the eel harvesting industry," she reflects.
Rademaker also believes that going into a community with the right attitude is essential for anyone looking to start a new farm.
"I didn't come in to the community and declare I was building a farm. I talked to the local clamming committee before I even got the town approval, it's important to engage with people in the right way," she adds.

Rademaker expects the farm to start turning a profit next year – the sort of turnaround time that many salmon RAS operators could only dream of. And, given her success, it seems likely that more people are likely to join the US eel farming sector in time. However, she warns that they will require plenty of experience – and determination – to succeed.
"Aquaculture is tough. To be successful takes a lot of grit and a lot of commitment. But the most important thing is experience of growing eels and knowing your fish. You might be able to grow a house plant but growing a field of corn is a whole different animal," she warns.