Can briefly describe your aquaculture career?
I started to work in aquaculture 12 years ago. For the first eight years of my career I was working in Croatia at a site with three fishponds, covering 6,000 hectares. I was working on breeding carp, grass carp, bighead carp, tench, catfish, pike and pikeperch.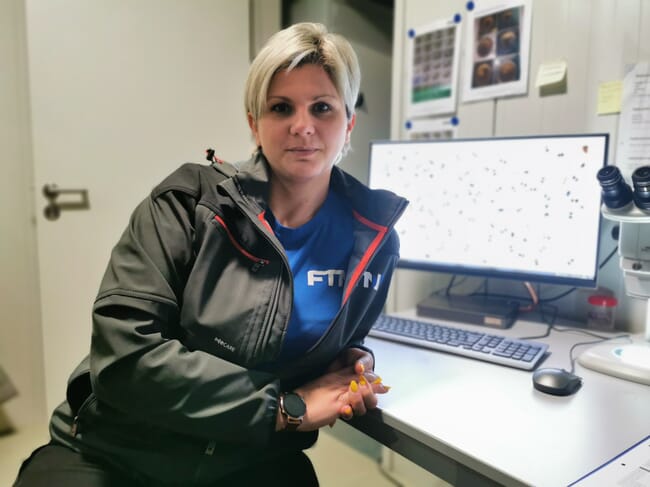 My main task there was the controlled spawning and breeding fingerlings, but I was also involved in growing market-sized fish. In my last two years in Croatia my company also started with RAS production of sturgeon (Huso huso) and pikeperch.
At the end of 2018 my family and me decided to move from Croatia and I started to work for my current CEO in the Czech Republic as lead aquaculturist – producing pikeperch, perch, catfish, largemouth bass and whitefish (Coregonus). In mid-2020 we moved production to Switzerland.
What inspired you to pursue a career in aquaculture?
My father and grandfather. Before 1990 my father and grandfather had small fishponds in Croatia where I spent a lot of time as a child. When I was seven I started taking part in sport fishing competitions and later I became a state fishing judge. Fish and fisheries are in my blood.
Can you give some details about FTN's philosophy, production systems and species produced?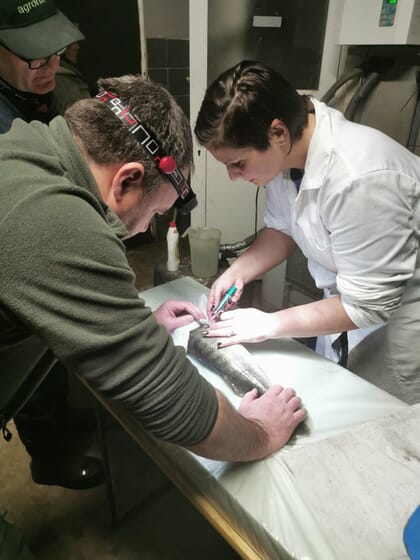 FTN AquaArt AG is a pioneer for indoor aquaculture and stock fish farming in Switzerland. We're committed to driving a more ecologically, socially and economically sustainable approach towards food production. Our mission is to develop solutions for industrial farming of edible fish that are as natural as possible, so we can make the best use of natural resources and make a contribution to global food security. We have innovative technical solutions, in-depth knowledge of fish farming and a strong commitment to better environmental, societal and economic outcomes.
We currently produce pikeperch and perch and aim to diversify into catfish too. We produce year-round with artificial cool rooms which allow us to produce our own larvae every couple of months.
Describe a typical day in your current role
Every day is different and depends on whether it is spawning period, feeding with artemia and rotifers, larvae production, fingerling production or broodstock management. I'm usually at the farm by 7am. Then I made quick check of all the systems, fish and water parameters. Some days involve broodstock eggs controlling, broodstock management, some with larvae controlling, some in sorting frys/fish, some in the office organising a planning schedule, production or protocols.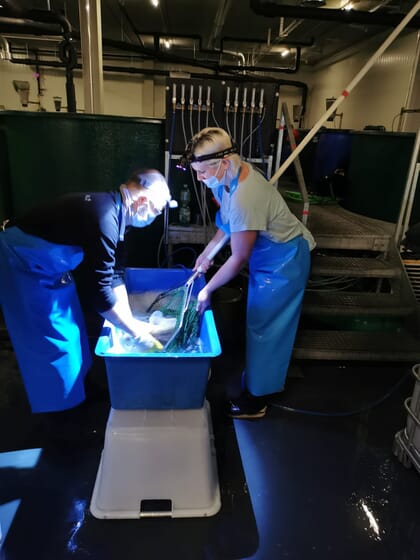 Data are crucial in fish farming. If a mistake appears, data is your only exit. Everything you do in fish farming must be checked three times (check, recheck and check again), because even a small mistake can lead to a disaster. We are always looking for how we can increase efficiency. On days when we have controlled spawning of fish, working 24 hours for few days in row is normal, which would not be possible without family support and a quality team. As a production manager I never close the door and go home – it's a 24/7 job and part of my lifestyle. I'm lucky that my husband, who has an MSc in hydrogeology, also fell in love with aquaculture and three years ago started to work with me, which makes him understand and give me full support. Working as a production manager is very dynamic job, no days are the same. It's full of adrenaline and adventure.
Are there any individuals or organisations in aquaculture who you've found particularly inspirational?
In the scientific world I have much respect for D. Zarski and his research on Percidae fish. There are many scientific articles from him that are very useful in production.
I also support organisations that help and encourage innovations in aquaculture - like fish feed including insect proteins. I think this is quality start point to sustainability.
Have you encountered (or heard of) any gender-related challenges as a woman in aquaculture?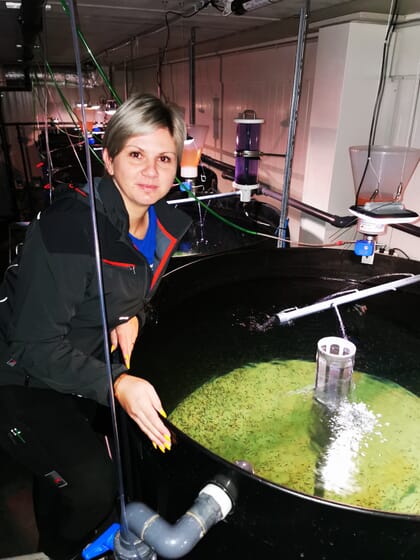 To begin with it was a little bit challenging for me - for example, when I worked in Croatia I was the first woman to working in production management since the fish farm was established in 1902 and I led a team of 45 men. It took while before they accepted a women as their superior.

What advice would you give to women looking to start a career or a company in the sector?
My advice is to keep going, if you like what you are doing nothing can stop you. Be there, say what you have to say and say it loud so everybody can hear it. Just work on it and it will happen.
What would be your dream role in aquaculture, and do you think it's realistic to achieve?
I must admit that this is my dream role. I like aquaculture and all challenges that are in, I like to work with fish, every larvae makes me happy, every broodstok fish is like a pet, I like to manage production, make plans and make production more efficient.

What are the key hurdles that aquaculture needs to overcome before it can realise its potential to feed the world's growing population?
I think that aquaculture must be more sustainable, and marketing of farmed produce should be stronger. People are not very familiar with the methods of fish preparation. In most of Europe the consumption of freshwater fish is lower than the consumption of sea fish, and the tradition of eating fish in inland area is not so high. Many people also believe that wild fish are healthier and better tasking than fish from ponds or RAS farms.
In Croatia, for example, most inland people only eat fish at Christmas and Easter. Marketing and teaching people the benefits of eating fish must be more active. We should introduce fish in schools once a week, so children become used to it.
It is also important that countries support and invest more in the development of aquaculture. RAS are still in the pioneering stage and still need to grow. There is also a deficit of educated and trained farmers.