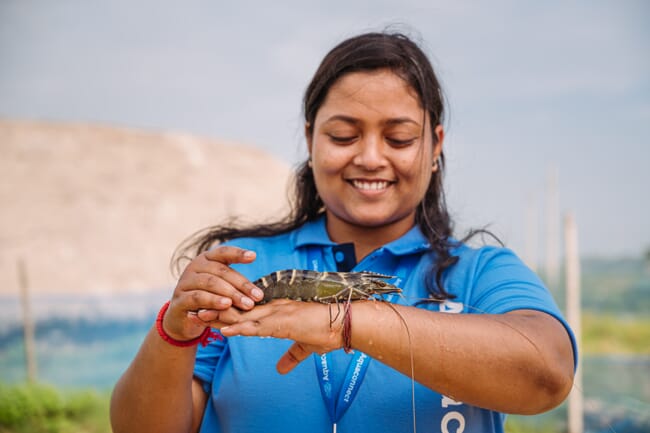 Jyotirmayee Moharana is an anomaly In India, where women graduating from fisheries institutes are largely involved in roles limited to research and administration, while the production side of the aquaculture value chain is still heavily male-dominated.
What inspired you to join the aquaculture industry?
I studied agribusiness at university and during my studies I did an internship related to fish and shrimp farms. This opportunity allowed me to observe the challenges faced by aquaculture farmers from close quarters. The experience further led me to learn about Aquaconnect from a mentor of mine and, after I graduated, I applied for a BFSI sales manager role with them.
It was interesting to learn how Aquaconnect is leveraging technology to help aquaculture farmers through an end-to-end solution approach, as well as enabling formal finance to shrimp farmers in Orissa. During the internship, I travelled with small-scale farmers and came to understand how a lack of access to finance makes them dependent on high interest borrowing, which is a huge problem for them. That's when I decided to be a part of their journey. I now work with a team of nine spread across Orissa, helping mainly shrimp farmers.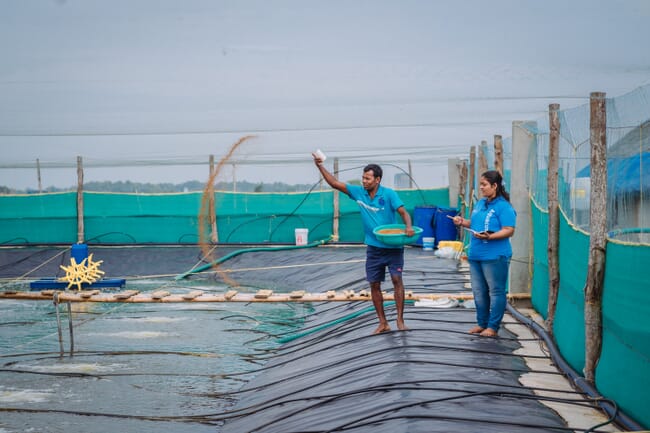 How would you describe the shrimp sector in Orissa?
Shrimp farming in Orissa continues to be an emerging livelihood for more than 10,000 farmers. Orissa is the fourth largest producer, contributing to around 5 percent of India's total production. Most farmers have small, marginal farms, with 4 to 5 ponds over 2 to 3 acres, but there are also a few commercial producers who can have as many as 40 to 50 ponds. L. vannamei is the preferred species, while black tiger prawn production is less than 1,000 tonnes.
What does a typical day consist of for you?
Aquaconnect's BFSI team in Orissa covers five districts. We visit farmers on a daily basis and evaluate them for insurance, before they stock their shrimp, then help them with the onboarding process. Ideally, we try to visit clusters of farms and meet around 10 to 20 farmers each day. My daily work consists of educating the farmers about the financial products that will help insure their crop from natural disasters and diseases. As Orissa is considered a highly cyclone-prone area, and disease is a growing threat, I educate the farmers about the importance of crop protection and availability of credit options.
Traditionally, formal credit and insurance firms have shied away from offering loans and insurance to aquaculture farmers due to the underwater nature of operations. This makes it hard for them to assess risk and creditworthiness of the farmer. This leads to aquaculture farmers borrowing money from informal lenders at a higher interest rate, resulting in increased capital costs. But now, Aquaconnect is enabling access to capital and insurance by reducing the gap between farmers and financial institutions through tech (satellite remote sending and AI). I serve as an important link between the financial institutions and aquaculture farmers. I also help the farmers through the entire on-boarding process.
Education and awareness are therefore an important part of my job.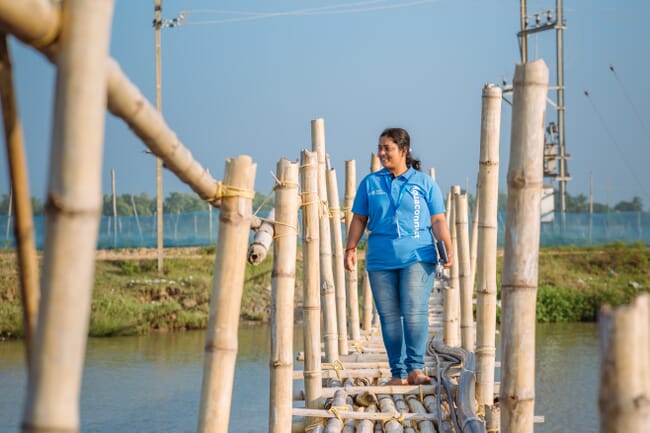 What is the hardest part of your role?
Aquaculture is a male-dominated sector in India and arriving at a farm as a woman (who the farmers do not know) often means there is a lack of trust. Farmers do not always listen or respond to me. Another issue is the lack of sanitation facilities when we visit the farms.
However, five months into the job I am beginning to build trust. I've found it can help meeting, and talking to, the farmers' wives, as many of them are involved in shrimp culture. And when I return to revisit a farm, many farmers recognise that I should be heard.
I've now helped nearly 400 farmers who previously had no insurance and continue to work towards their improvement, despite the odds.
Do you give the farmers any other advice?
I advise them to the best of my knowledge derived during the internship. I recommend useful videos that they can learn from and also connect them with our aquaculture officers when they need technical farming assistance.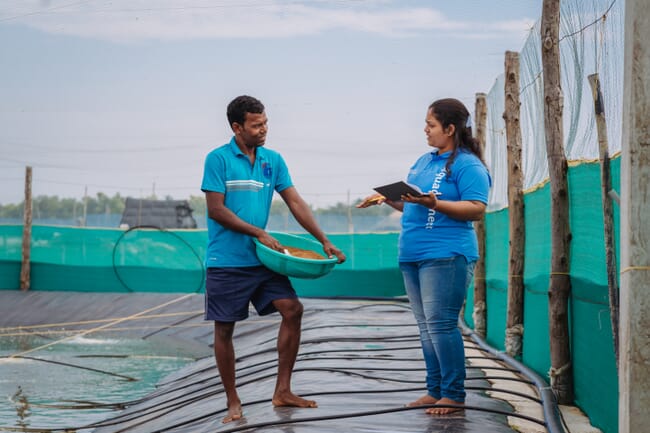 Are there any individuals or organisations in aquaculture that you've found particularly inspirational?
It's great to get guidance from my seniors at Aquaconnect, who are helping me understand the industry – they've been my mentors and patrons.
I also learn so much from the farmers each day. There's one man who's over 70 years old, has been farming shrimp for over 20 years, and has never made a loss, as he follows certain processes and protocols, which has helped him avoid any disease outbreaks. If a 70-year-old can always make profits, I tell the young people, then they can do the same. Within 3 to 4 months it's possible to nearly double an investment of 5 lakh [500,000] rupees – but to do this they need to follow the right protocols, scientific processes and trust technology.
What are the most important protocols to follow?
The first relates to water parameters – it's important to check the levels of ammonia, salinity and pH every fortnight. It's also important to ensure the right input. In particular, using the right feed quantities and the quality seed. Without this, the growth rate is compromised. And it's important to be able to estimate the biomass of shrimp in a pond from time to time, so that you feed the right quantity.
If one follows these protocols, shrimp mortality levels should be below 10 percent by using the SPF seed.

What advice would you give to women who are considering joining the sector?
Anyone who is willing to accept a challenging role should consider aquaculture, as there's an ocean of opportunities in the sector. Most women prefer a desk job, but they should join me and see how much I enjoy my job. It's very rewarding to collaborate with farmers and bring a smile to their faces.
I've never seen another woman in the field in my journey so far. I believe women have an inherent ability to connect and build relationships. We need more women coming forward, willing to solve challenges faced by farmers and be a part of aquaculture's growth story in India.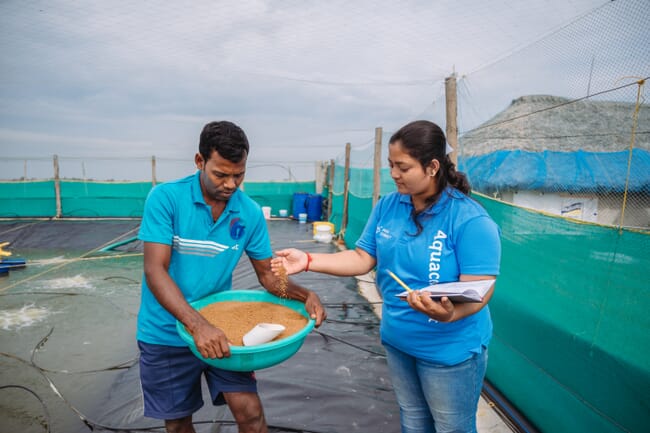 If you could solve one problem in Indian aquaculture, what would it be?
Vannamei shrimp should be cultured under scientific protocols but we suffer due to lack of labs to perform analysis. This lack of information can lead to the misapplication of chemicals and huge losses, so we really need to start developing more diagnostic labs in and around coastal areas.
The other major problem is that producers are struggling for capital. As I said before, lack of formal finance makes farmers highly dependent on informal lenders for their production expenses, such as feed and other farm input purchases, without knowing the high interest trap. However, access to formal credit can raise the profit by cutting the cost of inputs and raising the value of outputs to its real value. This can benefit the farmer by raising the profits up to 50,000 INR per acre. I would therefore strive to minimise the gap between the farmers and financial institutions and to formalise finance in aquaculture. I'd also encourage more banks to disburse loans for aquaculture farmers.
How much capital is required to set up a typical shrimp farm in Orissa?
A 1-acre pond typically requires 9 lakh (900,000) rupees. Eight lakh is needed for funding inputs such as feed, seed, and aerators while the construction cost is around 1 lakh.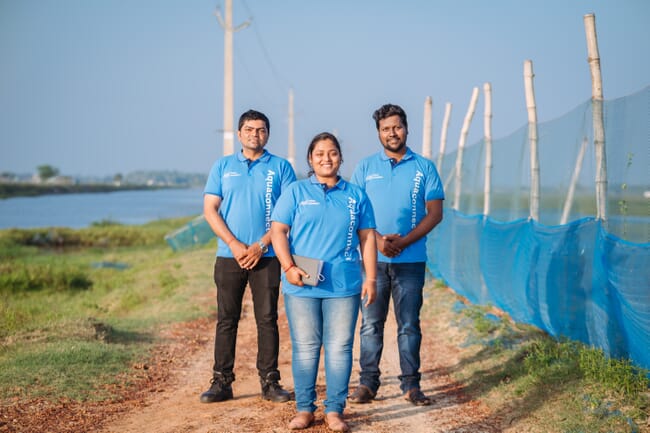 What are your ambitions in the sector?
I come from a rural area and from an agricultural family. My heart is determined to improve rural livelihoods. I see the potential scalability of aquaculture, but farmers are inherently scared of diseases and 9 lakh rupees is a huge investment for them. I want to try and change their mindset – and persuade them to take aquaculture as a viable occupational livelihood activity with better adoption of technology driven farming and reduce risks that are associated in the production. With such awareness creation and groundwork, it can help families, farmer communities and the state to eventually become self-sufficient. I want to be a part of the next blue revolution in India.
*Aquaconnect is part of Hatch's investment portfolio, but The Fish Site retains editorial independence