Can you briefly describe your aquaculture career?
I studied aquaculture engineering in Lima, Peru. I started my working career in 2005, researching the reproduction and culture of red sea urchin (Loxechinus albus).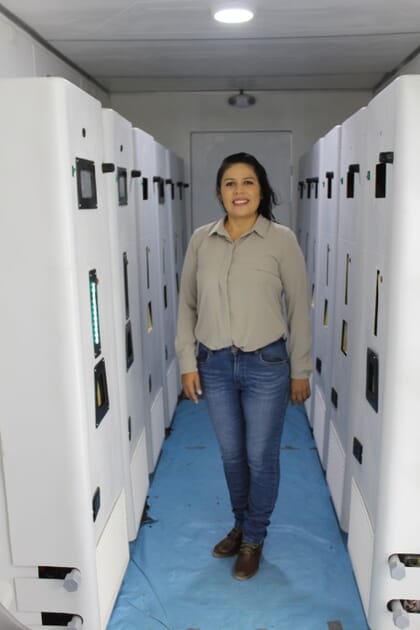 After this, I had different jobs; I worked as a hatchery manager for scallop, oyster and spirulina and at the University of Piura on the production of microalgae.
In 2016, I co-founded Biomarino, a company dedicated to the development of innovative technological aquaculture equipment for the local and international market. Providing solutions to real production problems, we carry out demonstrative research and apply what we have learned to increase the productivity and profitability of our clients.
What drew you to aquaculture in the first place?
My older sister studied international trade and always brought home magazines about fisheries and aquaculture, which I started reading. Through these articles, I learned about the possibilities of a career in aquaculture. I liked that in aquaculture there is a large variety of jobs to choose from and specialise in. I also like that a career in aquaculture gives me the opportunity to travel a lot.
What species have you been working with?
I have been working with several species. The first species I worked with were grey and red tilapia. I have also worked with scallops, oysters, abalone, sea urchin, shrimp, macroalgae and microalgae.
What work-related achievement are you most proud of?
Last year, I won a silver medal for one of our inventions at the Korea International Women's Invention Exposition, which was organised by the Korea Women Inventors Association (KWIA). We received the prize for a mobile laboratory for the production of molluscs and other aquaculture species such as fish and shrimp. It is a portable system that is easy to install and runs on 95 percent solar energy.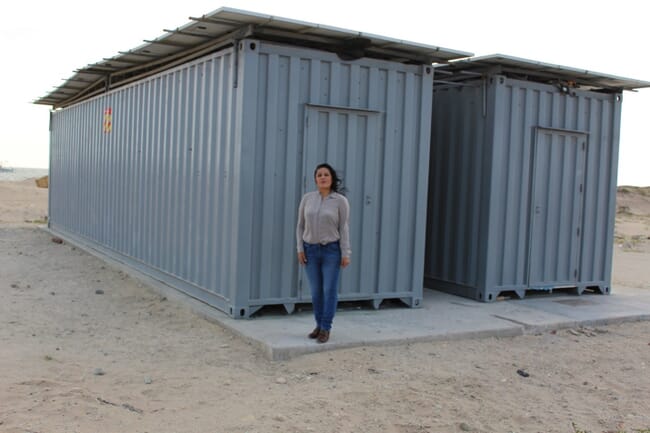 It consists of two metal containers, one with the necessary equipment for spawning and assisted reproduction, including photobioreactors which allow the accelerated production of microalgae. It also houses the solar power system and electric back-up generators to use on days with little sunlight or higher energy consumption, and a water storage tank. The second container houses the culture tanks. When using seawater, the system disinfects the intake water and treats the effluent water before water is returned to the sea.
The system has been tested for the production of scallops in the bay of Sechura, Peru. We are currently building a second unit with a higher production volume in the same area. However, the mobile laboratory can be used anywhere as long as there is a good supply of water.
What does a typical day in your current role consist of?
In a typical day, I move between the office, the workshop and the hatchery. I work on administration and reporting, supervise the quality control of production of the system components, and supervise the entire process of culturing scallops and microalgae.
What is your favourite part of working in aquaculture?
My favourite part is to follow the farming process of scallops. When, in the metamorphosis stage, a large amount of larva adheres to the substrate, which is proof of a job well done, I feel very satisfied.
What challenges have you encountered working in the sector?
During my first job, I was part of a team to create a 100 percent handmade scallop hatchery on Chuncho Island in Peru – without electricity, fresh water, microscopes or air blowers. The team was very committed and we managed to produce scallop seed up to 2-3 millimetres for stocking in the sea. We replaced water using a motorised pump and used natural light to culture microalgae in fibreglass tanks. We stirred the water manually to add oxygen and counted larvae with our naked eyes. The hatchery went on to operate for two years.
Have you encountered (or heard of) any gender-related challenges in the sector?
In almost all my jobs that I have had, 90 percent of the professionals were men. I am always the only woman at work. Women are given less heavy – but often meticulous and critical – work. It is good that there are women who can carry out this work. But, on the other hand, professionals should know all aspects of their work and therefore women should be involved in all tasks, if they want to be.

Are there any individuals or organisations in aquaculture that you've found particularly inspirational?
The two people that I look up to are Kiyotaka Kani, a highly skilled Japanese professional specialised in shellfish farming whom I had the chance to work with back in 2005, and Dr Luis Vinatea, who is a highly qualified Peruvian specialised in intensive fish farming in land-based systems. He is a great example for me and I hope to meet him someday.
What advice would you give to women who are considering joining the aquaculture sector?
I would recommend that they study aquaculture, it is a beautiful career. The sector is very broad and you can specialise in culturing crops, studying diseases, environmental issues, research, innovation and much more.
Women tend to be creative, detail-oriented, perfectionist and meticulous. These qualities are very important in aquaculture – especially when working on potential new species for aquaculture or research. It is important that women are represented on every team.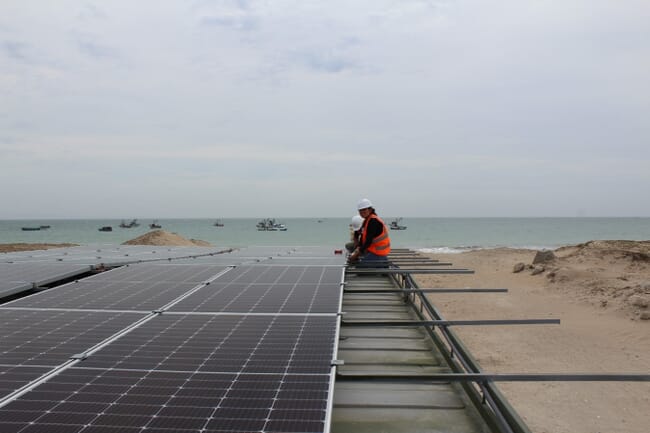 What's the most unusual experience you've had in aquaculture?
I think it was when we changed the algae culture medium for a culture medium containing fishmeal. This was a mistake, after three days it smelled terribly and we had to go into the lab to stop the culture and clean everything, a very unpleasant job!
If you could solve one issue in aquaculture what would it be?
Improving the quality of water used for aquaculture. Only with high water quality can we produce healthy animals in intensive or super-intensive systems. Water management processes must be improved regardless of the species. Over the years, it has been proven that the quality of seawater and rivers is declining. This means that we must keep optimising our water treatment processes, especially if we want to increase stocking densities and volumes.
At Biomarino, we have patented an industrial processor for the sterilisation of seawater, with high efficiency and low energy consumption. Water is sterilised using a magnetic induction system and rapidly cooled by thermos-electric plates.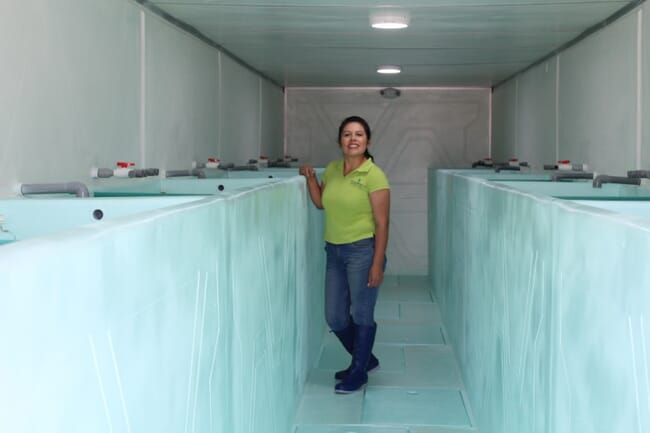 What species that you've worked with do you think is the most promising for aquaculture?
I believe that to ensure food security in the world, tilapia is the most important species since it adapts very well to different environmental conditions, is very strong, grows fast and has good yields. Because farming tilapia is easy and less demanding compared to other species, it can be adopted by many people.
Another promising group of species is microalgae. These can be cultured in super-intensive photobioreactors. Microalgae products is used as food, food additives, pharmaceuticals, and in the future, they could replace fishmeal and soybean meal.
What would you like to be doing in 10 years' time?
I would like to be changing the entire process of traditional aquaculture to automated and digitised production systems to increase the sustainability of the products, reduce labour efforts and lower production costs.