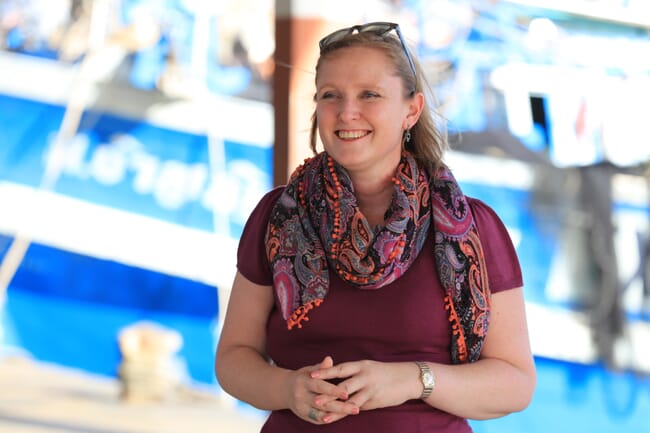 Can you briefly describe your aquaculture career?
I had been working in global food supply chains for many years, primarily in the UK and Australia and aquaculture was naturally an important part of the discussion on how we feed a growing global population. When I was working with WWF, I was looking at global palm and soy supply chains, as well as fisheries within their market transformation programme. But it wasn't until I joined Thai Union in 2015 that I really began to understand aquaculture supply chains, and in particular shrimp and aquaculture feed supply chains.
What drew you to aquaculture in the first place?
Aquaculture is full of possibilities, from low density to intensive. It has the potential to provide sustainable seafood to people globally, through innovation in factors such as feeds, growing conditions and water quality.
I really got to know about aquaculture through Thai Union's shrimp business in Thailand. Although Thai Union is a processor, it obviously has to have a very good relationship with the farmers. And the research team at Thai Union Feedmill are always inspiring with their constant drive for improving the feed industry and applied research.
What were the key priorities to address when you first joined Thai Union and what progress have you made to date?

When I joined Thai Union, the priorities were addressing sustainability aspects of wild capture fish used in the shrimp feed, as well as the conditions in the processing facilities. The Guardian had published an article in 2014 on 'ghost ships' [ships that keep their crews under slave-like conditions] that stayed out at sea off Thailand, catching fish that would be sent back to Thailand for processing into fishmeal, to be sent to the feedmills, which then entered our supply chains through the feed used on the farms.
Following that report, we put a full traceability system in place, so that we could trace the vessels catching the fish, work with the ports and the fishmeal producers, the feed producers and everyone in the value chain up to export. We also worked with others in Thailand to establish the Thai Sustainable Fisheries Roundtable, eventually establishing Fishery Improvement Projects (FIPs) for the capture fisheries in the Gulf of Thailand and Andaman Sea.
Another priority was ensuring that our workers in our factories had safe and legal employment. We had a particular focus on pre-processors. After six months, we made the decision to vertically integrate all of our pre-processing work in-house. We also invested in technology, and if you look today around 40 percent of pre-processing is done by machine.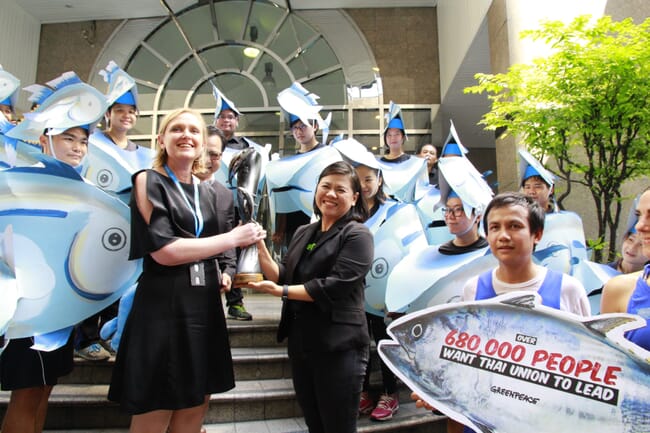 What work-related achievement are you most proud of?
A good question, and many competing answers! The work that we did to improve the labour conditions in our own factories and bringing the shrimp pre-processing workers in-house was impressive, not only in how quickly we changed our ways of operation (including building new facilities to house the new workers) but also the knock-on impacts it had on the wider industry in Thailand and even certification standards.
We worked with a local NGO partner, the Migrant Worker's Rights Network, to oversee the process of offering work to anyone wanting to join the Thai Union team in their new pre-processing facilities and ensure it was done fairly and with respect. That partnership with MWRN continued to develop from there, and together we set up our Ethical Migrant Recruitment Policy and programme. That programme remains as one of the largest ethical recruitment programmes in the world, with independent oversight by an NGO partner.
What does a typical day in your current role consist of?
My days did include a lot of travel, until the Covid-19 pandemic hit. Now I visit the world from my house via the world of Zoom, but I do miss getting out in the field and really seeing what is happening on the ground and water, and meeting the people who make up our global supply chains. My day is usually a mix of working on policy and communication activities, engaging with NGOs and civil society, speaking engagements and webinars, supporting my own team, and Thai Union management issues. Most days start with calls with the US, then on to Asia, and end with calls to the UK and Europe. So, they are still global, but with far less physical travel.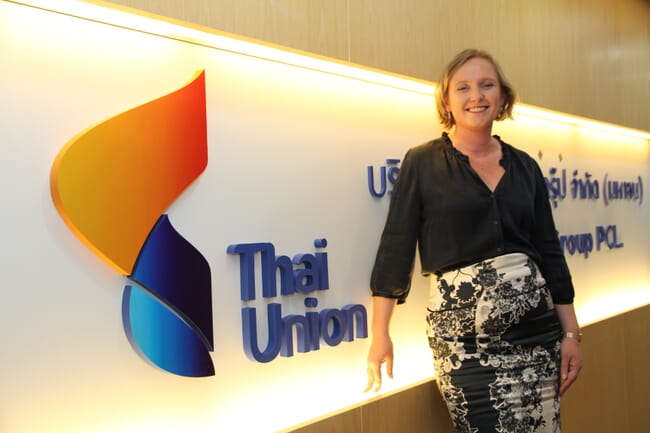 Have you encountered any gender-related challenges in the sector?
I have heard of plenty of issues and encountered some of them. Women make up a large proportion of workers in small scale aquaculture, and in processing, yet very few are at the leadership level. That raises inherent inequalities with influencing the direction of the industry, pay, conditions, and even innovation. I read a study recently that said companies embracing gender diversity (particularly at executive levels) have been shown to be 14 percent more profitable. I have not seen a similar study related specifically to the seafood industry, but I do know that many seafood companies would appreciate greater profitability. Groups like Women in Seafood and SAGE are fighting to build gender equality in the wild capture and aquaculture industries, standards like ASIC and ASC are trying to integrate gender equality. But, ultimately, it is everyone's responsibility.
Are there any individuals or organisations in aquaculture that you've found particularly inspirational?
Dr Supis Thongrod, VP research and development (now semi-retired) at Thai Union Feedmills has always been inspiring to me – active in research and applied technologies, a leader in her field, and an inspiration to many who work with her, plus many other brilliant women at Thai Union.
Therese Log Bergjord, CEO of Skretting and Intrafish Person of the Year 2020, is one of the few examples of a female CEO in the aquaculture industry. I have had had the pleasure of working with her through SeaBOS (Seafood Busines for Ocean Stewardship).
The power team of Jennifer Dianto Kemmerly and Wendy Nordon at Monterey Bay Aquarium [are also inspirational] for their dedication to large-scale aquaculture improvement and their enjoyment of life.
What advice would you give to women who are considering joining the aquaculture sector?
It is a growth sector with potential for new ways to produce protein, and there is no reason for there to be any barriers to entry for women. I don't think seafood in general is seen as a very sexy industry, however in my role I have travelled the world, met amazing people, met Crown Princesses and Prime Ministers. If you want to make your mark, sometimes you need to make bold choices.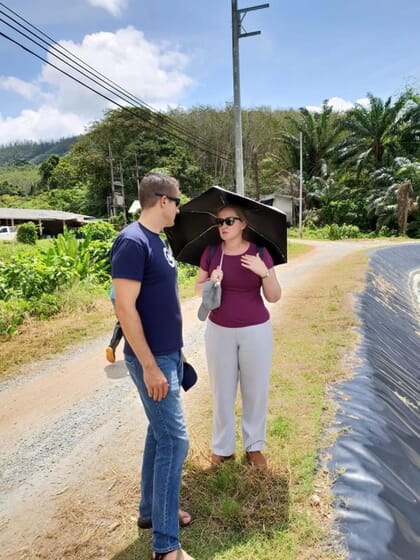 What's the most unusual/bizarre/amusing experience you've had in aquaculture?
The aquaculture industry is full of characters, and I'll choose an amusing story. I was working with the Eachmile team to set up a Fishcoin (blockchain traceability) trial with a shrimp farm in Phuket in Thailand. As beautiful a location as you could hope for, a great session on using the tech with the farm operators, and to end the session, the team got out their drone to take some footage. We got some great shots, and then the drone lost power and ended up at the top of one of the largest trees for miles. Technology is great, but nature won the day. https://youtu.be/nuYjE_ytYPY
If you could solve one issue in aquaculture what would it be?
Producing sustainable seafood through aquaculture that is carbon neutral, improves local water quality, and uses sustainable feed in locations close to where it will be consumed.

What would you like to be doing in 10 years' time?
I'd like to be the CEO of an organisation that is a game-changer for sustainable food production, and being a mentor to those with brilliant ideas who are starting out in the seafood industry.
Can you tell us a little bit about your other roles, for example at Be Slavery Free and the Walton Foundation, and how these help to inform your views?
Be Slavery Free is a not-for-profit, focusing on ending modern slavery in global supply chains. The board (of which I'm a part) is made up of people from a diverse range of backgrounds, and we look at a number of sectors including seafood. I always like to look at the challenges in other industries like cocoa and palm oil, and consider if there is potential for cross-pollination of ideas and solutions. And it keeps me humble to think of all of the people globally working in modern slavery-like conditions, and how important it is to ensure that people and the environment are valued in the production of food.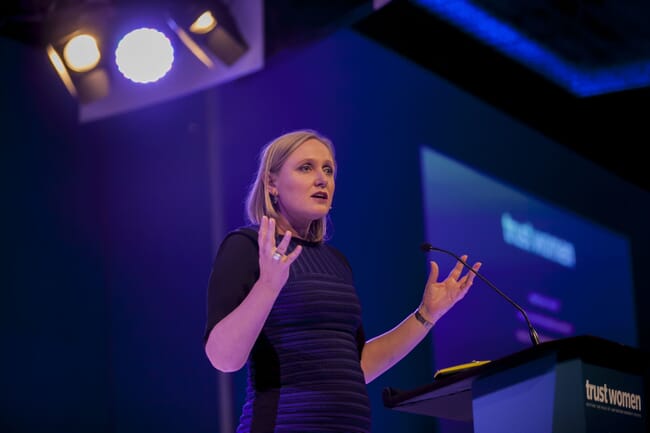 The Walton Foundation has an outsized impact on sustainable seafood in the US and globally – it is an amazing opportunity to provide input to their strategies and help advise on the greatest good that can be achieved through their investments. Blue finance and investing in sustainable seafood is increasingly something that interests me as a way to drive change.