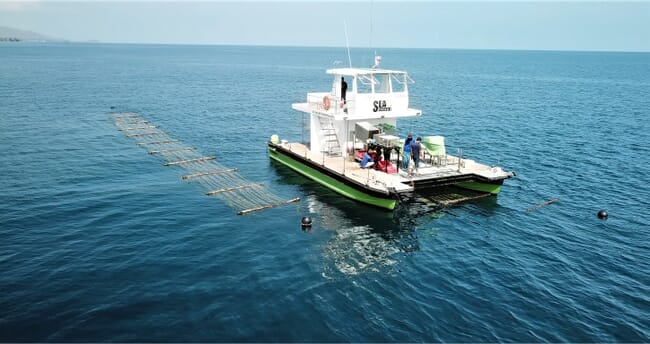 What's more, according to Shrikumar Suryanarayan, chairman and managing director of Sea6 Energy*, it should be economical to profitably produce both biofuels and bioplastics using seaweeds within the next five years.
Sea6 is one of the most progressive seaweed farming companies in India, which is developing mechanised means that will allow it to not only reduce labour costs, but also cultivate seaweeds in offshore locations, where there is less competition for space and growing conditions are more favourable than the current inshore areas favoured for most tropical seaweed production.
Setting the scene
Suryanarayan delivered this message in a presentation at Seagriculture's First International Seaweed Conference Asia-Pacific, which took place on 8-9 February. And he kicked off his presentation by suggesting that seaweed farming should be seen as a way "to capture solar energy and store it for later use as a biomass."

"70 percent of our planet is water – so, naturally – when you come to think of energy harvesting or carbon dioxide capture it does make sense to do farming on the sea. It boils down to choosing a seaweed species that is well adapted to the water conditions that are present in this [tropical] region," he argued.
For Suryanarayan, tropical red seaweeds – such as Eucheuma, Gracilaria and Kappaphycus – represent the ideal industrial feedstocks.
As he explained, their year-round growing season means that they can be harvested and used fresh, without the need for storage and risk of spoilage. Their high productivity, allows for a reduced cost of production per unit and a short growing cycle (45 days) means that labour and equipment can be used consistently.
Other selling points include their long history of cultivation for uses such as agar and carrageenan, which means that there is a solid foundation of knowledge to draw on as well as a strong existing market, which can be relied on while companies look to develop novel applications with a proportion of their crop.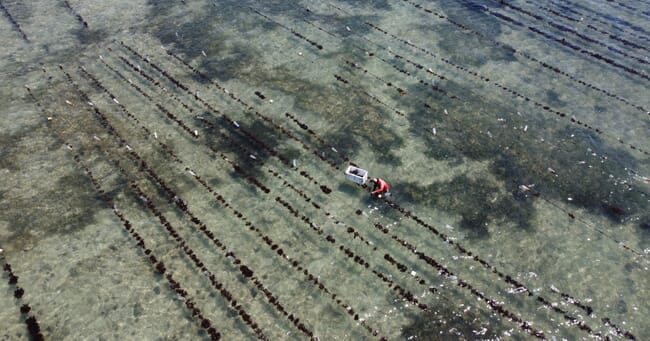 Suryanarayan also reflected on the "demonstrated scalability" of these species, which have been successfully grown in many tropical locations, suggesting that "huge expansion is available" for farming around the tropics.
Existing systems
Suryanarayan pointed out that labour is currently the highest cost for producing these species in current systems, which tend to be in shallow waters. However, he noted that making improvements in labour productivity could significantly decrease production costs and increase the area in which these species are farmed – thereby making applications such as biofuels and bioplastics economically viable within a few years.
Rather dauntingly, according to Suryanarayan's calculations, 400 times more seaweed would need to be produced to make it economical for use in aviation fuels, 800 times more would be needed to make economical bioplastics and 6,000 times more needed for making replacements for diesel and petrol. However, he suggested that such upscaling – coupled with a reduction in the cost of production – was feasible.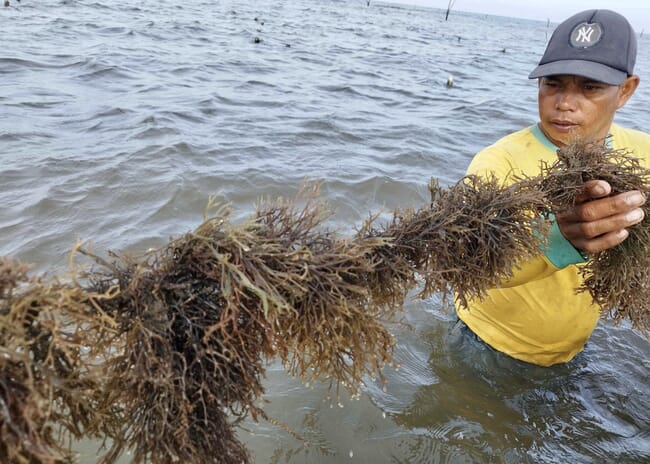 How to bring down the cost of seaweed
Suryanarayan went on to explain ways in which Sea6 is looking to reduce the costs of seaweed cultivation – noting the labour-intensive nature of seeding, planting and harvesting.
He pointed out advances made by the company, such as the development of an automated seeder that uses tube nets rather than lines. Another is the use of vessels – known as SeaCombines – that can lay and harvest the lines: not only making production less labour-intensive but also allowing farming to push further offshore.
In addition, Suryanarayan added that the company has undertaken a study to examine the environmental impact of this more industrial form of seaweed production. And he reported that, despite the SeaCombines currently running on fossil fuels, it was found on balance to capture 67 tonnes of carbon per hectare of seaweed cultivated per year.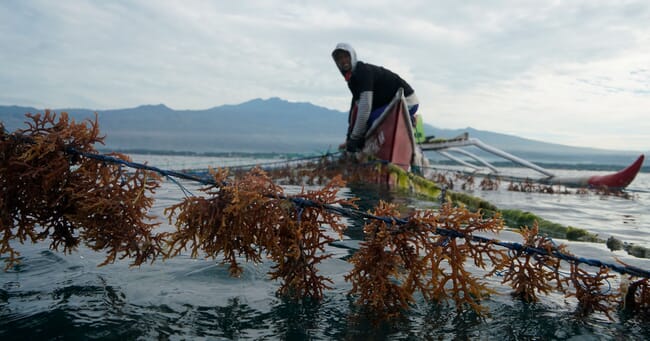 Applications
Suryanarayan went on to explain the products that Sea6 had been developing since they were founded 12 years ago, and their applications – and he was keen to emphasise the versatility of seaweed biomass.
Those already commercialised by Sea6 have included biostimulants, such as yield boosting fertilisers and supplements to make crops more robust; and animal feed additives, including immunostimulants for farmed fish and shrimp.
Meanwhile those in the pipeline include food ingredients, which are set for launch by the end of 2024; biomaterials, such as a wide range of packaging materials, by 2025; and biofuels, which can be converted in crude oil by a process known as hydrothermal liquefaction (HTL), by 2028.

"Ocean farms in a small fraction of India's EEZ [exclusive economic zone] can meet its crude oil needs," he stated.
"All in all it just goes to show how versatile the seaweed biomass is and, if you can grow it out in large quantities in large scale farms, it is really the future industrial feedstock," he concluded.
*Sea6 Energy, like Hatch, is part of Aqua-Spark's investment portfolio, but The Fish Site retains editorial independence.