How does MARI Oceans work with the farmers?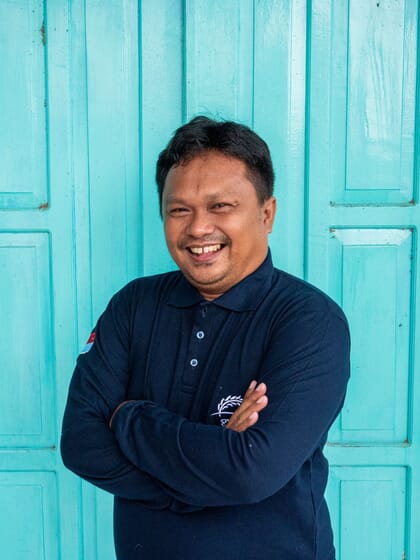 MARI Oceans tries to support on-farm business development, starting from providing seeds, financing, production facilities, then providing knowledge, and upgrading the skills of farmers. MARI also provides facilities for harvesting, post-harvesting, providing facilities for processing to packing, and inclusive market intermediation. Eventually, I hope to be able to have a processing unit as well, which could provide added value.
What are the challenges faced by seaweed farmers?
When farmers are asked, their first answer is capital, the second relates to the price of seaweed and the third is infrastructure. Farmers also need better drying facilities, rather than drying the seaweed in front of their house or on the road.
Technology is also very necessary, especially to determine weather and water conditions. Technology can also help us to adjust to market needs, so that farmers can get business certainty. There is a need for real time data for letting the farmers know what to expect and what to do.
There must also be a special government scheme for financing seaweed cultivation. Policies should not only favour big companies, but should also include the management of coastal areas.
Does the use of Xylem's Ai1 sensor have a significant impact on your farmers?
Cultivation has many factors that need to be considered. With the support of IoT tools, farmers can keep up with the changes - not every month or per season, but every 15 minutes there is an updated data coming in.

If farmers are trained about what factors affect the growth of seaweed they can understand the data and make informed decisions. For example if the salinity drops by a certain amount they should know the types of diseases or pests that will appear and how they can mitigate these.
Farmers are very happy with the tool as it helps them make predictions, despite changing conditions. What we need for future improvements is the tool to be able to provide SMS alerts.

What have you learned from your pilot project in Bone?
Innovations that can improve the business and standard of living of farmers, from income, health and education are still needed. We also need to get young people interested and involved in this business. That's why we are pushing for technology and innovation.
What do your daily activities in Bone consist of?
Meeting with farmers, discussing their business development, monitoring their sites. I also coordinate with supporting institutions such as ATI, Makassar Polytechnic, Fisheries Polytechnic, Hasanuddin University, and the national government.
I think that later the area can become a fishery technopark, offering support for technology, education, research, and business. The community cannot do this alone, it needs the support of other stakeholders, including the government.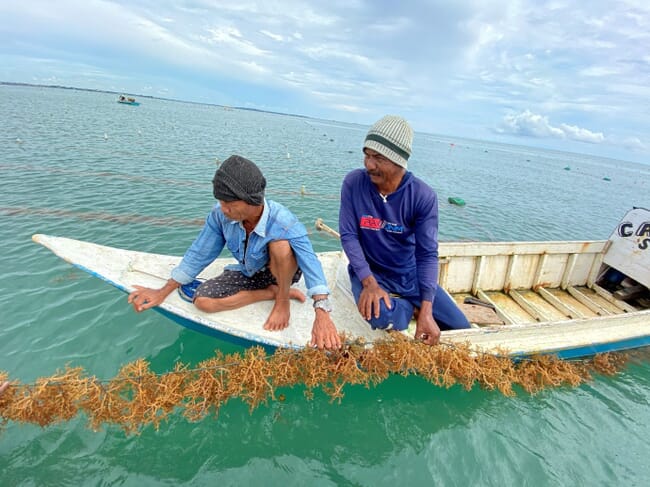 What are the challenges of working with farmers?
Their understanding of good farming practice is still lacking. And they find it hard to join a group. They are also impatient, everyone wants instant results. In addition, they always feel that the government should help. But the government has its limitations, so the community should continue to make efforts to manage the potential around them, so that they can prosper and be independent.
How did you join the aquaculture sector?
I'm originally from the fishery resource utilisation sector, where I learned about fishing techniques, technologies and the behaviour of different fish species. It also taught me that the challenge for coastal communities is very heavy, as going to sea is very expensive and the risk is very high. There are many widows left at home and the work is only seasonal. Due to these problems, we started cultivating seaweed in ponds.
We then created a consulting service, teaching other farmers how to grow seaweed and sell their product based on markets and market intermediation.
In 2003 to 2004 I had an internship in Kalimantan, where I studied seaweed cultivation. When we worked there, through a WWF project, we tried to find an alternative source of livelihoods to destructive fishing practices. So, we encouraged fishers to cultivate seaweed instead. The potential for aquaculture in Indonesia is very big. We cannot depend on wild stocks, cultivation efforts are needed.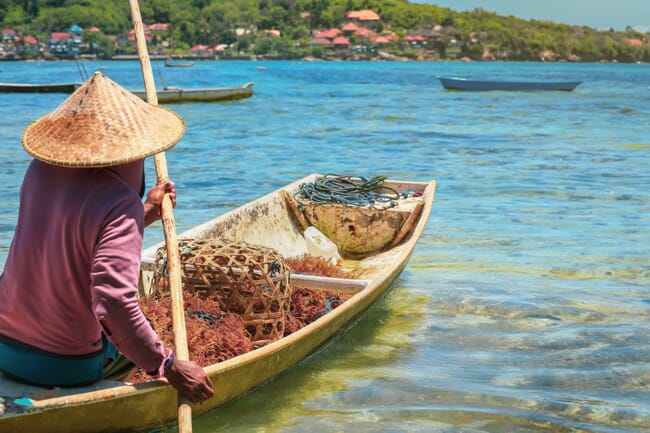 How does MARI help close the gender gap?
For instance, in terms of business and financing schemes, the wives of the farmers are also involved. The wives are involved in transaction activities, the payment of the harvest is channelled through the general household account, which is usually managed by the women in the family. The insurance also involves the wives and children. Nearly 70 percent of the seaweed business activities involves women – they make the ropes, deed the lines and dry the seaweed. MARI tries to calculate how much money is appropriate for each service provided. Maybe later we will encourage family-based financial literacy. Maybe we can also approach health issues relating to the business. Yesterday we bought gloves so that the farmers' skin can be protected from diseases.
How do you see MARI evolving in the next ten years?
MARI can influence and be an icon for the whole seaweed sector in Indonesia. Our SOPs are increasingly being adopted and it is possible that thousands of the farmers will partner with us. I still have a desire to harvest over 1,000 tonnes of seaweed per month at the pilot farm run by MARI Oceans.
MARI Oceans is continuing its growth journey with communities in Bone, South Sulawesi, to get involved please contact dodon.yamin@marioceans.com