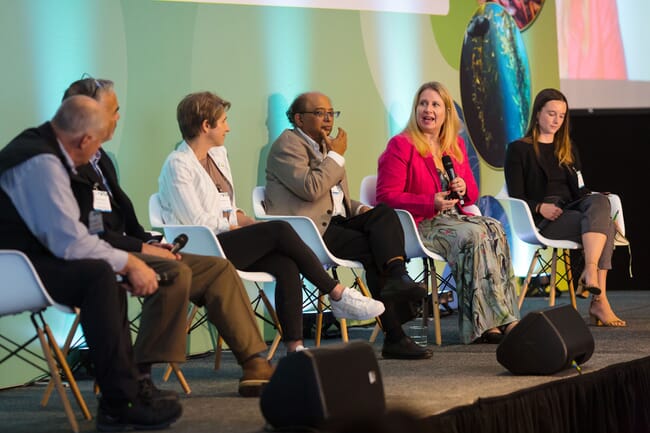 So argued Lisa Boulton, ocean regeneration lead at Nestle Purina Petcare, at a panel discussion that took place at the Blue Food Innovation Summit in London last week. As she explained, while Nestle has struggled to integrate significant quantities of seaweeds directly into their product portfolio they are promoting the use of seaweed-based biostimulants within their existing supply chains.

"One of the misconceptions about seaweed is that it's a low carbon solution… while it has strong potential to be a low carbon solution, there's a lot of work that needs to be done to decarbonise parts of the industry – whether in the cultivation or the processing. But where it's strongest is its very high potential to displace other higher carbon materials or ingredients," she observed.
Seaweed is seen by Nestle as having great potential to help the company work towards net zero carbon emissions in their products. While the company does use seaweed-derived ingredients for texturisation, she thinks it will be more testing to increase the overall seaweed content of many of their pet foods.
"It's more difficult to alter recipes within petfood than it is to reduce the footprint of existing ingredients. So, one of the uses of seaweeds that we're looking at the moment is the potential use of seaweed biostimulants within our existing supply chains," explained Boulton.
"We kicked off with a three-year post-doc research study on seaweed biostimulants at the beginning of this year and we're hoping to show the potential to improve plant performance, to increase soil health, to maintain yields while switching to regenerative agriculture," she added.
She also noted that her own role also involves looking at seaweed's potential to directly improve biodiversity and reduce acidification in the seas.
"You've got the ocean benefits from the seaweed itself, but more importantly we can use it to improve productivity and improve land use, as well as reduce the use of inorganic fertilisers - and a lot of the problems in the oceans are coming from the overuse of and excess nutrient run-off from inorganic fertilisers. So if we can tackle the problem at both ends we can turn from a vicious cycle to a regenerative cycle overall. It makes lots of sense both on land and in the oceans," Boulton explained.

Paul Dobbins, director of impact investing at WWF, was broadly in agreement – noting that the charity is concentrating on using seaweed to displace other less sustainably produced ingredients, rather than the ability of seaweed to sequester carbon directly.
"It is the displacement of terrestrial-produced feedstocks and food products that are the real climate opportunity, we believe, for seaweed on a macro-scale," he pointed out.
One of the key potentials for seaweed, according to Mike Williamson, CEO of Cascadia Seaweed, is to regenerate soil health.
"After many, many years of harsh synthetic fertilsers soils are dead and the biostimulants help the soils become living again and that improves the carbon draw down," he noted.
However, he added that not all seaweed species are effective biostimulants.
"There's a fairly small sub-set of seaweeds that will act as biostimulants that will help the plant grow better and be a more natural crop," he explained.

Tropical seaweed success
Shrikumar Suryanarayan, CEO of Sea6 Energy*, is also concentrating on producing biostimulants from the tropical seaweeds that they grow and harvest in Indonesia.
"If there's one application of seaweed that has the potential to really impact climate change is the ability for seaweed biostimulants to reduce fertiliser usage and to improve the resistance of plants to pests and diseases without using insecticides and pesticides," he pointed out.
Sea6, he went on to explain, are producing a line of proprietary tropical seaweed-based biostimulants, but these are not replacements for fertilisers. It's a distinct new category of plant input – alongside fertilisers and pesticides – which helps plants to uptake nutrients and use them more efficiently, but has only recently been recognised in legislation in many regions – including the EU and India, but not yet in the US.
"I think that all agricultural input regulating authorities will now have to being out biostimulant legislation, but that involves a challenge – we have to understand exactly why these biostimulants work: what is the active ingredient, what is the science behind that and that a whole new approach compared to how seaweed biostimulants or extracts have been used before," he said.
*Sea6 Energy is, like Hatch, part of Aqua-Spark's investment portfolio, but The Fish Site retains editorial independence.