Why ecological intensification could help China's aquaculture sector stay on top
China's aquaculture output is increasing, along with its environmental impacts. Emerging research suggests that the industry should embrace ecological intensification to meet its food production and sustainability goals – and safeguard China's place as the leading global aquaculture producer.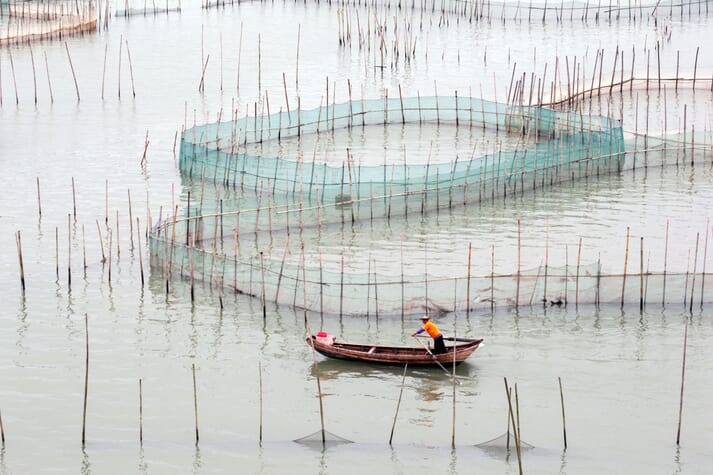 After comparing 10 different aquaculture production systems in China on their economic outputs, social gains, resource intensity and environmental impacts, researchers have found that "ecological intensification" can help the industry meet its food production and environmental sustainability goals simultaneously. Their paper, which was published in the most recent edition of Reviews in Aquaculture, explains that ecological intensification is a food production method that integrates human inputs and ecosystem services during the farm cycle to improve overall efficiency and productivity.
The research outlines how aquaculture producers could leverage different ecological intensification techniques to maximise their farm's strengths and make full use of their natural resources – regardless of the production system. If the approach is implemented successfully, producers can rely on natural processes during the farm cycle to improve outputs and minimise environmental drawbacks.
A snapshot of China's aquaculture industry
China is the world's dominant aquatic food producer – contributing 58 percent of global aquatic food products in 2018, according to FAO data. When seaweed is excluded from production figures, China aquaculture output reached 47.56 million metric tonnes in 2018. Current projections show that China's aquaculture production could continue to grow by 36.5 percent in 2030 when compared to 2016.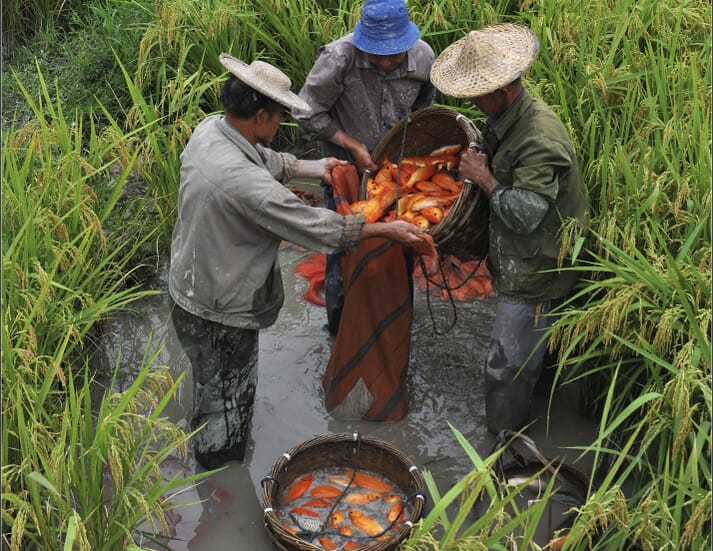 However, this increased output has come at a cost. Intensifying production has led to multiple environmental challenges like pollution, land degradation and disease outbreaks. This makes the future development of aquaculture uncertain and is spurring calls for more stringent environmental protection policies. The industry is facing pressure to reduce its energy use, water, land, feed and fertiliser inputs while increasing its production volumes. It needs to find a way to meet its food production targets in an environmentally responsible manner or it could lose its competitive edge.
The logic behind ecological intensification
China's aquaculture production systems are diverse – ranging from small-scale fish farms that emphasise low-value species and food security, to highly mechanised, large-scale operations that produce fish for luxury markets.
Researchers tend to group the production systems based on the feeding strategy they use, their location and the environment they operate in. Given this diversity, there isn't a single technique that can help the sector meet its production and environmental objectives. Potential indicators for social, economic and environmental sustainability are all interconnected. The overall sustainability of an aquaculture venture depends on how underlying indicators like land use, freshwater consumption, economic growth, food safety and pollution combine.

One key reason why ecological intensification could gain traction is that it accounts for different production methods and their varying ecological footprints, input costs and sustainability potential. The method allows farmers to implement individual strategies to achieve their sustainability and productivity goals instead of focusing on a single priority that may not apply to their operations. It also acknowledges the trade-offs between efficiency, environmental protection, resource conservation, food safety and social and economic development when devising intensification strategies. This holistic approach accounts for the footprints and constraints of the system. It also identifies unique approaches that combine human inputs with natural processes that will regulate the production environment.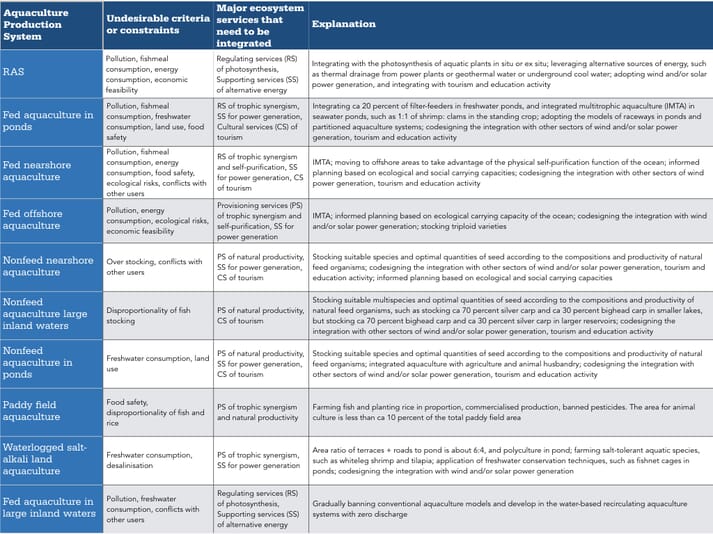 Making ecological intensification a reality
China's aquaculture industry is still growing because producers are intensifying their farming efforts. Producers are increasing external inputs of energy and pelleted feeds, or upping stocking densities to achieve high output volumes. Though this has yielded an impressive 7.5 percent growth rate over the last 30 years, conventional intensification is leading to greater environmental risks and higher farming costs overall. The researchers suggest that policymakers implement targeted development plans to promote the sustainability of different aquaculture systems. This could include:
Creating certification schemes for aquatic foods that are produced from non-fed aquaculture production systems. Policymakers could provide subsidies to producers who follow organic aquaculture rules as well. Certifying and subsidising non-fed aquaculture could help these systems develop and make their food outputs more economically competitive.
Invest more resources into aquaculture research. High-quality information on the carrying capacity of aquaculture waters, ecosystems approaches to management and the production potential of aquaculture zones will help the industry develop strategically and sustainably.
Provide preferential loans to farmers who adopt ecological intensification as a production model. This should coincide with policies that promote the uptake of ecological intensification for fed aquaculture in ponds, nearshore and in recirculation systems.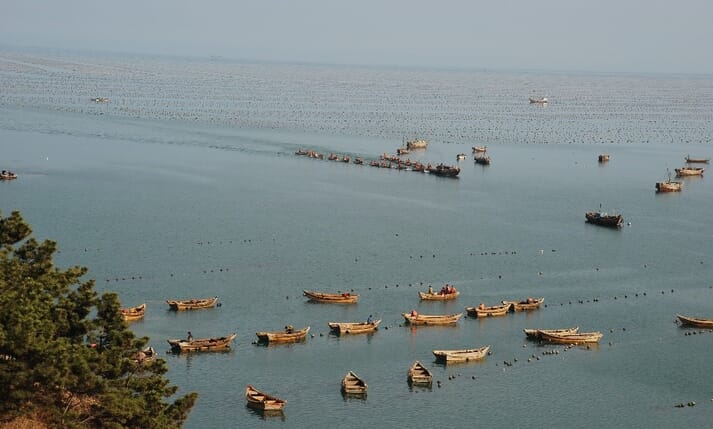 Promote aquaculture projects in areas with decreased land-use impacts. Policymakers could facilitate ventures – by providing loans and subsidies – in waterlogged salt-alkali environments, paddy fields or in offshore environments.
Integrate aquaculture activities with tourism, education and renewable power generation (like wind and solar energy). This would help aquaculture projects achieve their economic and social sustainability objectives alongside their environmental ones.
Phase out fed aquaculture in large inland waters, unless closed facilities without pollution risks are developed and adopted. This would help protect and potentially restore inland water systems.
China's aquaculture industry wants to achieve high production outputs and minimal waste discharges, while operating with a smaller carbon footprint. The researchers believe that if China can increase its use of non-fossil energy while adopting ecological intensification, it can meet this production goal and maintain its status as the global aquaculture leader.
Read more about ecological intensification in Reviews in Aquaculture.