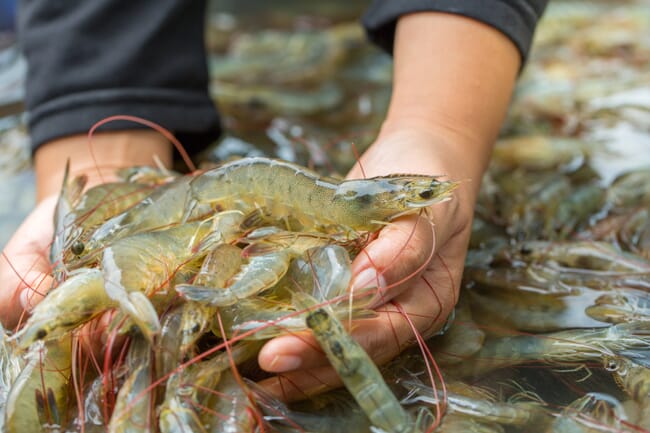 The prenursery stage for shrimp postlarvae (PL) is an important step in many aquaculture ventures. At this development stage, PLs are often stocked at high densities (up to 60 individuals per litre of water) to save space and energy. However, shrimp raised at this stocking density can exhibit cannibalistic behaviour and compete for space in the tank or pond, leading to degraded water quality.
To address these challenges, some shrimp producers are using artificial substrates to give the shrimp PLs additional surface area and shelter in the culture environment. Researchers from Hunan University of Arts and Science and Shandong Vocational Animal Science and Veterinary College have explored the use of substrates as well. The research collaboration recently investigated the effects of substrate inclusion on water quality, vannamei shrimp growth and bacterial community in a biofloc system with a salinity of 5 percent.
Comparing growth rates with and without substrate
They used a rolled packing filler (nylon) as substrates and evaluated two treatments, with three replicates each:
Biofloc system with substrate: 52.4 percent of the internal area of ​​the tank was covered with a packing filler (15 cm in diameter).
Biofloc system without substrate.
Advantages of using substrate
"The substrate showed a significant effect on total ammonia nitrate, (TAN), total suspended solids (TSS), turbidity, biofloc volume, pH and carbonate alkalinity," the researchers report.
According to the results of the study, the substrate showed a significant effect on turbidity. The researchers believe that the addition of artificial substrates can influence the circulation of water in the tanks, leading to small turbulence in the water, which facilitates sedimentation and the formation of larger flocs.
"In the present study, the final body weight, weekly body weight gain and growth rate of shrimp in the substrate treatment were higher by 10.0-11.1 percent," they note.
The researchers also recorded a 96 percent survival rate, a feed conversion factor of 0.76 and a total productivity rate of 1.54 kg per m3 in the substrate group – a significant improvement over the control group.

"The survival rate and productivity in the substrate treatment increased significantly. The substrate can act as a refuge by providing space and reducing cannibalistic behaviour, leading to increased survival," they report.
Regarding bacterial composition, the researchers report that the substrate showed significant effects in most of the seven predominant phyla.
"The results suggest that the addition of substrate affects shrimp growth, water quality and the bacterial community in a biofloc system for rearing P. vannamei postlarvae at 5 percent salinity," the researchers conclude.