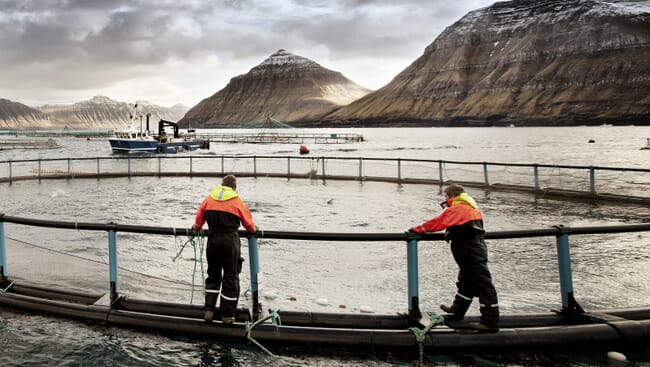 An increasing number of Scottish salmon farmers are seeking certification to prove their social and environmental credentials; the ASC – the leading global certification and labelling programme for farmed seafood – has seen a 144 percent increase in Scottish salmon farms applying for certification in the last year.
Market demand is behind this increase, says ASC CEO Chris Ninnes:
"The availability of ASC certified salmon products in the UK has increased by 61 percent in the last year alone, and three-quarters of UK consumers associate the ASC label with trust and sustainability. What's clear is that salmon consumers want products which are in line with their values. They want to know that the fish they're eating isn't damaging the planet and has been raised with care for workers and communities. And retailers will follow their consumers' values. With 16 more farms going through the initial audit stage right now, by this time next year it is possible that the number of Scottish salmon farmers who have achieved ASC certification will have doubled."
With strong continued growth of ASC certification amongst Scottish producers - an increase of 1,000 percent since 2017 – farmers can meet consumer and retail demand, ensuring that responsibly farmed Scottish salmon remains the salmon of choice for shoppers in the UK. ASC requires farms to meet the strictest aquaculture criteria in the world to be certified, needing to prove responsible farming practices from the feed they buy and disease prevention, to environmental water standards and workers' rights. If farms believe they meet these requirements, an independent certification body is sent to conduct the initial audit.

Demand for ASC labelled salmon products is growing at 61 percent year-on-year in the UK. The Scottish salmon farming sector generated £766 million for the nation's economy in 2021 – up 20 percent from 2019 – and could be worth up to £1 billion in a few years, according to industry body Salmon Scotland.
Mowi was the first company in Scotland to achieve ASC certification for one of their farms. They now have 30 salmon farms certified or in initial audit stage. For the important role they play as part of the wider supply chain, they were also awarded the ASC Retail Supplier of the Year Award 2022.
Scottish Sea Farms and Bakkafrost Scotland are now also on board– the former with three farms certified and the latter with three farms certified or in initial audit stage– leading to the 144 percent increase in Scottish salmon farms applying for certification in the last year.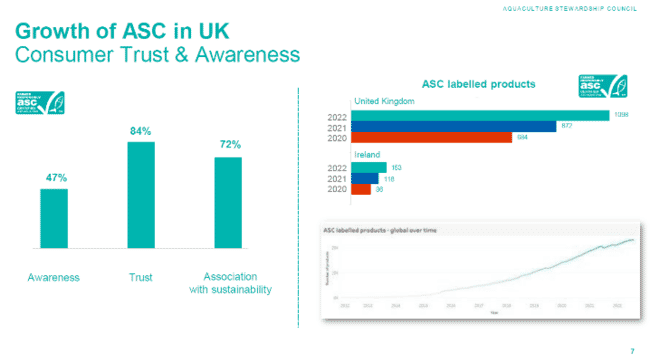 The ASC standards have been central to industry commitments to seeking independent verification of their environmental and social performance. In 2013 a group, then representing 70 percent of the global farmed salmon industry, announced their commitment to sustainability as a path towards significant change as part of the Global Salmon Initiative (GSI). GSI members have chosen to benchmark their global performance by committing to achieving 100 percent of salmon production becoming ASC certified.