Aquaculture within tidal power lagoons present a major opportunity, according to Dr Andy Woolmer, who co-authored a report on the potential that the proposed £1.3 billion Swansea Bay Tidal Lagoon project could have for aquaculture.
The proposed development is due to consist of 16, 23-foot diameter hydro turbines, spread along a 6-mile u-shaped breakwater, as well as generate enough electricity for 155,000 homes, with a lifespan of 120 years. If it goes ahead it would be the first time that offshore marine renewable energy generation has been combined with aquaculture.
"When these lagoons are in the planning stage and when they are licensed they need to plan for aquaculture," Dr Woolmer says.
"There is great potential for the aquaculture village concept, with a number of different businesses working within the lagoon but sharing assets on the shore side, and even sharing vessels," he adds.
Dr Woolmer, of Salacia Marine, co-authored the report with Martin Syvret of Aquafish Solutions, which was entitle 'Aquaculture Opportunities for Enclosed Marine Water Bodies - Tidal Lagoon Swansea Bay Case Study'. Published earlier this year, it was supported by Seafish and local businesses.
"Swansea Bay has a long history of oyster and herring fisheries. There is a lot of water coming down the Severn estuary, mixing with a lot of water coming up from the Atlantic, so it's pretty productive," reflects Dr Woolmer.
"We have tried to do some reseeding of the native oyster beds which have been depleted over the last century and that proved to be quite successful, so we brought oysters in from Scotland, re-seeded some of the beds with large adults and we have seen quite a lot of recruitment since then," he continues. "I think that's a really good indicator, like canaries in the mine, of the environment in the bay being cleaner now and more productive.
"We looked at the tidal lagoon at Swansea and their plans for a number of lagoons around the country and thought 'crikey, there's potential here'. It's an enclosed water body, protected, and if the water quality could be maintained in good condition then it has massive potential, not just for power generation but also for other economic activities."
A selection of species
The Swansea lagoon project is one of several tidal power generation schemes currently being planned for the west coast of the UK and Dr Woolmer believes each offers a unique opportunity.
"Every lagoon location is going to be different – with different water quality, different seabed types and depths – and these factors dictate what methodology you can use and what species you can grow," he explains. "So we came up with a model that could be applied to other sites and we tested it at the Swansea site and Milford Haven."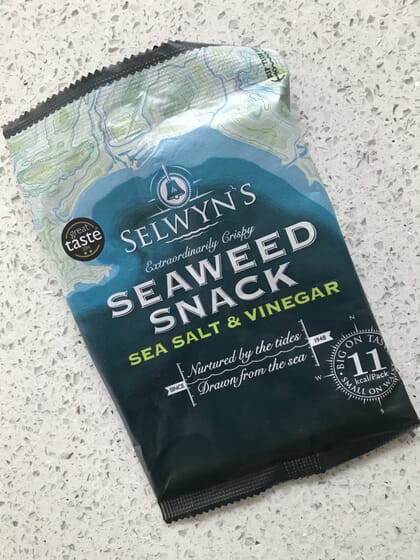 In terms of what species to grow, Dr Woolmer believes there are a number of options.
"We've looked at blue mussels – because there is a big market in the UK and we have got a lot of expertise in Wales – native oysters, Pacific oysters, clams like the ones we have on our pasta," he says. "And we have looked at seaweeds as well because there is a lot of interest in growing seaweed – both for food and bio-technology, biogas, things like this."
Dr Woolmer believes that the various Porphyra seaweed species – which are sold locally as laver bread, and as nori in Japan – have particular potential.
"We have a long tradition in South Wales of growing or harvesting laver bread and there is a local company, Selwyn's Seaweed, in the Burry Inlet which has developed some great products," says Dr Woolmer. "So we looked at laver and the potential for growing in these lagoons and I must say the large expanse of shallow tidal water (because the nori needs to be exposed every tide), is perfect for it."
In order to minimise the footprint of any aquaculture activities in the lagoon – with space in demand from a number of different stakeholders – integrated mariculture techniques could be employed, using the seabed as well as the upper layers of the water column.
"Maybe seaweed at the top, followed by blue mussels and then oysters underneath in cages or on the bottom," says Dr Woolmer. "You can have distinct areas for different activities but that is not to say that these aren't mutually compatible, some of the aquaculture activities will take place on the sea bed, no one will see them, no one will know they're there until harvest."
Challenges
While the site might be highly suitable for aquaculture, Dr Woolmer is well aware of the challenges the project faces too.
"Water quality, alongside disease risk, is the biggest threat to having a viable aquaculture business. At the moment Swansea Bay has Class B water quality which means we can grow oysters and mussels there and then purify them," he explains. "The plan at the moment is to extend the outfall beyond the lagoon wall which should give Class A waters within the lagoon, which are perfect for aquaculture. And if that can be mirrored at other lagoons or shallow water sites then it's a winner."
The report is part of a trio of inter-related publications from "Closing the Circle: Aquaculture Development in Enclosed Waters", a project supported through Seafish's Strategic Investment Fund (SIF).