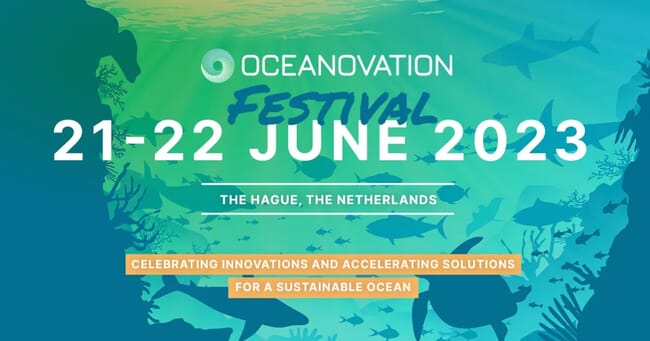 Regenerative aquaculture will be one of many ocean-focused topics being explored at the inaugural Oceanovation Festival taking place in The Hague between 21-22 June 2023. The event will bring together the most forward-thinking minds in the ocean space to identify, implement and scale the technologies we need to grow the blue economy in a sustainable way.
Set to attract over 350 attendees from all over the world, a line-up of international speakers making a difference in the ocean innovation space, and a showcase of innovative ocean impact startups (dubbed 'oceanovators') – including companies using innovative solutions and technology in the aquaculture sector – the Oceanovation Festival will provide a unique opportunity to learn, connect, be inspired, and do business while positively impacting our ocean.
The two-day event will be a veritable playground of early-stage companies showcasing their innovative, sustainable solutions for everything relating to ocean conservation, and will offer those in the industry an unparalleled opportunity to connect with fellow startups, seek investment opportunities, discover valuable resources, and gain unique insight into the future of the blue economy landscape.
The festival programme is brimming with in-depth talks, startup showcases and networking opportunities. Throughout the festival there will be multiple industry workshops with international speakers from a wide range of ocean industries, covering strategic blue economy sectors from sustainable aquaculture and coastal tourism to marine biotechnology and ocean energy.
The Fish Site's managing director, Moritz Mueller, will be hosting a workshop exploring regenerative ocean farming and diving into talking points with industry experts around access to markets, production costs and regulatory frameworks, and the potential of regenerative aquaculture as a profitable and sustainable business model.
A dedicated investor day on 21 June will provide existing and new funders the opportunity to explore investable solutions and opportunities, while the founders program – running over the two days – will offer startups with resources, such as mentoring, funding, positioning and partnership opportunities, to help successfully scale their business and meet their goals. For startups looking for immediate valuable feedback, there's also the opportunity to take part in 'Pitch on the Beach' to showcase their business or project to investors and corporates who are eager to learn more.
To find out more information about the festival and to book your ticket, visit the Oceanovation website.