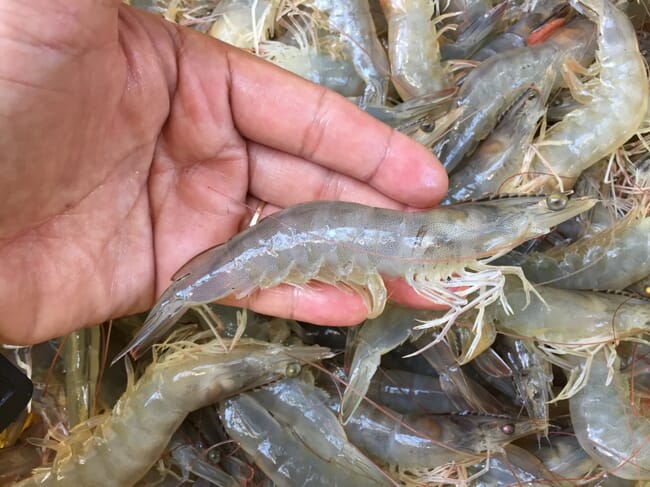 The Department of Fisheries at Khon Kaen University is carrying out a farming project with vannamei white shrimp that uses a low-saline water circulation system. The project is the collaboration between the department and Thai Union Feed Mill.
To be sustainable, shrimp farming systems need circulating water and a way to drain sewage and wastes in the pond. Waste from shrimp farming can be converted into fish feeds, while the circulated water can be treated in a closed system to reduce waste discharges in the environment. This allows shrimp farmers to achieve stocking densities that are four to five times higher than those seen in earth-pond farming. A typical farm cycle in a circulating system lasts 70 days and can produce 60 shrimp per kg.
Khun Kamphon Thaiso, the manager of the fishery unit at Khon Kaen University's faculty of Agriculture says that vannamei white shrimp is Thailand's most economically important marine shrimp and has great potential to be reared in low-saline environments. The department has been working to create a circulation system that allows the shrimp to be farmed in freshwater with low salinity. The system is designed to have zero water discharges, making it environmentally friendly. It has the capacity to farm 300 shrimp per square metre of space and has similar production outputs to conventional systems (70 day cycle, producing 60 shrimp per kg). Researchers say that these outcomes can be used to promote the new freshwater recirculation system to shrimp farmers across Thailand.