Swinomish clam garden bolsters littleneck clam populations
The Swinomish Indian Tribal Community is using funding from NOAA to build the first modern clam garden in the US, reviving a 3,500-year-old indigenous aquaculture tradition in Washington state.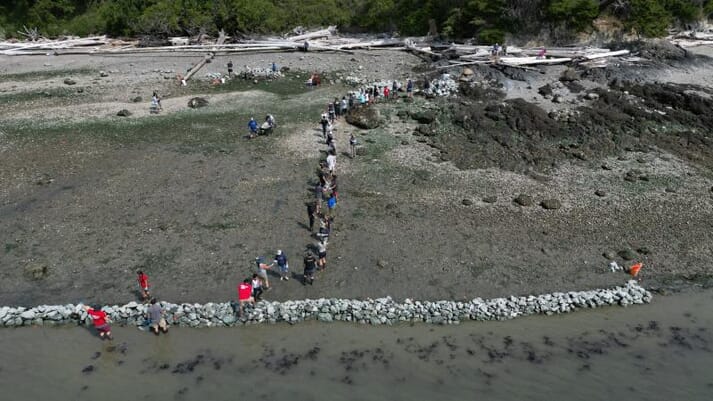 The Swinomish Indian Tribe and other Coast Salish Indigenous peoples hold a rich history of practicing shellfish mariculture in Alaskan and Washington waters. Thanks to funding from NOAA's Saltonstall-Kennedy Grants Program and the Northwest Climate Adaptation Science Center, the communities can revive this traditional practice.
For more than 3,500 years, native communities created clam gardens by constructing a rock wall in the intertidal zone, the land between high and low tides, and actively tending the beach. Over time their practices not only increased shellfish production, but also expanded clam habitat and increased species diversity, according to a study of ancient clam gardens.
This new clam garden will revive ancient practices that further connect the Swinomish to their land and sea. "We have maintained our relationships with this territory since time immemorial – relationships with the land, the water, the sea and everything that lives along with us. We are thankful to receive this funding that will enable us to continue to work with the land and the water as we restore our ancient practices," says Steve Edwards, chairman and member of the Swinomish Indian Tribal Community.

Due to influences such as colonialism and shoreline development that have displaced native communities, traditional clam gardens have fallen fallow. The Tribe's Fisheries Department and Community Environmental Health Programme collaborated with Washington Sea Grant to work with Indigenous knowledge-holders in the community and clam garden researchers. They began identifying ecological and socio-cultural benefits in future garden sites. These include teaching traditional cultural practices and carrying on ceremonial subsistence harvesting practices to younger generations, as well as creating climate resilient food sources.
Climate change resilience
The numbers of littleneck clams began declining in the 1990s due to environmental impacts such as food availability, disease and climate change. This spurred the Swinomish Community to bolster ecological resilience in their traditional harvest sites. Traditional clam gardening increases shellfish production and species diversity, including sea cucumbers, seaweed and butter clams. This increases the resiliency of the entire ecosystem.
These gardens are also able to effectively adapt to ocean acidification. Acidification causes clam shells to dissolve and affects their shell-building ability, feeding, metabolism and respiration. Clam gardens increase the number of shell fragments in the area, boosting the minerals needed to create shells and combat acidification.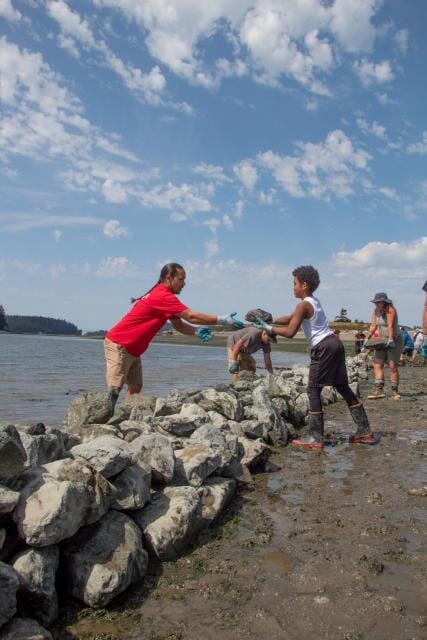 Aquaculture offers mitigation and adaptation opportunities in the face of climate change. It uses less water and land resources and produces fewer greenhouse gas emissions. Indigenous aquaculture practices in particular use sustainable methods that benefit both the human and non-human community and can allow coastal communities to adapt and thrive.