Crùbag, an established business in ocean-inspired fashion, introduced its new research and development innovation project at the recent Sustainable Angle Future Fabrics Expo in London. The partnership between Crùbag and SAMS aims to develop sustainable dyes from seaweed for use in the textiles industry, one of the biggest global polluters.
Nearly 140,000 tonnes of synthetic dyes are lost to the environment, with negative impacts. The textile industry generates $1 trillion globally, employs 35 million people worldwide and is in dire need of natural and sustainable dyes.
With initial support from Algae UK and the Biotechnology and Biological Sciences Research Council (BBSRC) the Seadyes project selected algae species that were native and readily available in Scotland and that had the potential to be farmed.
Some were already cultivated onsite at the SAMS seaweed farm and provided commercially attractive colour ranges (green, pink, red and brown).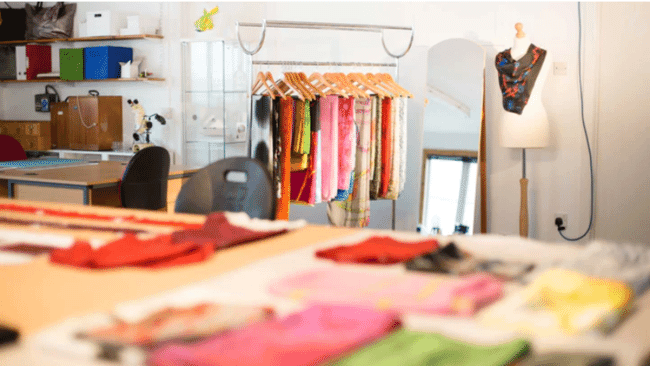 Crùbag's founder and director, Jessica Giannotti, said: "Crùbag is evolving its ocean-focused practice from design and storytelling into materiality. We want to inspire a deeper connection with nature, share important environmental education and be part of the systemic change by innovating through science, creativity and interdisciplinary collaboration. We can do better, and we must.
"The future of Seadyes is exciting, and we look forward to further developing this innovation as a commercial solution that can benefit Crùbag and other brands and organisations in the fashion and textile industries. Fashion can be a force for good and instigate poise change to transition away from hydrocarbons."
The research team quantified pigments, tested four solvent-free extraction methods and evaluated the need for pigment separation and purification. They then tested several dyeing techniques and dye fixation (pH, Temp, UV light and fixative addition).
In the second phase of Seadyes, Jessica worked with Prof Michele Stanley, associate director for science, enterprise and innovation at SAMS, to optimise the pigment extraction and dyeing process and facilitate long-term interaction.

Jessica added, "we had great results with the red seaweed Palmaria Palmata and created a beautiful natural dye in various shades of pinks and reds. The dyes were also successfully fixated on organic silk, organic cotton and merino wool.
"By working at the intersection of marine science, fashion and aquaculture, we can create sustainable products from the ocean that are beautiful – and better than plastic. It is time to move away from a petroleum-based economy and develop a circular regenerative model that doesn't take us to the tipping point. We need to preserve biodiversity, consider the natural carrying capacity of our ecosystems and transition to a carbon-neutral economy or even a climate-positive one."