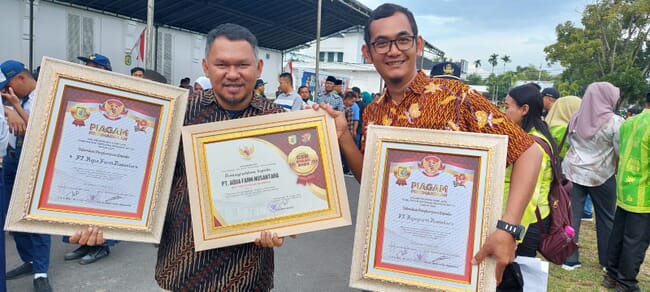 Regal Springs Indonesia won Best Corporate Social Responsibility (CSR) award in the Synergy category from the Government of Serdang Bedagai Regency. The award ceremony was held in conjunction with the 19th anniversary of the Serdang Bedagai Regency around the Serdang Bedagai Regent's Office, North Sumatra, on 6 January 2023.
This award event is offered to several companies and institutions that are considered outstanding in their contribution to running CSR programmes in Serdang Bedagai Regency. As for the Synergy category, Regal Springs received three awards:
Participation in flood management in Teluk Mengkudu district for a post-disaster programme that provided hundreds of kilograms of tilapia fish to more than 150 families affected by the floods.
Companies contributing to normalisation of Sei Belutu rivers phase II, in collaboration with the Corporate Environmental Social Responsibility Forum (FTJSLP).
Swara gate participation through the support of community social activities for one year in villages around the company's operational area.
In addition, for its efforts in fostering industrial relations, Regal Springs Indonesia has become one of the companies receiving the 2022 LKS Bipartite award at the North Sumatra Province level.

The award was handed over directly by the Regent of Serdang Bedagai Regency, H Darma Wijaya, to the management representative of Regal Springs Indonesia.
"The success of development in all fields is, of course, our common hope, and the Sergai Regency Government has tried to realise development as much as possible," said Darma Wijaya during his speech.
Andrew Rooroh, head of corporate affairs Regal Springs Indonesia, said: "We are grateful for the appreciation, support and opportunities that have been provided by the Government of Serdang Bedagai Regency, allowing us to proactively contribute to making positive impacts and providing benefits through social and community programmes. This award reinforces our dedication to collaborating with the community and stakeholders on our CSR programmes and continuing to offer consistent support for local government programmes."