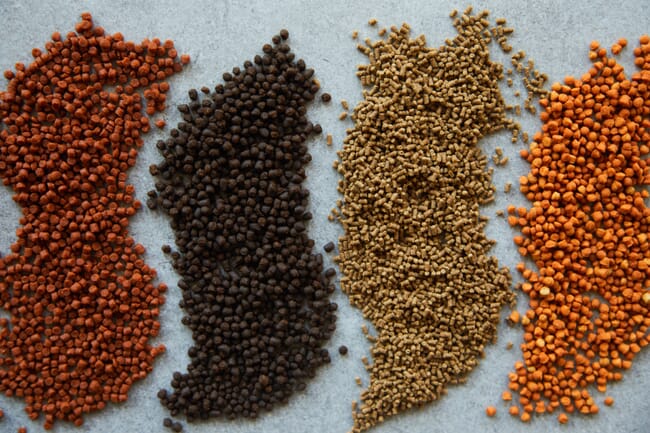 Aquaculture holds much promise to positively impact the food security, economies, and environments of the Pacific Islands. However, the development of commercial aquaculture in the region faces several challenges, one of the most significant being limited access to affordable aquatic feeds. To address this critical bottleneck, CTSA has funded several projects including some ongoing to develop feeds using local ingredients.
In recent years, CTSA has sharpened its focus on research that is in line with "regenerative" aquaculture, which is the idea of simultaneously producing food, reducing waste and providing beneficial environmental impacts; this includes research to convert products that might otherwise be considered "waste" into usable protein ingredients for aquatic feeds. This type of research aims to increase the capacity for local food production while reducing the amount of organic matter being added into island waste streams.

In the Marshall Islands, the CTSA project "Establishing cost-effectiveness and efficiency of locally produced feeds and Moi farming technology in the Republic of Marshall Islands" has developed and is refining a feed for Pacific threadfin (moi) using local ingredients, primarily bycatch from local commercial fishing operations. The bycatch is mostly considered a waste product and would normally be immediately discarded upon landing; instead, it is being used to create a high-quality protein diet for an important regional species.
Variations of the feed are still undergoing trials to determine the most effective formulation for local production to reduce reliance on costly imported feeds. Similarly, a CTSA project in American Samoa created a diet consisting of locally available ingredients such as fishmeal by-product from a tuna canning plant and island starches including banana, taro and breadfruit.
Under the project "Utilisation of local agri-processing by-products to produce fungal protein for aquatic feed production," University of Hawaii researchers were able to develop a fungal-based protein ingredient for aquatic feeds using locally available agriculture waste products. The ingredient was tested in feeding trials and results found that it could replace 25 percent of fishmeal protein without affecting shrimp growth performance.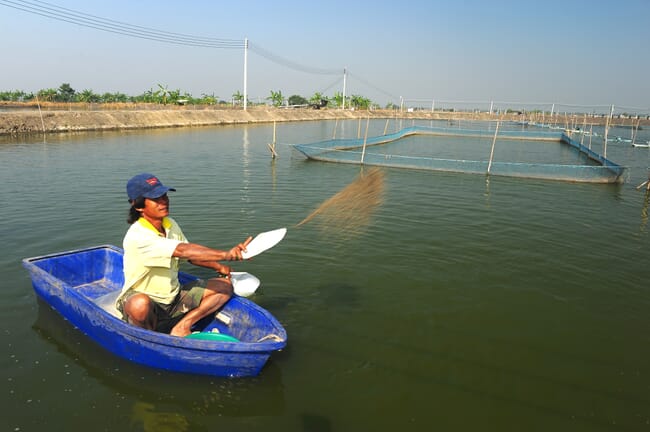 The research group tested various agriculture waste products including molasses, brewer's yeast and tofu wastewater to determine the best substrate to grow fungal biomass; they found that wastewater from tofu production is an ideal conduit to growing protein-rich biomass. The wastewater contains whey, one of the byproducts of tofu manufacturing that comes out from the curds as it is being pressed. It is estimated that just one local tofu manufacturer in Hawaii produces approximately 100 – 150 gallons of whey every day, which is normally discarded because it is seen to have no practical use. There is much potential for this technology to be applied to the manufacture of local feeds and successfully create a new revenue stream from something that is typically discarded.
Similarly, another recent UH project, "Improving cost-effectiveness of producing local aquatic feed from papaya fruit wastes via innovative bioprocessing," also produced an aquatic feed ingredient from agriculture by-products that are typically thrown away.
Papaya culls, which are available in abundance in Hawaii, were used to culture a protein-rich yeast meal. Researchers established and evaluated a process to repurpose simple, off-the-shelf fruit processing equipment along with a drying oven and a sieving system to produce papaya juice from whole papaya culls. The juice was used to culture yeast meal from Yarrowia lipolytica. The yeast meal was added to experimental diets for hybrid tilapia, and results found that the ingredient can replace up to 25 percent of fishmeal in an aquatic feed.

These CTSA-funded projects are just a few examples of how agriculture and fisheries by-products that would normally be considered waste can be converted into usable, nutritious feed ingredients. As we reflect on the many ways that we can improve our utilisation of Earth's precious resources, CTSA challenges our stakeholders to look to the future and consider the most effective ways to leverage the need to produce food with the growing amount of underutilised nutrient resources.