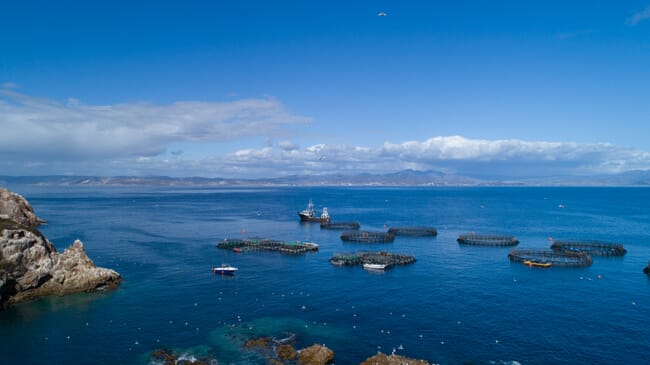 Gjerde brings an extensive background in the seafood industry, most recently serving in several senior executive positions at Mowi, the world's largest producer of Atlantic salmon. He joins Pacifico, which is based on Mexico's Baja California peninsula, just after it became the first fish farm in the Americas to achieve received Fair Trade certification.
"Pacifico and its majority owner, Butterfly Equity, were looking for CEO candidate with deep experience in scaling aquaculture companies. They believed that my background and experience at Mowi are well suited for the role," Gjerde told The Fish Site.
"I have long admired Pacifico's mission to build a world-class aquaculture platform and have been impressed with its growth trajectory over the past few years," he added. "While Pacifico is in a very different stage compared to Mowi, I've always enjoyed taking on a challenge and working in a fast-changing, dynamic environment. My experience managing Mowi's operations in Chile – which was undergoing significant change at the time – was one of my fondest at the company."
Gjerde started his career in aquaculture in 1994 as a sales manager at Domstein Salmon. Prior to joining Pacifico, Gjerde spent nearly 20 years at Mowi, most recently serving as COO of farming Americas and Faroes, where he oversaw all aspects of salmon farming in Mowi's Chile, Canada West, Canada East and Faroe Island regions. Gjerde also held other leadership roles at the organisation including COO of farming global, managing director of Mowi Chile and regional director of Mowi Norway Region West.

"Given Pacifico's strong growth ambitions, my experience in managing large-scale aquaculture operations and implementing best practices across all aspects of fish farming will be the most useful to achieving the company's growth potential," he observed.
Among Gjerde's immediate priorities are the construction of a new nursery for the bass.
"One specific area of investment that will be made in the near-term at Pacifico is a RAS-based nursery, which will help to significantly accelerate striped bass's growth profile, lower mortality rates and further optimize feed conversion ratio," he explained.
Current co-CEOs, Omar Alfi and Daniel Farag will maintain their board roles at the company and will remain actively involved with the business.
"We are extremely excited to welcome Per-Roar to the team at Pacifico. He shares our vision of building a world class aquaculture business rooted in sustainable values and his deep operational experience will accelerate the continued growth of our incredible team here in Ensenada and across the US," they said.
Dustin Beck, co-founder of Butterfly Equity, which holds a majority interest in Pacifico, added: "The appointment of Per-Roar Gjerde as CEO is a critical next step in fortifying Pacifico's role as North America's leading aquaculture platform. Mr Gjerde's remarkable expertise in all aspects of scaling fish farming businesses will help us achieve unlimited growth opportunities."