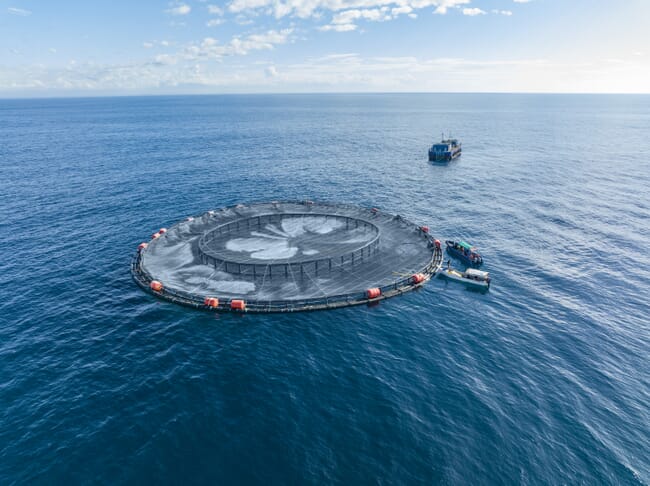 With over 2,500 tonnes of kanpachi (Seriola rivoliana) due to be harvested from their Panamanian farm in the coming 12 months, as well as additional offshore sites in Indonesia and Brazil currently under development, Forever Oceans is set to become one of the largest truly offshore aquaculture producers in the world.
"We're going to harvest at least 450,000 fish this year and we have over a million in production that will be harvested in the next 12 months. We are progressing according to plan and it's very exciting," Bien told The Fish Site during the recent Blue Food Innovation Summit in London.
While offshore aquaculture is still in its infancy, Bien believes it offers huge untapped potential and that Forever Oceans is set to capitalise on this soon.

"We want to become one of the world's largest producers of fish and seafood and the leading sustainable producer. To do that we need the volumes that go with that – so I'm fairly confident that we will triple to quadruple volumes, each year, over the next several years and then continue on a similar trajectory into the future as our market and our production success enables," he elaborated.
Forever Oceans has secured leases of at least 20 years on over 200,000 hectares of oceans for their grow-out operations in Panama, Indonesia and Brazil, with each site supported by its own hatchery. While the Panama farm is fully operational, the hatcheries are currently being established at the other two, laying the groundwork for their plans to expand. And Bien is convinced by their business case.
"I'm very confident about it. We've been sampling our fish over the past two years, as we've been producing in Panama – the feedback I'm receiving from the customers is fantastic. They're looking for a new fish. Kanpachi is a wonderfully delicious fish that is very rich in fat content, very high in protein yield, omaga-3 levels comparable to salmon and tuna. It's very sustainable in terms of feed conversion ratios. And the way that we raise it makes it more sustainable, since we're far offshore. For all these reasons it's a brand that consumers and chefs who have tasted it are all asking to buy," he explained.


Forever Oceans is currently focusing on the US restaurant and retail market, but has set its sights further afield.
"To succeed with all of our sites, we're going to have to grow fish for Europe and also for Asia," Bien added.
Farming offshore
Despite being a newcomer to aquaculture, Forever Oceans has opted to develop its own technologies rather than buying off-the-shelf ones.
"We are continuously refining and improving our patented, award-winning technology. In order to scale to the targets we've set for ourselves, and to do so at the most optimal cost and return on capital, it will require continuous design and improvement. So the short answer is that we are never satisfied, and are therefore always continuing to innovate," says Bien.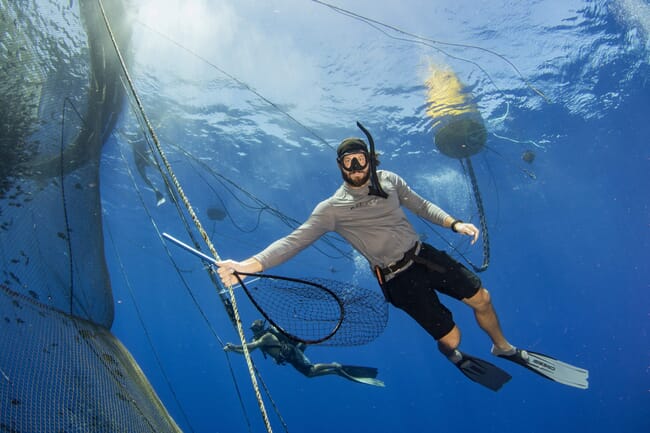 "What we've learned is that a holistic approach to the engineering and the production is needed to succeed. Offshore farming required a breakthrough in technologies. We're over 10 miles offshore, so we needed an end-to-end internet of things stack of underwater technologies, which we developed ourselves. It starts with the single-point mooring system, which is enabling us to have the cages, the enclosures and the vessels work far offshore, in water that's from 100 to 1,000 m deep and that enables the water to naturally cleanse the cages. In addition, we have to have a full set of sensors and underwater cameras for both fish monitoring, health reasons – to ensure the natural conditions are good conditions for the fish – but also to apply artificial intelligence via the cameras to be able to monitor and predict fish growth," he added.
"Then all of this has to be taken by dataflows from the cage to the vessel near it and a command and control module which then communicates it back to the shore, then to our network operations centre in Hawaii, so we can continue to learn and practice the right animal husbandry," he continued.
The current design includes a vessel that operates beside the cages that stores – and delivers – feed, extracts mortalities and can move the cages if needs be.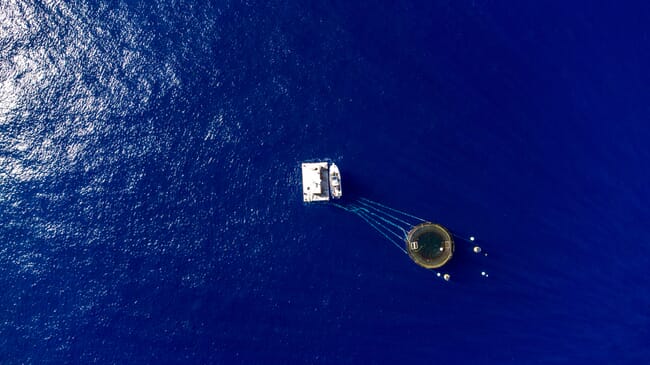 "This is what enables us to work far offshore in a very automated fashion. Our single point mooring gives us several options in case of environmental risk," he said.
These options include the ability to submerge the cages – so they aren't battered by hurricanes – or even move the entire site to a new location, should there be environmental threats to avoid.
While the existing farm in Panama has not had to be submerged to date, modelling suggests that it will enable the pens to withstand even Category 4 or 5 hurricanes.
"We have a field service team going to the barge to do manual intervention when needed, but most of our management is onshore – via the cameras and sensors," said Bien.
"The design is to make it very autonomous, but right now we have to deliver feed to the barge on a regular basis," he added.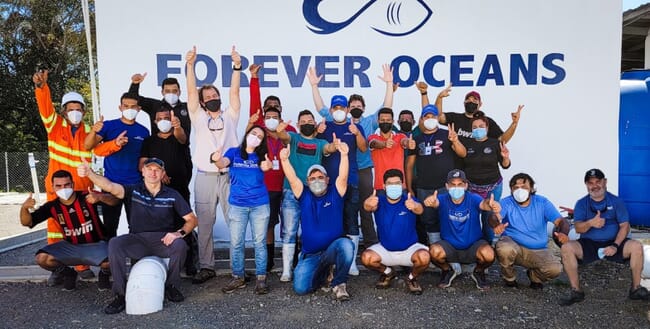 Permits and politics
While offshore aquaculture has struggled to gain regulatory acceptance in many countries – including the US – the company has succeeded in negotiating long-term leases with three separate governments.
"It's been work, but I'm very honoured to be partnering with the governments we've been partnering with. They have common interests, just like we do. All three see the need to find new ways to produce food that increases local employment and global food supplies. And doing it in an environmentally friendly way. I couldn't say more about the proactive business nature that these countries have shown with us and we look forward to honouring their local labour practice laws, environmental laws and the concession agreements that we have," he reflected.
Targeting carbon neutrality
Bien, who helped to make Signify carbon neutral in his role as strategy and chief marketing officer with the company, is determined to ensure that sustainability – both economic and environmental – is at the heart of the company.

"My vision is that aquaculture should be carbon neutral, maybe even carbon negative. I know that seems like an outlandish statement, but please bear with me. We all have to deal with air freight of our products, with shipping products to our farms – that's a huge carbon cost. But I have seen, and I have led, a large manufacturer that produces $5 billion of products annually become carbon neutral, so I know it can be done," he argued.
To do that Bien noted that the company needs to make its own processes in the supply chain more efficient, use renewables as widely as possible and look towards innovative methods to improve the environmental performance of the company.
"We are well on track to receive the ASC certification and the BAP certification this year, but I want to do more and am working with outside parties to identify how an offshore farm can become carbon neutral. Through changing our own operations – we will have to buy some offsets like everyone else will – but most of it can be done in-house," he reflected.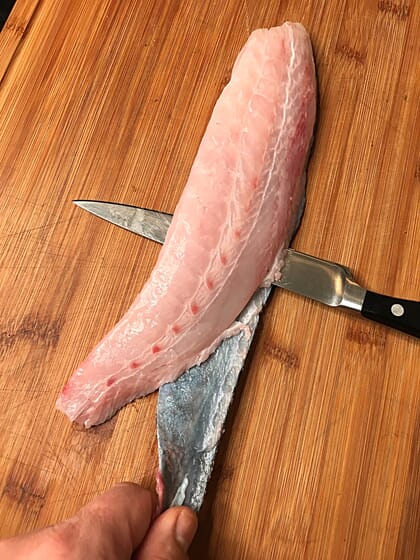 Bien also mentioned that he is considering making significant proportions of the 200,000 hectares of ocean that they have leased available for carbon sequestration work – either by the company or others.
"We need to think how we power our facilities and we need to think of our production zones as protection zones. What if we used some of it for bivalves? What if we took some of our revenues and put them back into repopulating the mangroves? These are all the things we're thinking about, because the ocean is fundamental to our health," he argued.
Feed is another area he is looking to improve on. He said that currently the feed they use is 37 percent fish-based, but that they are looking to incorporate a range of alternative ingredients.
"Two of the [current] components come from sustainable wild-caught prey, one is from by-products, the rest is plant-based. In addition, what I'd like to do, like the salmon industry is to bring in algae to replace the fish stocks," he noted.
Bien is focused on the social impact of the company too, including the 150 people the company currently employs outside the US. He noted that "Forever Oceans pays above market rate for specific, specialised in-market roles to ensure they keep the best talent". He added that most of the management team and scientists are women, as they were often the most promising graduates in the relevant fields.

"Sustainability is achievable, but however sustainability is more than the environment… it's also about providing sustainable jobs, to women, in people in communities that don't have the same economic livelihoods as we do in the United States, North America, the industrialised economies. So we in aquaculture, who grow fish around the world, need to employ people and provide jobs that enrich them, and this is what we do at Forever Oceans," he explained.
Technological innovation
Forever Oceans was spun out from the US aerospace corporation Lockheed Martin and Bien is now looking to apply their aeronautical expertise to develop drones around the cages as a way to identify environmental threats.
"What are the environmental threats that are five miles away, that are going to move to our cages within a week. And what can we do to react to that. Do we need to move, do we need to enrich the oxygen, do we need to be ready with some type of remedy?" he asked.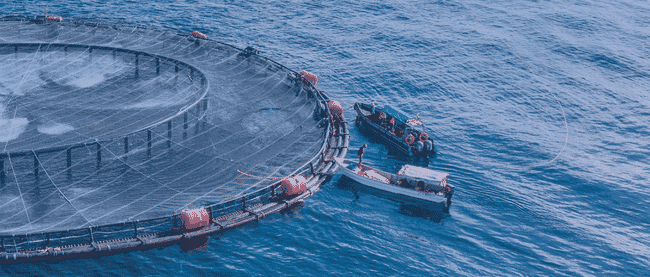 Given the scale of the cages he is also keen to ensure that no parts are beyond the reach of operators – "so we systematically either improve performance or systematically stop the problem".
Decision support systems is another area he is looking to develop, based on his experience in a previous role managing 20 factories for Signify, the company behind the Philips lighting brand. According to Bien this a way to improve production, enable benchmarking between sites and reduce the risk of production.
Finance
Given the cost of establishing three offshore farms and RAS hatcheries, Forever Oceans must have raised considerable funding already, but are likely to look for additional investment once their first commercial harvest is complete.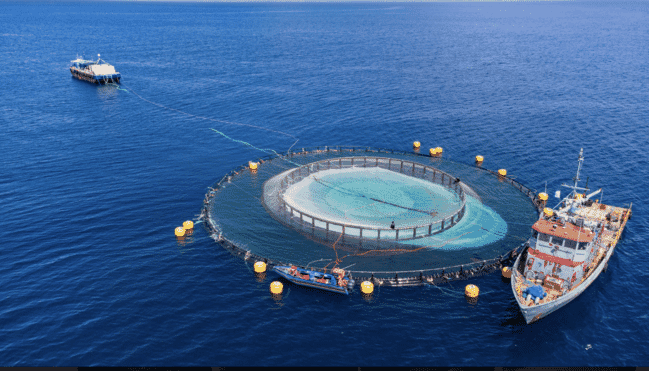 "We are focused right now on our harvest in August. We have customers lined up to take our product. We have a fantastic financial partner, Bessemer Ventures, among others. We have sufficient capital to operate. As we go into the harvest we are taking inbound interest from investors. We welcome that. As we expand our opportunities we will need that capital, but right now we're looking for the best product we can sell to our customers," he explained.
Looking at the bigger picture, Bien concluded that offshore aquaculture has huge potential to help to feed the planet in an environmentally sensitive manner.
"What we are doing at Forever Oceans is part of a broader movement to create natural protein in new ways that improve our environment rather than degrade it. We're confident we can get there," he concluded.