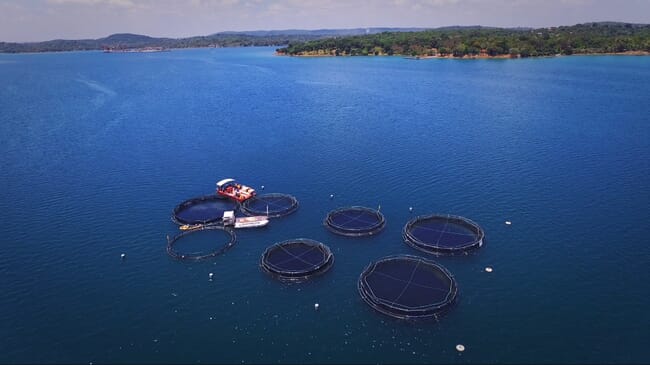 Oceanpick made history in Sri Lanka 10 years ago, when the company started its journey to farm barramundi (Lates calcarifer), also known as Asian sea bass, and became Sri Lanka's first and only commercial producer of this Indian Ocean-grown fish.
Irfan Thassim, the company's pioneering founding director, recognised that Sri Lanka's fishing industry was in urgent need of transformation, because more than 90 percent of its fish came from wild capture, with many stocks at risk of depletion.
"The island's attempts at raising Lates calcarifer, which is locally known as Modha, in aquaculture were mostly concentrated in brackish water lagoons, freshwater lakes and inland ponds. I recognised the value of raising sustainable, ocean-grown fish and set out to show how it could be done," he told The Fish Site.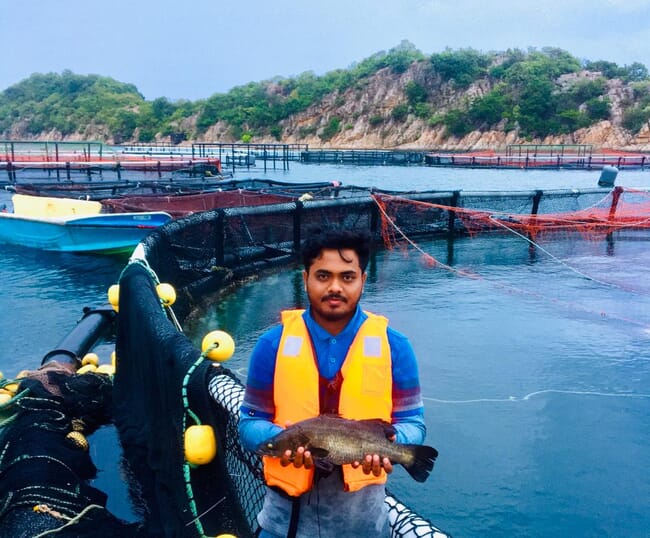 Realising that he needed international help to realise his vision of becoming the first ocean farming operation in Sri Lanka, Thassim turned to Kames Fish Farming in Scotland.
Kames initially provided cages and technical expertise, but an enduring relationship has since developed. Thassim acknowledges that Kames has been invaluable in helping Oceanpick to flourish, with production steadily increasing to meet the demands of a growing market. While their farm has the capacity to produce 3,000 tonnes of fish they are on track to harvest around 1,200 tonnes in the current financial year, making them one of the world's largest producer of this species.
Barramundi fingerlings were initially imported from Australia to kickstart the production process, but Oceanpick now operates its own hybrid flow-through hatchery, which supplies its farms off the coast of Trincomalee, on the eastern seaboard of the country.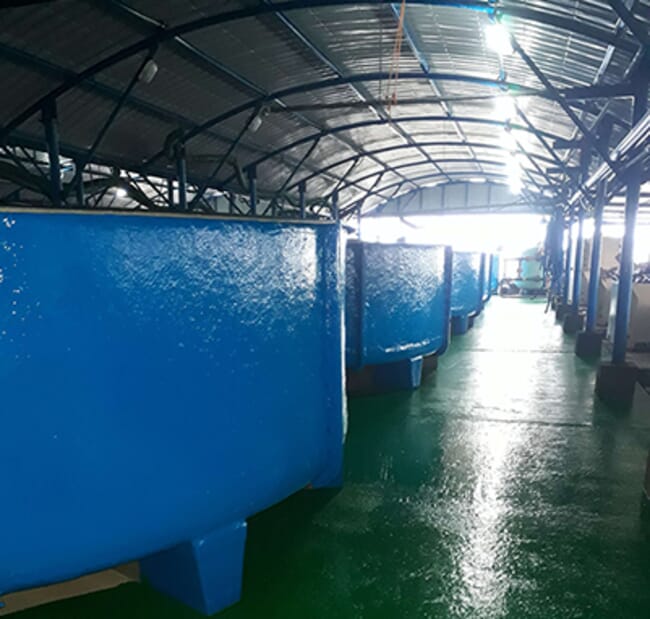 Trincomalee is home to the world's second-largest natural harbour and has remained free of industrial-scale activities that are typical of some other farming locations in Asia. There are also strong ocean currents in the area, all of which made it an ideal choice for the farm sites.
"The pristine, natural farming conditions are reflected in the quality of our fish," says Jacqueline Perera, Oceanpick's senior sales and marketing manager.
Starting with a small core staff, Oceanpick now employs more than 60 people at its farm sites and 15 at the corporate office, making the company an important local employer, which offers training and career development. The number of cages has also increased, from six in 2014, to 28 today.
The land-based hatchery and nursery are located close to the sea sites, and fingerlings are first transferred to 40 m circumference cages, moved on to 50 m cages as they grow, and finally into the larger 70 m cages to finish the production cycle.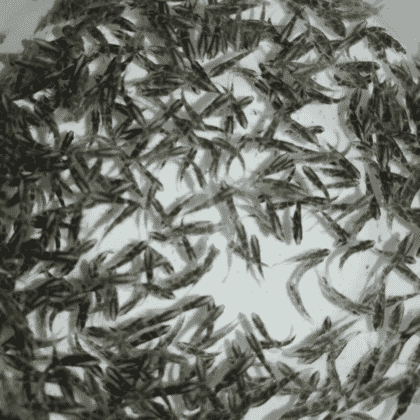 According to Perera, it takes just 1 year for the fish to reach 1 kg+ , the size most in demand by customers. A few cages are also growing fish to 1.5-2 kg to target new markets, including Australia and the US.

Fish are harvested on-demand, immediately put into slurry ice to maintain the cool chain, and are processed and frozen, or packed fresh for sale, within 3-4 hours of harvest at a local partner's BRC-accredited plant.
The barramundi are fed by hand to appetite, which is more labour intensive than automated processes, but allows staff to constantly monitor the performance and progress of the fish, and ensures no wastage of feed.

"We are very much welfare-led, rather than being mechanised, and in Sri Lanka, it is important to provide employment for the local community," Perera says.
As well as producing fingerlings for its own use and for sale to other farmers, the Oceanpick hatchery also runs a development programme under its corporate social responsibility (CSR) plan. This helps to support local fishing communities, who produce fish in ponds – both for their own consumption and for sale.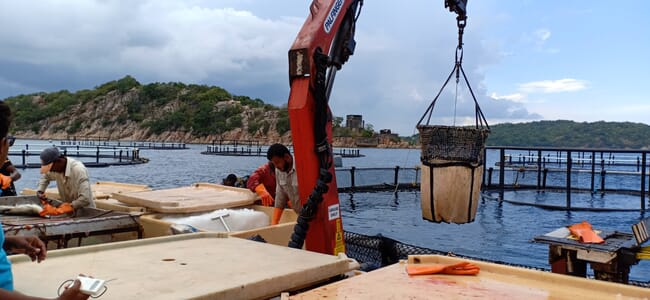 While barramundi might be a word which comes from the Australian Aboriginal language, the species was first farmed in Thailand in the 1970s, according to Oceanpick, before the trend spread throughout Southeast Asia. It is now produced in countries including Australia, Singapore, Brunei, Malaysia, India, Indonesia, Philippines, Vietnam, Israel, Thailand and the United States, as well as in Sri Lanka.
Recognising that sustainability and responsible farming practices are key issues for consumers, Oceanpick has ensured that its fully integrated operation conforms to Best Aquaculture Practices (BAP) standards. The company recently achieved 4-star status, as a result of the hatchery, farms, packing plant and feed sources all achieving BAP certification.
"Being part of the BAP family has made a big difference to buyers' perception of our company and our products, and achieving 4-star BAP is a different ballgame altogether. It is particularly pertinent in the EU, where buyers are exacting in their product procurement process, but this is good for us and good for the planet," Perera says.

Oceanpick is also a member of SEDEX, which helps companies to map, assess and report on their supply chains, to better manage and improve ethical and environmental performance.
"Business is good, and we have been busy scaling up operations to cope with global demand for our barramundi from the food service sector, retail and wholesale customers. We are selling into the US, Australia and throughout South Asia. The Maldives is currently a growing market for us, and I am concentrating on developing new markets in Europe, Scandinavia, Japan, Canada," Perera says.
She is pleased that international travel is permitted once again and Oceanpick showcased its range of products at both Seafood Expo North America (SENA) in Boston and Seafood Expo Global, in Barcelona, this year.
"We have been marketing our barramundi as 'salmon of the tropics' and find that it compares very well against species such as the European seabass," she says.
Fish are available fresh and frozen, as whole gutted, fillets and portions. According to Perera, skin-on/off fillets are the most popular product. Trials are also underway to produce value-added fish that, for example, include marinades.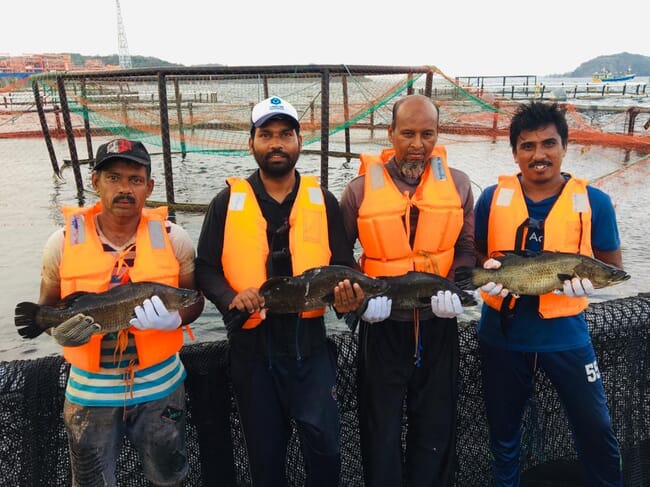 According to Oceanpick, domestic customers, including Sri Lankan Airlines, particularly appreciate the distinctive buttery taste and flaky texture of the fish, which the company says is different from Modha barramundi grown in brackish water. Locally fish are sold under the Round Island brand, named after a local landmark island, while international sales bear the Oceanpick label.
The company recently sealed an agreement with Pacific West Foods, Australia, for the exclusive distribution of their barramundi in the Australian market. It is a deal which Thassim hails as a "key milestone" in the company's journey.
Pacific West has a long track record of developing close relationships with suppliers and is always on the lookout for new and better ways to deliver a diverse range of branded premium products to the food service and retail markets, according to Glenn Mitchell, the company's procurement head.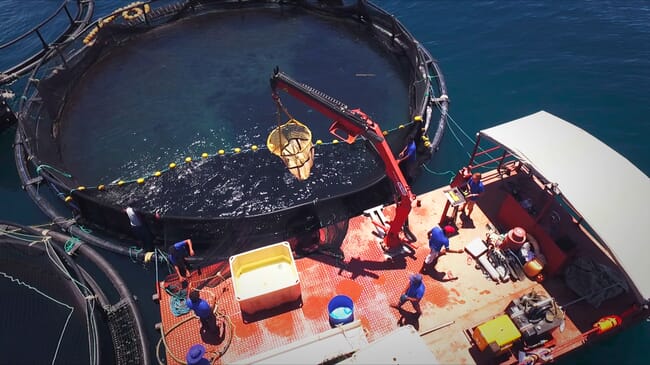 "Oceanpick's barramundi has been well received in the Australian market, and we are truly excited to bring home such a wonderful product," he says.
Oceanpick has already put Sri Lanka firmly on the global aquaculture map and has opened the door for other aquaculture producers in the country to develop their own small businesses, but Thassim is ambitious and has plans for new species and more farms.
Perera explained that trial production of other species – including grouper and snapper – is already underway, which should result in the first commercial harvest in 2023/24.
"The economic climate has been very difficult globally, and particularly in Sri Lanka this year, with political unrest, rising costs and a fuel crisis, just as we were coming out of pandemic restrictions. Logistics have been very challenging for us, both practically and financially, but we have managed to keep supplying our customers around the world and are pleased to see the situation finally beginning to ease. We have benefited from strong leadership from Mr Thassim during this time, which has helped us to hang in there," Perera says.

The company recently moved its corporate office to the centre of the capital, Colombo. During lockdowns it concentrated on revamping its domestic retail offering, which accounts for around 10 percent of its business.
"We have revamped our retail packaging and our Round Island Barramundi is now on all local supermarket shelves. We have also developed the capability and capacity to undertake retail packing for the international market, and are actively seeking business in this sector," says Perera.
"We are entering exciting times for the company and are looking forward to a productive and successful future as leaders in the sector," she adds.