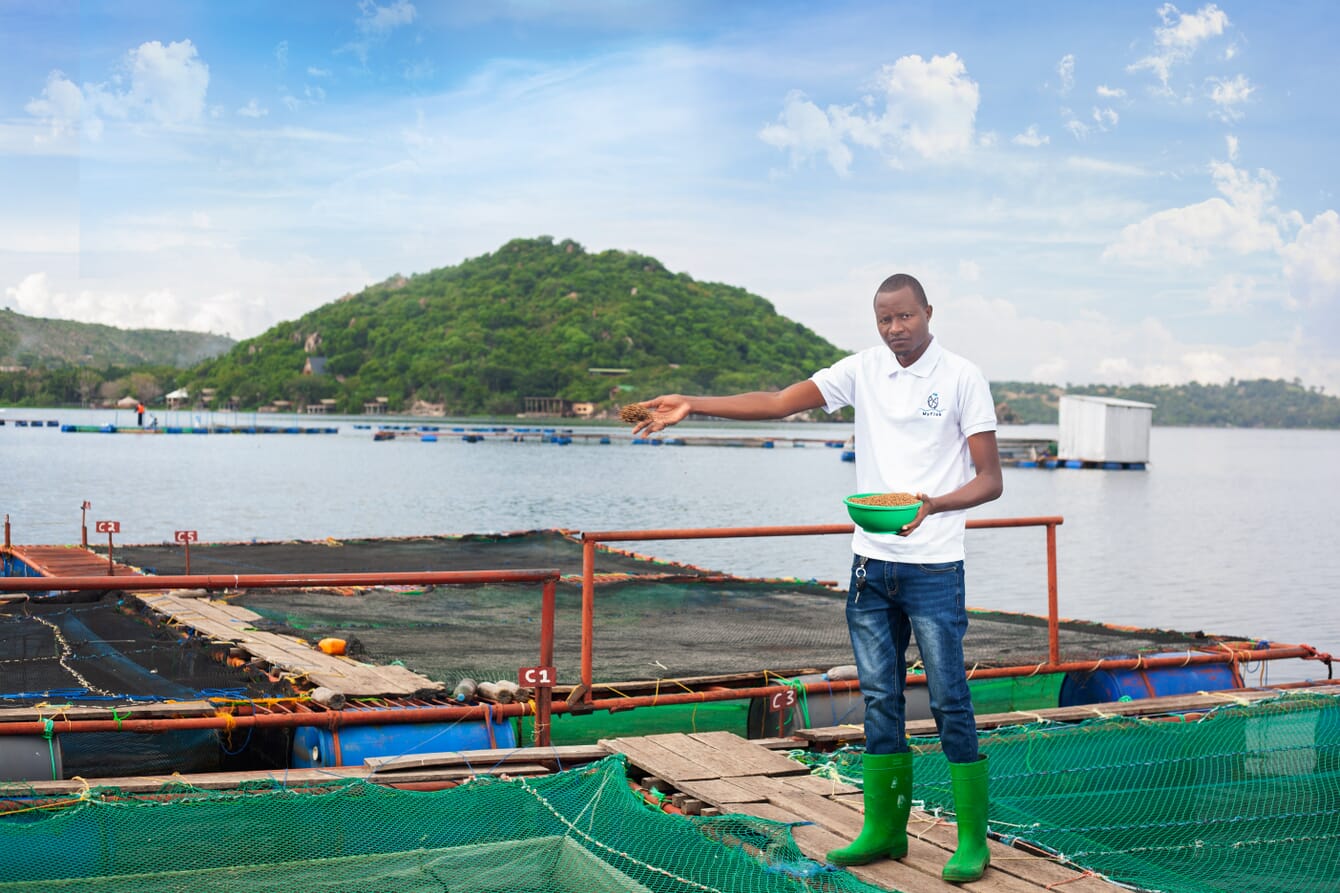 The 33-year old is founder and MD of My Fish Tanzania, which is located in the Mwanza region of Lake Victoria. Key milestones include being the first person in the country to be granted a permit to farm in cages, in 2016. Starting with 12, he has managed to expand to 59 cages – 80 percent of which are currently stocked. Meanwhile his five-pond hatchery is 10 km from the grow-out farm and supplies local farmers, as well as his own operations, with 2 g fingerlings.
It's an impressive setup for someone who began farming almost straight out of university, back in 2011.
"After university I wanted to employ myself. I started by farming onions and tomatoes but didn't find it very interesting. But then I discovered fish farming and went to the local fisheries college where some students taught me how to construct a pond," Mpanju reflects.
His first ponds were on rented land, but he bought his own plot in 2014, where he build two 20 x 30 m ponds. From there, through careful self-financing, he gradually built up the business and he is now one of the leading young farmers in the whole of East Africa.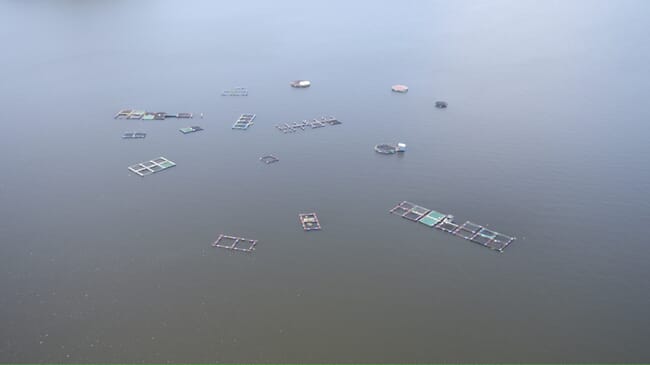 His 59 cages are around 500 m from the shore and include 5 x 5 x 5 m square cages, and three sizes of circular cages: 13 m x 7 m 10 m x 7 m and 7 x 10 m. The lake is 12 m deep where he farms.
Mpanju - who currently employs 33 people and was named Tanzania's farmer of the year in 2022 - divides 80 percent of his time between the hatchery and grow-out farms, while the remainder is spent in the office.
He sells his fish, whole, at the farm gate to local vendors who then go on to sell them in markets or stalls on the street.
"In the future I'm planning to sell some of the fish directly to restaurants in the big cities, as that's better money, but I don't yet have the capacity," he explains.
Feed and finance
In the meantime he has two main challenges to overcome.

"The first is feed – there's no quality feed produced in the country. The local feed is poor and if you use it, it will take a long time for your fish to be ready to harvest. As a result we have had to import feed from countries like Egypt and the Netherlands – which is expensive. Especially as we're too small to get the bulk feed discount that the big farms get. And feed has also become more expensive since the Ukraine war – it's gone from $1.3 to $1.6 per kilo," Mpanju reflects.
"Another things is that fish farming here is still a new business, so no banks offer loans for fish farming projects. That means we can only grow slowly, slowly. And that we can't invest in new technology, and if we don't invest in new technology you can get left behind," he explains.
If he was able to raise the funds one of the first changes he'd make would be to switch from steel cages to HDPE ones, which are able to cope with rougher conditions.
Another would be to move the hatchery from ponds to an indoor recirculating aquaculture system (RAS) facility.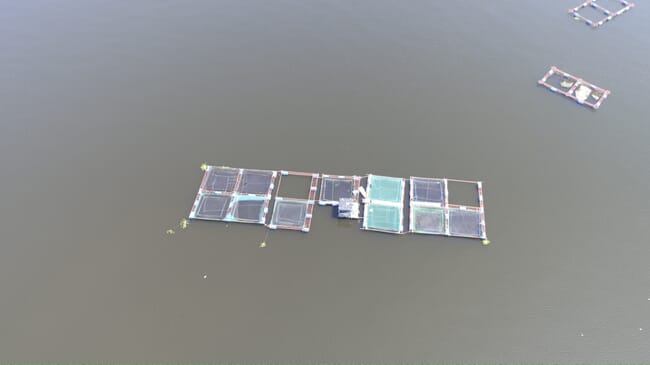 "It would be very expensive, but easier to manage, would improve the quality of our fingerlings and also require less area than the ponds," Mpanju reflects.
Other challenges he's had to contend with include predation by otters.
"They are a big problem in our area. We've had to put in special predator nets and make sure we cover the pens well," he explains.
Poachers have also been a problem – although they appear to have been confined to history.
"In 2017 we had people come and steal our fish, but we don't have that problem anymore as we have a patrol going round the lake at night and we also have small floating houses beside the cages which people live in to make sure that everything is safe," Mpanju explains.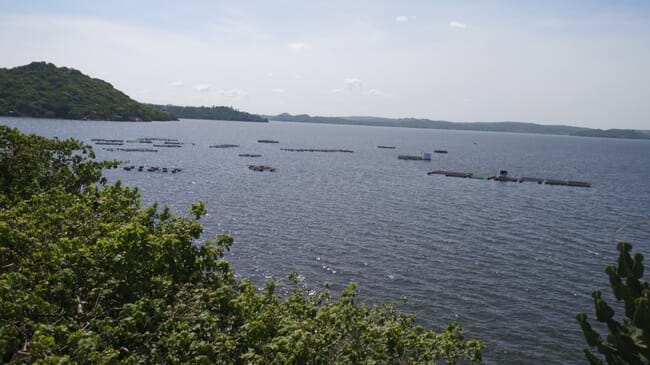 Local advantages
On the upside, he notes that they have not had any disease outbreaks, other than some minor issues with fungal infections on those fish that are injured during regular farming operations, such as grading.
And while farms in neighbouring countries are limited to using local strains of tilapia, the Tanzanian government has permitted Mpanju to import GIFT and Big Nin strain broodstock from Nam Sei farms in Thailand.
Given the fast growing nature of these strains, combined with the near perfect growing conditions on Lake Victoria Mpanju is able to grow his fish in the cages from 2 g to 600 g in only six months, with a feed conversion ratio (FCR) of 1.3.
"In our part of the lake all factors are almost constant. The temperature range is 22 °C to 28 °C all year. Other factors like ammonia, pH and nitrogen are all constant," he reflects.

He also notes that the market is strong.
"In the Tanzanian culture we like fish, especially freshwater fish – the demand is big, while the supply is not. For instance, I have one customer who wants to buy 50 tonnes of tilapia a month. I want to scale up the farm," Mpanju explains.
Given that he has licence to farm 2 km he thinks that growing at least 100 tonnes a month would be highly feasible – a target he's hoping to reach within two years.
As a pioneer of cage farming in his region, Mpanju is very much the leading light of the local sector. The farms in his area were, he says, all started by people who were inspired by his success, so he needs to travel further afield if he would like to learn more.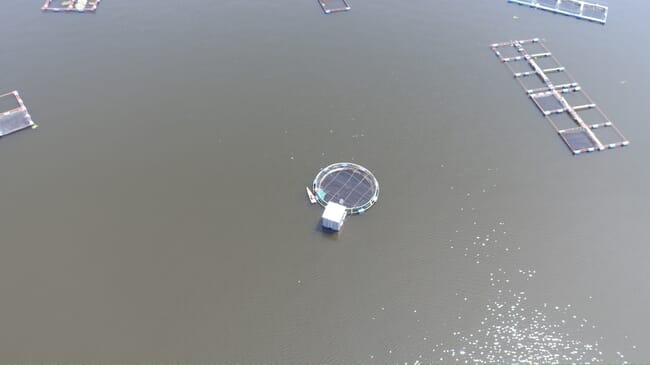 "If I want to learn I normally go to Uganda, Kenya and Zambia, where there are bigger farms using better technologies – like Yalelo in Zambia, Victory in Kenya and Son in Uganda," he explains.
Mpanju admits that he would love to emulate the success of some of the continent's flagship farms. But, to do so, will be a question of landing the finance required to dramatically upscale.
In the meantime he remains confident that he will be able to increase production to 100 tonnes per month – a five-fold increase – within the next two years.