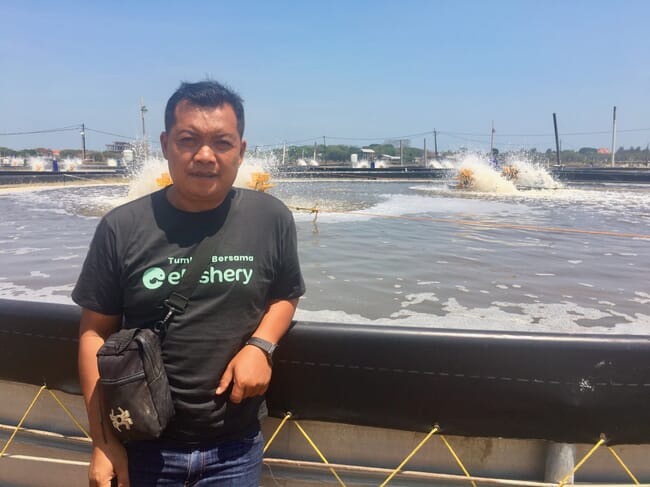 What is your name, age, role and country of operation
My name is Iwan Sumantri and I'm 42 years old. I'm currently working as the technical manager in the Millennial Shrimp Farming (MSF) project for the Brackishwater Aquaculture Development Center (BADC) in Jepara, Central Java, Indonesia. I'm responsible for the implementation of this project, which is a pilot project started earlier this year. I drafted the technical concept and then executed it with a team of millennials we trained as future experts and entrepreneurs in the shrimp sector.
How long have you been farming?
I've been working in shrimp aquaculture since 2005. I also worked in a feed company in Indonesia for three years as well before working for BADC Jepara. Now I'm working as the manager of MSF which is owned by BADC Jepara.
What size is your farm and what species (and how many tonnes per year) do you produce?
We produce Pacific whiteleg shrimp. The total area of ​​the farm is 9100 m2. We have 29 ponds, each is 314 m2. We stocked 365 PL/m2 in our second cycle and 275 PL/m2 in our first cycle.
In the first cycle, we were able to harvest at an average of 2.2 tonnes per pond for a rearing time of 109 days. The least is 1.8 tonnes in one pond. So, we produced about 70 tonnes per hectare. The project itself is very new – we started in January 2021. Construction was carried out in early 2020 and finished in December 2020. In our second cycle, we hope to produce 90 tonnes per hectare.

What sort of production system do you operate?
The farm is an intensive farm with a relatively small, circular pond design. The ponds are lined with HDPE.
Each pond has two paddlewheels and a ½ PK powered blower. With the energy of 2 PK per pond we can produce about 2.2 tonnes of shrimp.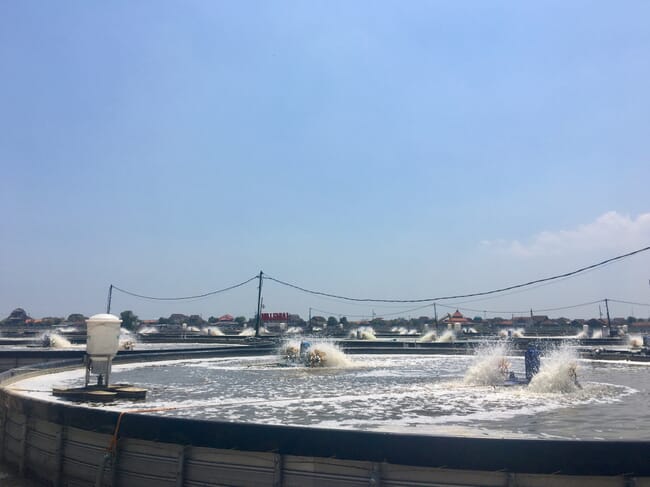 How does MSF compare to the average shrimp farm in Indonesia?

MSF actually starts with the idea that shrimp farms must adopt the latest technology on the market. We no longer rely on intuition but determine our actions by monitoring the condition of water quality and shrimp health in real time with automated tools. That's why we call this project Millennial Shrimp Farming, because the millennial generation is closely related to the Industrial Revolution 4.0.
Now we are using the internet to send data, monitor all activities in the pond, from the paddlewheel, oxygen status and feed consumption. That's what distinguishes it from conventional farms in Indonesia.
The small, circular pond design also distinguishes us from conventional farms which usually are square-shaped and significantly larger. We have a farm of ​​9100 m2 with a total of 29 ponds. With the same area, conventional ponds will likely only have two ponds. For us, the small size ensures greater probability of success in the case of viral attacks. If one or two ponds suffer from a disease outbreak, we can eradicate it quickly and it only affects a small percentage of the ponds. If we only have two ponds, 50 percent will be affected.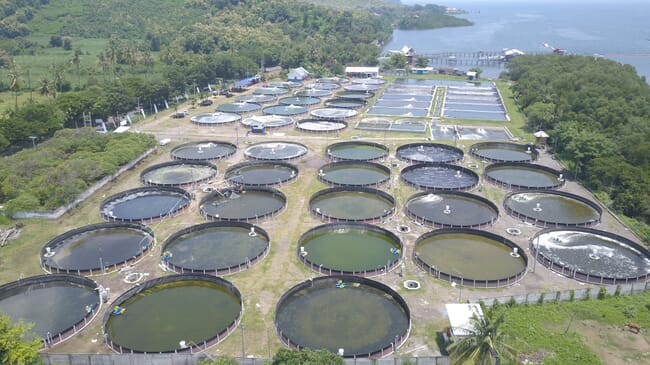 What piece of equipment would you most like to have on your farm?
So far, we have been monitoring shrimp feed consumption by checking feed trays. If we can know the level of consumption with an underwater camera that captures data at high turbidity, it will be very helpful. That way, we can optimise shrimp feed consumption. If there is such a technology, it may even be possible to simulate shrimp movement to identify healthy, moulting or unhealthy shrimp. If a model can be developed, we can find out the shrimp's condition in real time. In the future I hope we can have information on all the decisive variables in farming so that we can make appropriate interventions and minimise risks.
Please explain the training program that you do on the farm
Fresh graduates who majored in fisheries or aquaculture from universities generally don't have practical skills and they don't know where to look for skill development. Many fishery graduates work outside of their fields. We wanted to provide a sort of boarding school for future technicians and entrepreneurs. We train them ourselves. Under the BADC supervision, they are involved in all the technical aspects so that they will have real farming experience.
We did an open recruitment in various universities in Indonesia. There are 23 remaining members out of 28 people who were recruited in the first batch. Hopefully, after the training, they can be highly skilled technicians who can design shrimp farms from the ground up. We would also like to connect them with investors if they want to build their own farms. After this, we will do an open recruitment for the second batch.

What's your ultimate ambition in the sector?
I am optimistic that a fishery or aquaculture graduate who is confident in their skills and wants to jump into the industry will be successful and prosperous. There should be a lot of entrepreneurs with educational backgrounds from fisheries or aquaculture. Not only in shrimp, but also other species.
We hope that the millennial team trained here will have the confidence that shrimp farming is not as difficult as people imagine. Actually, many want to invest, it's just a matter of their willingness. We try our best to make them be confident, brave, and equip them with the skills to design shrimp farms from design to harvest.
What's your greatest challenge at work?
The biggest challenge is ensuring that everything is measurable. For instance, we have taken water samples in the morning and afternoon, but we missed something happening in that in-between period. At most we can only understand the dynamics from theory alone. For example, we know that pH will rise from morning to afternoon. However, with these increases, we don't know what variables will affect shrimp health. That's why I think it is very important to have technologies that allow us to understand every variable – but it is a difficult task.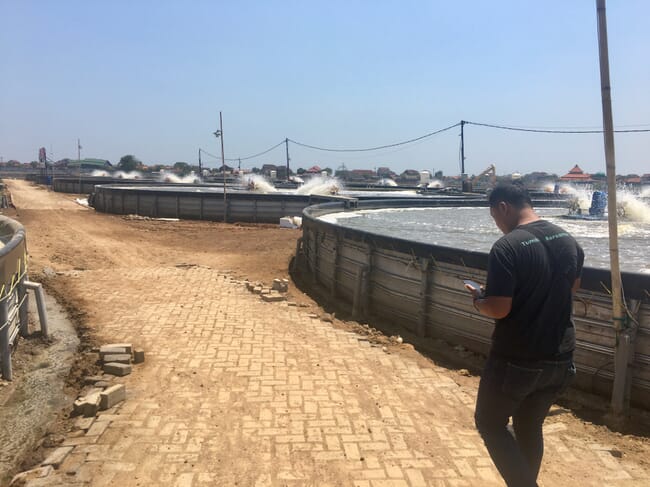 What's your greatest achievement to date?
Even though it was only one cycle, MSF is the biggest achievement of my career. In merely one cycle we can return the profit to the government above the initial capital. In that cycle, the operational capital provided from the government was IDR 1.4 billion (€82,800). We were able to report IDR 2.2 billion (€130,200) non-tax revenue to the government.
How do you think Indonesia can achieve its full aquaculture potential?
There are at least three challenges that need to be addressed. First of all, the aquaculture industry in Indonesia has not been fully engaged professionally. There are many farmers, but most are not professional. In addition, there is a marked disparity between large, medium and small farmers. Only a few farmers have thousands of hectares of ponds. Last but not least, many farmers have not caught up with the current technological advancements. There is a lack of socialisation about technology. Technology is only owned by certain people and gaining access to technology is difficult.
If you were to give fellow farmers three pieces of advice, what would they be?
Set a realistic target. Calculate your target based on the available capital, infrastructure and carrying capacity.
Don't be too eager to expand your farm. Most farmers want to expand their farms the first time they get a good profit, in the hopes of bigger profit in the next cycle. In my opinion, it is better to maintain a steady, sustainable profit for some cycles first before thinking of expansion.
Save some capital for rainy days. This business does not guarantee 100 percent certainty, I estimate that it's below 60 percent. I saw too many farmers go bankrupt due to disease outbreaks, cycle failure and other unexpected things.
Why did you decide to embark on a career in aquaculture?
I studied at Gadjah Mada University majoring in fisheries. At that time, I had no idea what I wanted to do because I was only studying theory. In my final year, I took the initiative to apply for an internship at BADC Jepara. I was accepted and interned for three months managing a shrimp farm.
When I worked at the farm, I calculated that the price of feed per day was IDR 500,000 (€29.60). I thought, if the feed was Rp500 thousand per day, the profit must be huge. This means that this industry must be promising. From that point on, I decided to pursue a career in aquaculture, specifically shrimp farming.
What's your favourite seafood dish?
Every type of shrimp and crab dish.