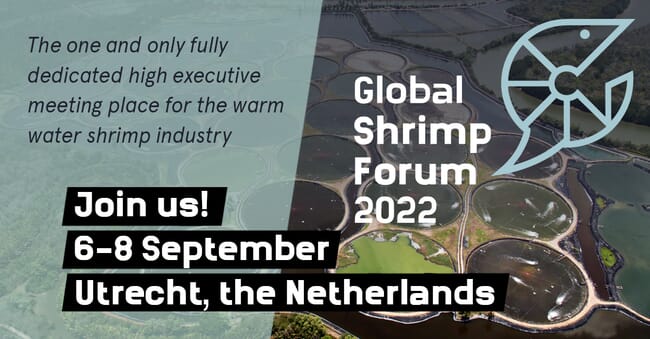 The forum is the warm water shrimp industry's first dedicated annual conference and business meeting, aiming to drive the shrimp industry towards a resilient and sustainable future.

Global warm water shrimp production doubled over the last 10 years, and over the next 30 years demand for seafood is expected to increase further. Global trade of farmed shrimp will continue to expand connecting the producing countries with consumers in many markets around the globe. But this $20 billion per year industry doesn't have its own meeting place where all different businesses and stakeholders can connect.

The Global Shrimp Forum will cover relevant and urgent business topics such as:
Production and market outlooks.
Innovation and technologies that transform shrimp production, supply chains and markets.
Legal and regulatory challenges.
New and upcoming producers and niche products.
Finance and investment.
But first and foremost, according to the organisers, the forum aims to become the largest executive meeting place for the shrimp industry, bringing together more than 400 leading players across the entire supply chain.

The event has been initiated by the independent non-for-profit Global Shrimp Forum Foundation (GSFF), which has been set up by the Aquaculture Stewardship Council (ASC), Shrimp Insights and Contango. The purpose of the GSSF is to establish a global platform for knowledge sharing, innovation and industry value-chain collaboration for driving a sustainable future for the industry.
The event has also been backed by 22 sponsors from across the shrimp sector, including Thai Union, Grobest and MSD.
Willem van der Pijl, owner of Shrimp Insights, and founder, board member and managing director of the forum, said in a press release: "The shrimp industry is fragmented. It consists of hundreds of thousands of farmers, thousands of importers and exporters, and many more companies that support the industry with ingredients, technologies, services and finance and investment.

"This high level of fragmentation makes it difficult to convene a meeting where all these players feel represented, which is why the Global Shrimp Forum is such an important initiative.

"Establishing a dedicated platform for everyone who wants to be part of a dialogue on not only the challenges confronting the shrimp industry but also the potential solutions is greatly needed. I view it as my personal mission to make this initiative successful."

Registration for the event is now open on the Global Shrimp Forum website.