How to increase Vietnam's shrimp production by 2-3 million tonnes
Le van Quang, one of Vietnam's largest shrimp producers, believes that strategic investment could increase the country's shrimp production levels by 2-3 million tonnes and halve the production costs.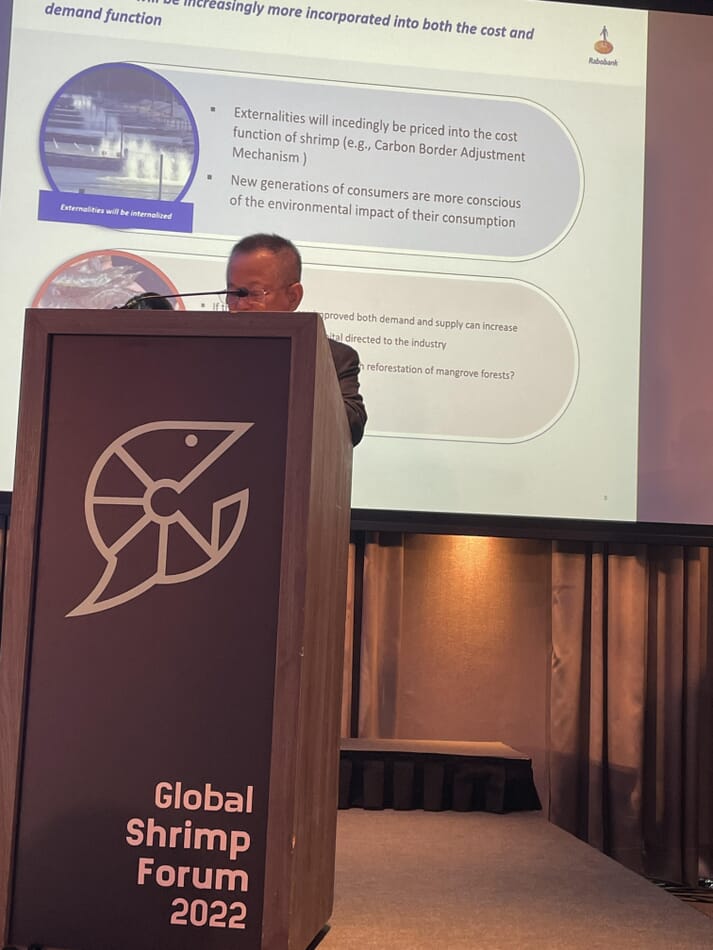 Quang, founder and CEO of Minh Phu – who was previously known as "Mr Black Tiger" in the days he focused purely on monodon – came up with these startling figures in a talk on investment opportunities during last week's Global Shrimp Forum.

Minh Phu sells over 100,000 tonnes of shrimp a year and produces over 30,000 tonnes in their own farms, and Quang explained to delegates how the decade from 2010 experienced a 15 percent increase in the country's shrimp farming and a 50 percent growth in output. By 2021, Quang noted, the country produced 922,000 tonnes from its 737,000 hectares of shrimp ponds, worth over USD $4 billion – a not insignificant proportion of the $32 billion global shrimp market.
Despite the success of the sector, Quang noted that it still faces numerous challenges. These include the scattered, small-scale and low tech nature of the farms; pollution and poor water quality; impacts of climate change such as saltwater intrusion; and the lack of quality infrastructure – exemplified by the fact that water supplies and drainage occupy shared water channels.
In order to overcome some of these issues Quang argued that sophisticated planning is required to produce "large, concentrated shrimp farming areas in order to create a biosafety belt large enough to prevent the spread of diseased shrimp once this occurs".
Meanwhile setting up separate water supplies for intake and drainage could, he reflected, increase shrimp survival rates to 60 percent or more. In terms of infrastructure, improving roads, electricity supplies is vital. He also mentioned the benefits of creating residential, social and cultural areas for shrimp farm workers to live in. Should this occur, Quang argued, it could help to attract investment and help Vietnamese shrimp production increase by 2-3 million tonnes, while decreasing production costs by 50 percent.
Minh Phu's own initiatives
Quang went on to outline some of the recent initiatives undertaken by his own company, which include establishing a quality shrimp seed project in Ninh Thuan province, to help improve the supply chain. In the longer term he aims to develop a plan to ensure carbon neutral shrimp production and increase monodon production in the region by over 50 percent.
According to Quang's calculations the levels of investment required to fulfil the sector's potential varies according to the intensity of production: and mangrove/extensive/rice-shrimp farms need €12,900 - €21,000 per ha; semi-intensive to intensive farms need €42,000 - €64,000 per, while super-intensive systems need €85,000 to €129,000 per ha.
Were this provided shrimp production Vietnam could be increased by 2-3 million tonnes per year, while the cost of production would drop by 50 percent.
Looking specifically at the Mekong Delta, Quang noted the threats posed by climate change – including erosion and desertification – could be countered by the increased implementation of rice-shrimp farming. This method, in which the rice is grown in shrimp ponds and is fertilised by the shrimp waste, currently takes place across 200,000 ha of the Mekong Delta but Quang argues that this figure could be increased by two to three times.
Investment potential
In order to ensure the continued growth of shrimp Quang believes that investment is both essential and timely – due to the presence of government stimulus packages aimed at domestic and international banks, local investors, as well as direct government funding.
"We are calling for investment, financial aid, joint ventures and public-private partnerships to enable the execution of the plan to centralise farming areas, apply technology and ultimately strengthen the sustainability of shrimp production in Vietnam," Quang explained.
"There's a lot to be done for shrimp farming in Vietnam and therefore a high demand for capital injections, particularly for high technology shrimp farming models in targeted areas. However, we firmly believe that a well-designed approach to plan and implement will bring tremendous social benefits – that is the ability to provide stable, high-quality shrimp to local and international markets; that is the ability to farm sustainable and environmentally friendly shrimp," he continued.
He added that commercial returns are also promising, which is why Minh Phu has invested in infrastructure, hatcheries and processing facilities in several farming areas, leading to good returns.
Quang now wants to work with international investors or act as a bridge for international investors and development organisations in order to speed up the development process.