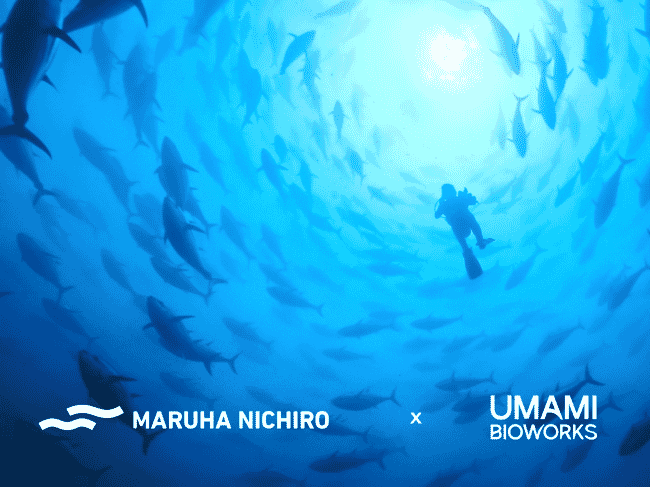 The collaboration between Umami Bioworks - a Singapore based cell-cultivation specialist - and Maruha Nichiro - Japan's largest seafood company - was announced this morning, and represents a significant step towards the availability of seafood that is grown, not caught.
Umami Bioworks and Maruha Nichiro will be working to build the infrastructure of Japan's cultivated seafood industry together. The strategic investment from Maruha Nichiro will help accelerate Umami's development progress. The two companies will also carry out a multi-faceted collaboration to accelerate the path to cultivated seafood commercialisation.
Through the development of cell-cultivation technology for seafood, the two companies aim to provide an alternative source of protein that does not rely on overfished wild stocks, and that can be produced free from microplastics and other environmental pollutants, which can impact consumers.
In a press release, Mihir Pershad, CEO of Umami Bioworks, commented on the partnership, and its potential for producing seafood products whilst minimising environmental impacts associated with production.
He said: "Our seminal partnership with Maruha Nichiro, a global leader in crafting beloved food products, is a pivotal step in achieving our mission of addressing the challenge of feeding a growing global population while minimising environmental impact. We have the development and production technology, but we require experienced partners with global reach that can help us manufacture and deliver cultivated products to consumers".
Cultivated products have increasingly attracted worldwide attention, with global investment in cultivated products reaching $2.8 billion in 2022. However, many Japanese companies are still lagging behind in participating actively in this industry. Maruha Nichiro has stepped up to ensure a stable supply of seafood worldwide, and to make its first formal investment in a foreign cellular agriculture company with the aim of laying the foundation for Japan's cell-cultivated seafood industry.
By establishing a production pipeline of cell-cultivated products for the Japanese market, both companies will develop a foundation for cell-cultivation in Japan and provide the market with a stable supply of locally produced seafood.
In a press release, Maruha Nichiro shared: "As a means to address the anticipated protein supply shortage in the future, Maruha Nichiro highly values Umami Bioworks as a business partner as they are focused on establishing the production technology for cell-cultivated seafood products, while sharing our vision to accelerate the commercialisation of cellular agriculture".