An emerging consumer trend
The partnership takes its departure from an emerging trend in consumer behaviour. "Today's seafood consumers are not only interested in what's on their plate, they also want to know where it comes from, how it is made and what is in it." explains Ole Christensen, Vice President of EMEA Division at BioMar Group.
"With a lot of mixed messages in the market it can be confusing for the consumer to make a healthy choice and that is why many look for natural and organic foods. This is how the 'back to nature' trend has emerged," Ole Christensen continues.
Jean-Pol Le Ribault, CEO of French trout producer Aquadis Naturellement, agrees: "Consumers are concerned whether the food choices they make are good for their well-being and if it has been produced in a sustainable manner."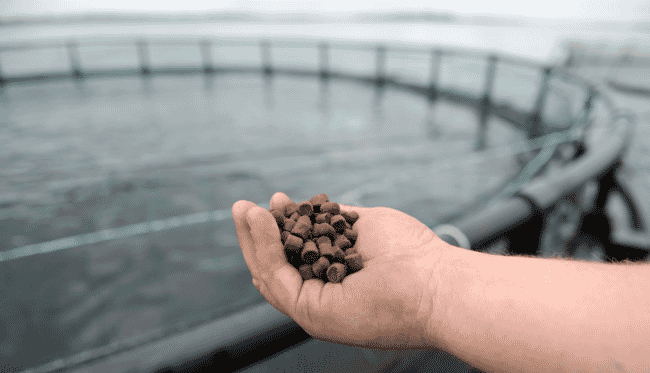 "This development increases our responsibility as fish farmers for providing wholesome seafood which also respects nature and its resources," Jean-Pol Le Ribault adds.
Salvea – a natural and sustainable choice
Salvea, developed by BioMar, is a new feed concept based on two clearly defined pillars: "closer to nature" and "with a sustainable profile".
"Getting back to nature does not only mean getting from nature. It also means giving back to nature. This is the fundamental idea behind Salvea. With Salvea we aim to assist our customers in providing today's consumers with a natural and sustainable seafood choice," explains Ole Christensen.
The first feed under the Salvea portfolio will be available for rainbow trout farmers in the French and Spanish market. The recipe has a natural characteristic as it contains naturally derived pigments, added natural antioxidants and ingredients that resemble natural prey for fish, such as insect meal. It also includes an increased level of the healthy Omega-3 fatty acids EPA and DHA, which have proven health benefits for both fish and humans.
Together with the inclusion of the above-mentioned insect meal, which replaces part of the fish meal, the Salvea recipe uses fish trimmings meal. This results in a FIFO as low as 0.3, making it very sustainable.
"It is important to emphasise that SalveaTM is not only about individual raw materials, as these may change. Products under the concept may change, yet the basis of Salvea lies in a consumer demand, looking for a natural, healthy and sustainable lifestyle" Ole Christensen emphasises.
A simple solution
Ole Christensen explains: "Salvea is the simple solution for bringing farmed fish closer to end consumers. For our customers, this is a new opportunity to talk the same language as the end consumer with a message that is easy to understand. They will be creating a competitive advantage for their business while doing their part in caring for the oceans."
Jean-Pol Le Ribault says: "With Salvea, we aim to increase our contribution to the conservation of the environment, backing up the benefits deriving from the fact that our fish are being raised on a RAS system. Given the highly sustainable profile of Salvea, we also meet consumer demands, as this feed concept offers what our target audience, the French seafood consumers, is looking for: a natural and sustainable choice."
Powered by partnership
The strong partnership of BioMar and Aquadis Naturellement dates back to 2010, where Aquadis Naturellement built its first RAS facility in Moulin Neuf in Brittany, France, to which BioMar contributed by sharing its expertise within this field.

"We are happy to partner with Aquadis Naturellement to be our first Salvea customer and we look forward to partner with more fish farmers joining us in driving the change in seafood consumption," Ole Christensen concludes.