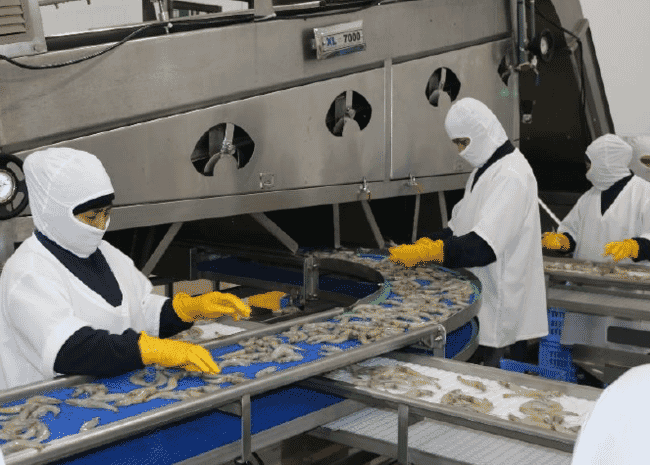 The new provisions are part of the agreement signed last month between the Ministry of Production, Foreign Trade, Investment and Fisheries of Ecuador (MPCEIP) and the General Administration of Customs of the People's Republic of China (GACC).
Daniel Pesantes, head of the Undersecretariat of Safety and Quality of Ecuador (SCI) recently led a virtual workshop with shrimp processors prior to a round of inspections of their plants, according to a statement released by the National Chamber of Aquaculture.
The initiative aims to verify that the aquaculture product processing establishments have strengthened their disinfection and personal hygiene measures for all operators who are in contact with the product and the packaging.
Screening tests for Covid-19 must be performed periodically and, if a case is identified, the worker must be quarantined for 14 days and can only return to work when the test is negative. Workers who are in close contact with the infected worker will be treated the same.
Risks of contagion in products, packaging material and processing areas, will be controlled by reinforcing the standardised sanitation operating procedures (SOPs) that guarantee the disinfection of areas and surfaces, in order to eliminate contaminating agents. This will also be done inside the containers, prior to loading the product.
"All Ecuadorian establishments that export shrimp to China will be subject to inspections by the SCI without exception and, in the event of non-compliance with the biosecurity procedures, the issuance of health certificates will be suspended, which means it is not possible for the company to export until it presents an improvement plan and a new inspection is carried out. As a result, by reinforcing its biosecurity and establishing transparent processes, the Ecuadorian shrimp industry strengthens its commitment to consumers worldwide to guarantee a safe product, as well as excellent taste, texture and in line with the highest sustainability standards," the statement concludes.