Briefly describe your aquaculture career
After I completed my PhD in aquatic animal medicine at the University of Florida, I returned to Trinidad and Tobago in August 2010 as the country's first and only aquatic veterinarian.
I pioneered treatment, management and research in the field of aquatic animal diseases in Trinidad and Tobago, providing services that were previously unavailable to the nation. I was the first lecturer and clinician in aquatic animal health at the University of the West Indies, St Augustine school of veterinary medicine (UWI-SVM), assisting veterinary students seeking instruction and experience in aquatic animal practice and supervising undergraduate and postgraduate projects.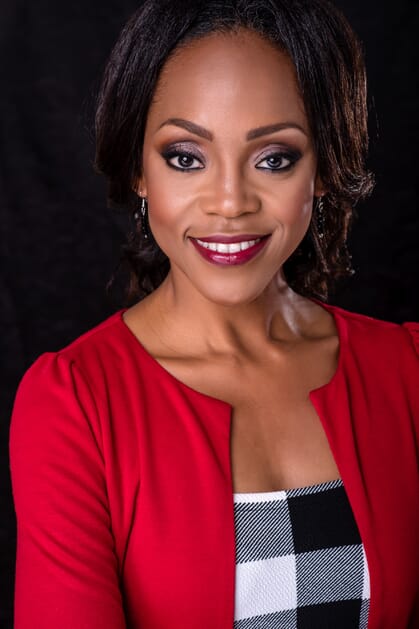 As there were no programmes available to students interested in aquatic animal health, I developed an aquatic animal medicine programme and curriculum for the UWI-SVM and integrated aquatic medicine into nine courses spread across five years of the veterinary programme. I designed, established and coordinated the UWI-SVM's Aquatic Animal Health Hospital, which provides services for aquarists with high end freshwater aquarium species and the aquatic animal health diagnostic laboratory, which serves as an aquatic medicine instructional unit for students at UWI-SVM.

This site also provides clinical aquatic veterinary services for private clients, regulatory agencies, aquaculture production facilities and conservationists, and serves as one of the SVM's business units.
The project also led to the standardisation and introduction of definitive molecular testing for several key aquatic diseases, allowing confirmatory testing to be available to local and regional stakeholders. The Aquatic Animal Health Diagnostic Laboratory also began the country's first aquaculture farm surveillance service. My work on zoonotic and other aquatic animal diseases has informed public health, as well as fish and wildlife conservation guidelines implemented by state regulatory bodies and NGOs.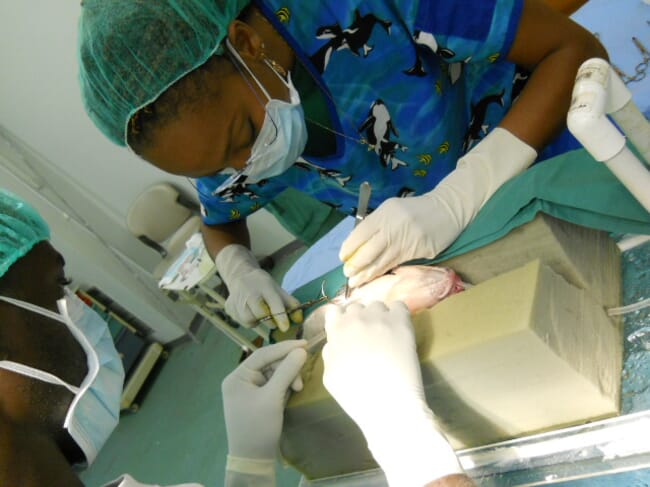 Why did you decide to embark on a career in aquatic veterinary medicine?
Funnily, I developed an interest in whales (specifically orcas) at the age of 11. I wanted to be become a killer whale trainer, but there are no whales in Trinidad and Tobago!

When I went on to the University of the West Indies in Trinidad, I decided to pursue a career in marine biology. However, after a year, I realised the programme wasn't quite what I was looking for, so I transferred to veterinary medicine. Aquatic medicine was unheard of at that time at UWI, so I figured I would go into small animal private practice upon graduation.
In the final years of vet school, I got the opportunity to do a project on viral diseases of wild-caught Penaeid shrimp. It was the first aquatic medicine-based veterinary project at UWI-SVM. From this experience, I searched for other opportunities to work with aquatic species and I received a Fulbright Fellowship for the University of Florida (UF), College of Veterinary Medicine's Aquatic Animal Health Programme. It was there that I was formally introduced to the world of aquatic veterinary medicine, aquaculture and fish and shellfish health management, which ultimately became my primary area of expertise.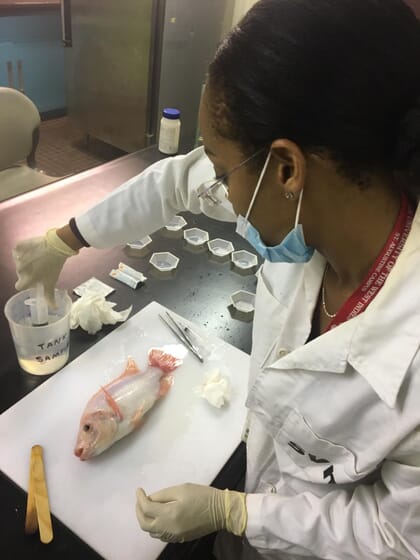 What does a typical day consist of for you?
This has been quite variable. My days have been spent visiting fish farms and conducting health assessments on fish intended for shipment or intended for sale to consumers. Some days are entirely teaching-focused – teaching veterinary students or conducting training workshops for various industry stakeholders. I have also spent entire days in the laboratory, peering through a microscope, performing necropsies, testing water quality and conducting diagnostic evaluations of sick fish. Other days may be spent out in the field responding to a stranded marine mammal or sea turtle. I also attend faculty meetings and other academic committee meetings; mentoring and advising students and a lot of time is spent in curriculum and programme development. In fact many days have been a combination of all of the above!

How will your work contribute to the development of aquaculture in Trinidad and the Caribbean region?
It is disconcerting to see how many aquaculture production facilities in Trinidad and Tobago and the Caribbean operate without having a biosecurity plan or biosecurity measures in place. Generally there are no systems for aquatic animal health management in place at the majority of aquaculture facilities in Trinidad. There is an indiscriminate use of antimicrobials in aquaculture systems, with medications often acquired and applied haphazardly to systems without veterinary direction and then chemical-treated water and animals being carelessly discarded into the natural environment, including public water courses.
Pair these practices with intensive or semi-intensive production and one has a financial and environmental disaster waiting to happen, especially in the world of commercial aquaculture. Producers and hobbyists, if formally trained, may have been taught about animal production, but not about animal, human and environmental health. My work has therefore sought to sensitise industry stakeholders to aquatic veterinary best practices and to embed aquatic animal health monitoring, aquatic animal production systems management, and the concepts of One Health (the interconnection of human, animal and environmental health) into aquaculture production in the Caribbean.
What do you enjoy most about your work?
I most enjoy teaching. I enjoy conducting workshops and training sessions for industry stakeholders. I also enjoy being alone in a lab, "playing around" with dead fish.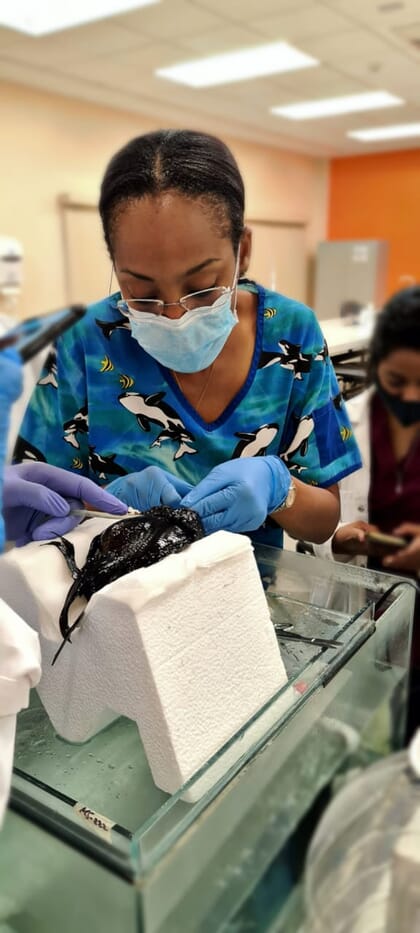 What are the challenges facing an aquatic veterinarian in the Caribbean?
Getting the public to recognise our value and being compensated fairly for the services we provide. When problems arise, the services of the veterinarian are often sought only after the owner has tried all other remedies prescribed by "Dr Google".
When these fail and animals are at death's door, the veterinarian is called in with the expectation to perform miracles and, sadly, it is often expected to be done immediately and for free. We do not approach our own health in this manner, so why should the health of the animals in one's care be approached as such?
What advice would you give to women considering going into the field of aquatic vet med?
Just go for it! The majority of students enrolling in veterinary schools are women. This is not a Caribbean phenomenon, it's a global trend. There really are no gender-specific roles in veterinary medicine. If this is an area that interests you, and you have the means to pursue the educational and experiential paths required, then do it. Aquatic medicine has become an established and bona fide field within veterinary medicine and aquaculture is a rapidly growing focus area to produce protein. Veterinarians will therefore be needed.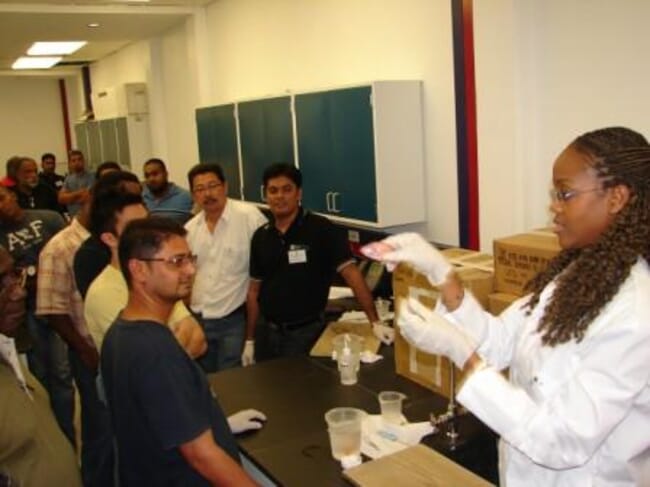 What is your dream role and what would you like to be doing in the next few years?
I feel like I am presently in my dream role. My current role is really an excellent fit for me. I am in academia, with a teaching and outreach focus. This position allows for work-life balance which is important. My passion is to spearhead initiatives aimed at educating aquaculture industry stakeholders, colleagues in the veterinary fraternity, as well as the general public on One Health issues that pertain to aquatic ecosystem health and management.
An example of such an initiative was the first "Caribbean One Health Workshop on Conservation of Aquatic Ecosystems", which I created. Participants were from Jamaica, St Kitts and Nevis, Grenada, Suriname, Trinidad and Tobago and the USA.
I would like to continue to help to train the future generations of veterinarians and help them meet the veterinary workforce needs by conducting workshops on fish health management and also fish in aquaponics systems. I feel that this will strengthen the local aquatic animal health capacity by promoting and supporting the development of sustainable intensive and semi-intensive aquatic animal production systems, and reducing the current dependence on marine fishery stocks. My wish is to continue using my expertise to contribute to the development of robust, healthy and sustainable aquaculture sectors throughout the Caribbean.