This was the key theme that emerged from a presentation and panel discussion on the potential for biotechnology to influence the future of farmed seafood, which took place at the GOAL conference this week. The discussion, which was led by GAA's James Wright, examined how biotechnology is making its mark on food production and farmed seafood.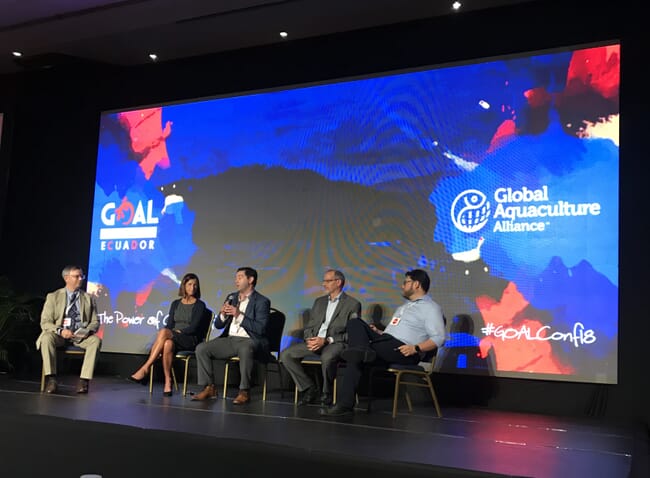 The panelists were Vonnie Estes, winner of the 2017 Rosalind Franklin Award for Leadership in Industrial Biotechnology; Larry Feinberg, CEO and co-founder of KnipBio in Massachusetts; Michael Tlusty, University of Massachusetts; and David Tze; CEO of "food from CO2" company NovoNutrients in San Francisco.
Biotechnology makes it possible to "develop tools that allow us to feed people in a way that doesn't have a negative impact on the environment," said Estes. The technology is based on biology and capitalizes on the use of rapid cellular processes to develop products that serve people. Globally, biotechnology is providing promising new approaches to pollution prevention, resource conservation and cost reduction that have direct implications to the development of the aquaculture industry.
Its applications in the world of aquaculture have so far been explored mostly in the aquafeed sector, but David Tze said that "biotechnology has implications in of a number of areas of outside of just aquafeeds" – for example, sensors in farms or food safety inspections for monitoring contaminants.
"Feeding fish and shrimp is not just about filling their bellies. It's about focused nutrition," Wright commented, adding that biotechnology is becoming a necessary tool in developing sustainable and safe aquafeed ingredients that don't compete with human consumption market streams.
Obstacles to overcome
The panelists agreed that two of the main roadblocks in the use of biotechnology today are regulation and consumer perception.
"Biotechnology is more consumer-facing now than ever before," argued Estes, "because we're using it much more in crops, in food, in food ingredients, in animal breeding and in animal feed." She added that San Francisco is home to a lot of start-up companies that are using microbes as factories for making animal proteins. In the United States, the USDA and FDA recently announced their plans to hold joint public meetings to begin to address these issues.
"Regulation is a huge issue in a global marketplace," Estes stated. It has proven difficult to work with products whose regulations are vastly different around the world. The EU, for example, requires a product with any level of gene editing to be labelled as a GMO, while regulations in countries like Japan only need to be labeled as GMO if more than 5 percent of its ingredients are considered genetically modified.
Biotechnology is "not only what many people think of today as Roundup-ready soy or corn," said Larry Feinberg, CEO and co-founder of KnipBio. The technology has advanced very quickly from what it once was, and processes are safer and more efficient than ever before. The panelists all voiced that some of the primary concerns from fish and shrimp farmers surrounding aquafeed ingredients are their cost and their availability of supply. "Microbes have been around for about 90 percent of the world's history," Feinberg states, and "this gives us a lot of options as the technology develops".
The panelists agreed that the industry needs to collaborate more effectively to dispel fears surrounding the use of biotechnology to make better, safer food to feed a growing global population. "We need to try to meet people where they are," Estes suggested, "and use communication to increase the acceptance of biotechnology as part of the future of food production".
Biotechnology, she argued, has the potential to create premium products for a lower price. And seeing this concept make its way into the commercial market as microbial feed ingredient production increases may be the ticket to improve consumer perception and develop better regulations to allow biotechnology to establish itself in the aquaculture industry.