Rosenkranz and his colleague Rick Shepherd built the cam sled, which lets them experience a live stream of the sea floor while onboard a research vessel. They hail it as a non-invasive way to observe and collect data in real time.
"We found out pretty quickly after we started doing this about six or seven years ago that there is a lot of other stuff down there, for example, a lot of Tanner crabs live in the same areas as scallops do.
"I like to think of it as a really stupid robot that does one job really well, and that is to take high resolution photos," Rosencranz said, adding: "It's easier and cheaper than a lot of other ways, because it is towed. You're not sending divers down there for example, who get tired out."
The Alaska Cam Sled will be showcased at the American Association for the Advancement of Science, September 26-28 in Kodiak. www.aaas.org/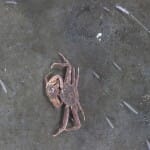 Fish cam fast track – Meanwhile, Senator Lisa Murkowski is pressing federal managers for faster action on getting fish cams to monitor catches on small fishing boats.
"With today's advanced technology, NOAA Fisheries can figure out an electronic monitoring system that works for small fishing businesses," Murkowski said in a phone interview.
The EMS would replace fishery observers now required on halibut longline vessels during fishing trips.
"That is the one thing I've heard as I've been out walking the docks," she said. "People take me onto their boats and say where are you going to put an observer on this vessel that has room for three, maybe four?"
Murkowski said it troubles her that a crewmember often gets left behind to accommodate an observer, which affects the efficiency and safety of the fishing trip.
She added: "I understand the data is important. I'm just saying we can be smarter in how we collect it."
Salmon scramble - A lackluster Alaska salmon fishery combined with shortfalls in farmed fish has buyers struggling to fill orders for US customers.
The statewide salmon catch has topped 81 million, less than half way to the 180 million fish forecast. It will take those hard to predict pink salmon to get us there -- state managers anticipate a harvest of nearly 120 million humpies, 73% higher than last year.
The pink numbers are adding up fast –already half of the total salmon catch is made up of pinks, mostly from Prince William Sound (26 million). The biggest push is still to come from Southeast Alaska, where a catch of 54 million pinks is predicted this summer.
Trade reports say that supplies for wild and farmed salmon are down across the board and prices are increasing for both. Notably, Alaska's sockeye harvest was disappointing; at the same time, shipments of farmed salmon from Chile are on hold pending FDA inspections for a banned chemical.
'But's up - Remember two years ago when people were aghast at halibut quota share prices hitting $30 a pound? It's gone even higher. A scan of top brokers shows the asking price has reached $50 for some IFQs in Southeast Alaska, with most going for $40-$43 per pound. Prices for halibut 'shares in the Central Gulf were ranging from $30-$38. For sablefish, quota shares in Southeast, were going from $26 to $32; slightly higher at west Yakutat – and in the $20-$30 range in the Central Gulf.
Fish bits - The year's first red king crab fishery is underway at Norton Sound, with a half million pound quota. The Dungeness crab fishery in Southeast will end August 8, a week earlier than usual, with a 2.25 million pound projected catch. The golden king crab fishery begins way out along the Aleutians on August 15 where more than 6 million pounds will be hauled up. Pollock boats are fishing in the Bering Sea; pollock reopens in the Gulf on August 25.
Comments extended - Noting the comment period falls at the height of Alaska's fishing season, NOAA Fisheries has extended the public comment period for the proposed halibut catch share plan for commercial and charter operators through August 26. The plan, which will allocate fish between the two sectors in Southeast Alaska and the Central Gulf, is scheduled to be in place next year. www.regulations.gov