How did you become interested in aquaculture?
I studied chemistry at university but always had an interest in the marine environment and, after graduating, went to New Zealand with a working holiday visa to experience life in another culture and another country. After travelling around I decided to settle in Coromandel – a small town in the North Island which I fell in love with. A lot of people there were involved in farming mussels and oysters and I was given a chance to work on one of the mussel boats, on a farm that was run jointly by Sanford and Sealord. It was the biggest mussel farm in the North Island and we were harvesting about 120 tonnes of mussels a day. It was fantastic being out on the water and I enjoyed every part of the experience.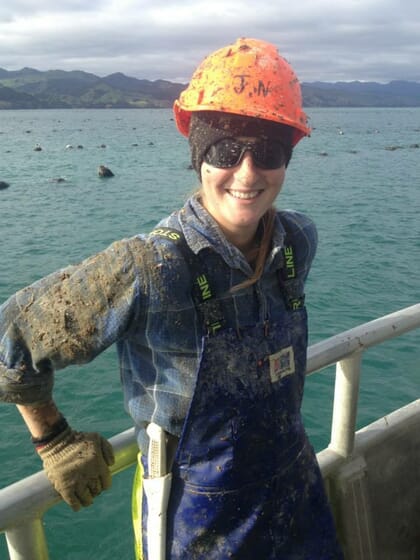 Initially I was just grading the mussels, but they saw something in me and gave me the chance to progress and to get involved in all aspects of the farm. I loved it so much that my nine-month working holiday visa ended up as three years on the farm. They let me see all the sides of the business, giving me the chance to work on all the boats, doing the day-to-day operations such as harvesting and seeding, and taking on a compliance role to help the guys on the boats fulfil their health and safety obligations – there was a fair bit of paperwork involved and a lot of the guys were very happy to have me doing that. I also did a shift on the farm's research vessel, which checked on how the mussels were growing, and we had to forecast growth levels, when to harvest and budgets for the year ahead. We also worked with the Cawthron Institute on mussel trials as part of the Spat NZ project.
What made you consider moving from mussels to salmon?
The farm subscribed to a magazine which included an Aquaculture New Zealand insert and through reading this I began to take an interest in the salmon industry too, reading up about what was going on in Scotland and Norway. Salmon farming really took my fancy – it seemed like there was a lot more to it and lot more going on in terms of advances in technology.
And how did you get your foot in the door?
While still in New Zealand I applied for an environmental analyst's role with Scottish Sea Farms – taking water quality samples had been a big part of my role on the mussel farm, and it tied in with my chemistry degree too. They came back to me with the possibility of a different role, in the supply chain department, which they thought would also suit my skills. It's essentially the hub of the business so you have to interact with all different people in the value chain, letting you learn so much about the business.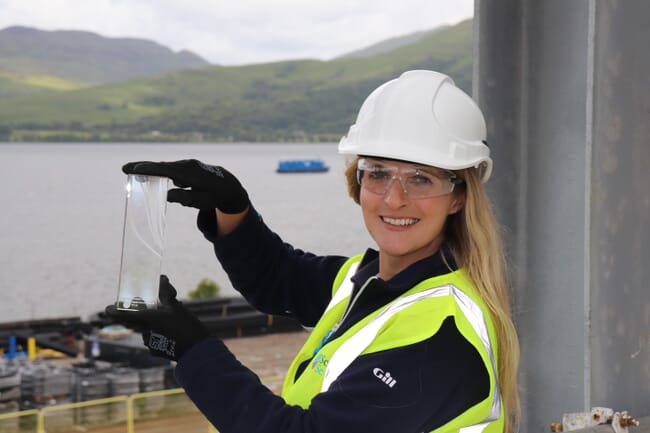 I had an interview on Skype from New Zealand, was offered a job and – in a month – I'd packed up my life and moved back to Scotland. It was a fantastic experience. I worked with a great team and a great manager and it enabled me to get to know people in processing and planning as well as the site managers.
Why did you move into freshwater production?
We're currently building a new £44 million hatchery here at Barcaldine and, in order to ensure we have the skills required to run it an opportunity came up for a secondment to work at a RAS hatchery owned by Lerøy, one of our parent companies, in Norway for a year. My line manager suggested me for the role due to my chemistry training. I got the job and working at Belsvik was a great experience. I asked the poor guys out there hundreds of questions every day as I really wanted to learn.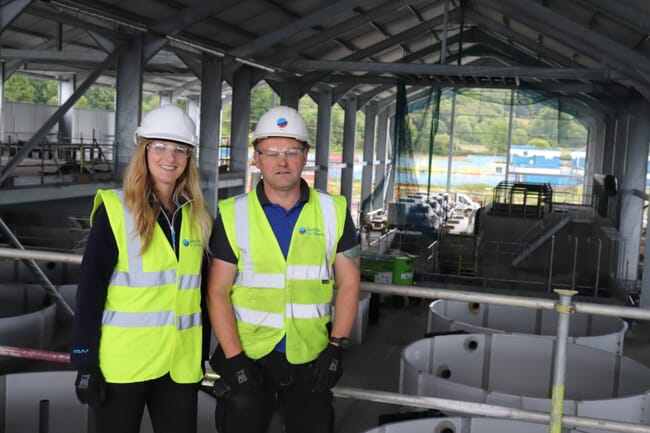 The RAS was well established – it had been up and running for three years, so was an ideal place for me to learn all the procedures before our new RAS at Barcaldine was built. I was out there to learn as much as possible and took a keen interest in the water chemistry as well as the biology side of it. I had a very good friend and mentor out there and she taught me a lot about the water chemistry and the biofilters. I was able to share this with Pål [Tangvik, Scottish Sea Farms' freshwater production manager] and the freshwater team back in Scotland.
I then had the chance to take on another secondment – this time to our other parent company SalMar's brand new RAS up in Troms, in the far north of Norway. This gave me the chance to learn the process of setting up a recirc from the start. The key thing was that it was being built by the same company, Billund Aquaculture, who are building the recirc system at Barcaldine, so was a great chance to learn what's involved in setting up a new system, so we can hit the ground running here.
Challenges included the scarcity of staff trained in recirc systems and the need to understand the biofilters and the water chemistry – you need to learn the system, understand the cleaning capacity of the tanks, monitor CO2 levels and hydrogen sulphide levels.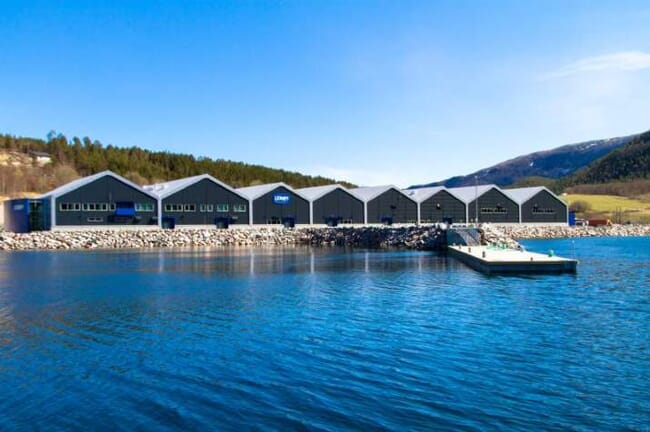 It was great to spend time with the Billund staff, they have good designs, good filtration rates and an excellent reputation – both our parent companies use them which we felt was a good sign. They're involved in all sorts of RAS projects, including Atlantic Sapphire - the operation that intends to produce up to 100,000 tonnes of market-sized salmon a year from land-based facilities near Miami.
Do SalMar and Lerøy collaborate on many projects?
Not at all – my role has been very unusual and I feel very lucky to have been able to work with both our parent companies as well as Scottish Sea Farms and to share information between the three. All have very different styles and approaches to their operations but they've been very open and they like to have feedback from us too – although the Norwegians might be the kings of salmon farming they still like to hear what's going on in Scotland and we've already had quite a few Norwegian visitors to the new site.
What have you been doing since you returned from Norway?
I'm based at Barcaldine, but I've been spending some time at our hatchery up at Couldoran, in Wester Ross, too. When I'm here I'm involved in quite a few meetings – most of the design work was completed a few years ago, and I was able to have some input into that from Norway, but I'm now involved with projects looking into things like the drainage, how best to set up the [onsite] labs, preparing documents, keeping contact with our parent companies and looking into sourcing materials from different suppliers. I've also done a lot of training courses – covering things from health and safety to management and leadership – and Scottish Sea Farms have been very supportive of my development.
Will the new facility be on a similar scale to the ones you experienced in Norway?
Barcaldine will actually be slightly bigger, in terms of its volume of tanks, because in Scotland we sign up to the guidelines for the RSPCA's Assured(formerly known as Freedom Foods) certification scheme, which stipulate lower stocking densities. The new maximum density here is 60kg/m3, compared to 65-70kg/m3 in Norway.
How will Barcaldine compare with the company's existing Scottish hatcheries?
We currently have two hatcheries which combined supply 50-60 percent of our smolt supplies. The remainder is supplied by a third party. However when Barcaldine is up to its capacity of producing 10 million 80-120 gram smolts per year, we'll be 100 per cent self-sufficient.
We aim to put our first 2.4 million eggs into the new RAS on 5 November, so the first batch of smolts should be ready to go to marine sites by autumn 2019. The beauty about the site here is that they can be transferred directly into wellboats [and we don't even need to use pumps to do this]. It's a good location, we've access to plenty of water and there's plenty of people in the area – in Oban and Fort William, which should make finding staff relatively easy.
What have been your most memorable experiences of the industry to date?
After about six months at Lerøy I broke my leg while out hiking with my friends and had to be helicoptered off the top of a mountain. I was back at work in four days – I didn't want to miss out – but had to be on crutches or use a wheelchair, which put a bit of a spanner in the works for doing the practical side of the operations at Belsvik. As a result I had to slightly change my role to one more concerned with documentation and auditing. It was a blessing in disguise in some ways because I got to see a completely different side of running a farm.
Another interesting experience was being on alarm call duty when I was with SalMar, which means you're on call in case of emergencies for 24 hours a day for a whole week. I was effectively there, onsite, on my own, looking after a multi-million pound facility and several million fish. It was nice that they trusted me to do this and it was a very cool experience, even if there were many, many alarms – some genuine, some false. Normally they were related to oxygen levels, feeding systems or UV-filters but one night there was a complete power cut – thankfully we have back-up generators – but it meant I had to go reset everything manually.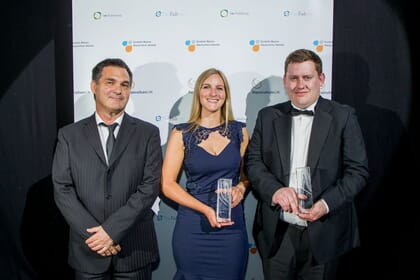 Have you encountered any particularly inspiring or helpful individuals?
I've been very lucky. The guys in New Zealand loved what they were doing and that rubbed off on me and they were really happy to have someone with them who wanted to learn. When I came back to Scotland, my line manager Ewan Mackintosh was very supportive, as were the whole senior management team at Scottish Sea Farms and the teams I worked with at Lerøy – particularly Julia at Belsvik – and SalMar. A couple of the biologists at Billund were also very helpful – they've been working in recirc since it started and not only taught me about biofilters but also took me to another Lerøy farm, a post-smolt facility at Laksefjord in the far north of Norway, which they were working on. Over the last few years I've been very lucky to be able to meet some of the best brains in RAS from Denmark, Norway, the US, Chile [and Scotland?].
Have you encountered any challenges as a woman in the industry?
In New Zealand it was fairly rare for women to work in the sector and a lot of the work was quite physical. In Norway though, especially in freshwater, there was a fairly even gender balance, and the same in Scottish Sea Farms. I don't feel I've experienced any obvious prejudices against me, or that it's helped me in any way. I think recent advances in technology have made it a better industry for women to work in and helped to remove the prejudices against women working on farms which may have existed in the past. Now it's more a brain game.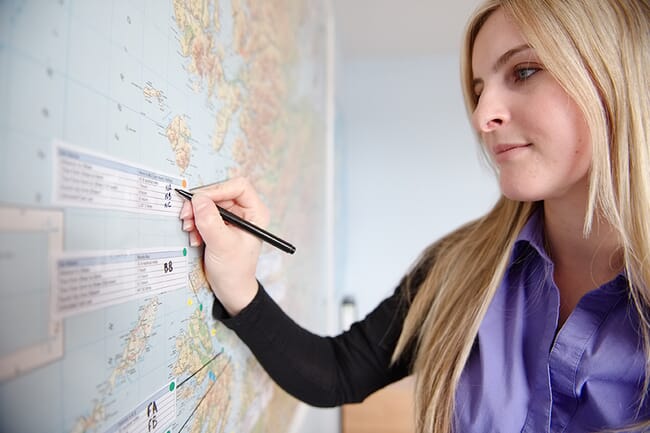 What advice would you have for people looking to start a career in aquaculture?
Take the opportunities. It's a fantastic industry to be in. We really need to get more young people – male or female – into the industry. This was something I saw in Norway, where there were fairly young staff at both the RAS facilities I worked in. We need to get into the schools to tell people about the opportunities offered by the industry. If you're into science, for example, you can use your biology and chemistry skills as well as the engineering side – the technology is advancing all the time.
What's your dream role in aquaculture?
I'd like to be in a production management role. I like the farming side of things – be it freshwater, marine, cleanerfish, or broodstock – and I'd like to have an understanding of the whole industry. I also like being an ambassador for the company and the industry – I like being able to talk to others and I'd like to encourage more young people to get involved in the sector too.
How does it feel to be a joint winner of the inaugural Rising Star category at the recent Scottish Marine Aquaculture Awards?
It was a privilege just to be nominated and a very nice surprise to win. It really means a lot to me and was very humbling.