Briefly describe your aquaculture career
I'm still very much a rookie in the aquaculture field. I've been growing oysters in Freeport, Maine, on Casco Bay, for about four years. During that time I successfully turned my small oyster farm into a business that's comfortably supporting me full-time. This was an exciting highlight of 2020!
What drew you to oyster farming?
I came to aquaculture through a long search for a career that would enable me to be self-employed, working on the water. I was also looking for work which felt more environmentally sustainable and worthwhile. My first hands-on encounter with aquaculture was through a young woman named Amanda Moeser, owner/operator of Lanes Island Shellfish in Yarmouth, Maine. At the time she'd just started her own small-scale oyster farm. Her example of sea farming was low-tech and one of great self-sufficiency. After learning about the environmental benefits and low impacts of oyster farming on the environment, it was really easy to place myself in Amanda's shoes. Seeing how Amanda got into the field with very little gear, equipment or other big capital expenditures set me off on my own oyster growing path.

Can you describe the transition from mariner and licensed captain to oyster farmer?
I've spent my whole life on the water, playing and later working on boats. Before, during and after my college years I worked as a sailor on traditionally rigged sailboats and schooners up and down the east coast. During that time I gained a lot of knowledge and worked my way up to getting my 200 ton captain's licence and sailing as first mate and relief captain. After a while, however, I began to struggle more and more with the lifestyle of constantly being away from home. While the boats I worked on initially felt like a second home, the challenges of working and living within a traditionally very rigid and male-dominated structure wore on me. So, in 2016 after a particularly rough season on a schooner, I called it quits and moved home to Maine to seek something more fulfilling and self-guided.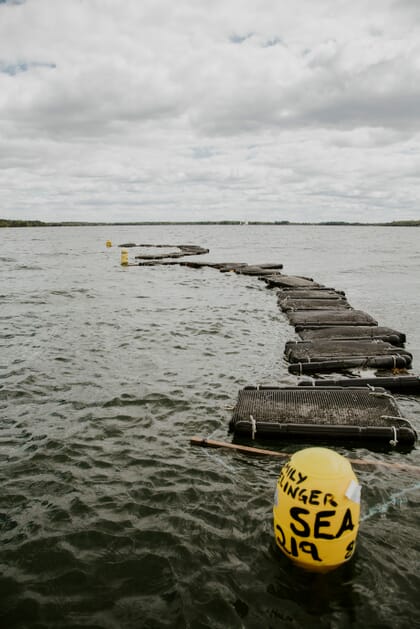 How do your previous jobs help and contribute to your work today?

After so much time working and living on boats and being at sea, I've developed a pretty good ability to think on my feet, adapt to rapidly changing situations and problem solve at a moment's notice. These have been valuable in my farm work since the beginning – from preparing for weather that's deteriorating quickly to solving gear failure problems. I'm also extremely comfortable on the water after so many years. Driving and maintaining boats is second nature to me, and I'm used to being out in the elements in all conditions imaginable. All of these skills and experiences are essential to my work today. On a more personal note, I also learned so much about myself in all those years of sailing, particularly about how I work best. I experienced a lot of negative and borderline traumatic work scenarios that I knew I never wanted to subject myself to ever again, and those experiences figure heavily into the work life that I'm building for myself now.
When you returned to Maine you started fishing for lobster. What impact has this work had on your oyster farming?
When I moved back to Maine, and just as I was starting out in my aquaculture adventure, I took a job working as a sternman, fishing on a lobster boat out Portland. I grew up on the coast with lots of lobstering activity and culture around me but hadn't had any first-hand experience of the fishery until this time. Working for a local fisherman for those couple of years really helped me develop a better understanding of how that fishery, which is Maine's biggest and most vital, works. It allowed me to better plan my farm location and layout so as not to interfere with local fishermen in Freeport, and gifted me with some common ground with which to approach the people who I wanted to share space with.
Describe a typical day
It can vary greatly in the course of a week, depending on when you catch me! I run a largely retail operation on the sales side of my business, and so devote a good deal more time than most oyster farmers to sales and marketing. I attend two local farmer's markets a week, and spend my Fridays delivering oysters locally to customers. The other four days I'm out on the water, keeping up with farm maintenance and harvesting for market days.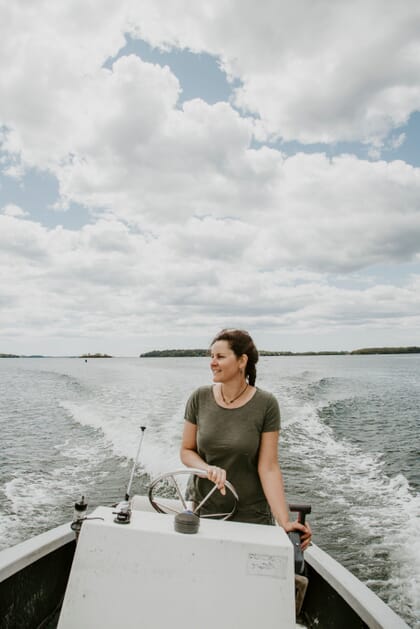 What do you enjoy most about oyster farming?
I most love getting to be on the water as much as I do. I also love that I've managed to find maritime employment that allows me to work completely on my own terms, to call all my own shots. This independence creates so much room for creativity for me within all aspects of running the business, which I really thrive on.
What are some of its challenges?
I'm lucky to be living and farming in a part of the world with an exceptionally clean and healthy marine environment. Weather has presented challenges for me in the past – my site is fairly exposed, I keep most of my gear floating on the surface, and occasionally strong winds have caused me some trouble. Those experiences were valuable learning opportunities, however, and I'm grateful that they happened early on in my career when I was working at a much smaller scale. I've been able to adapt my gear since so that it isn't subject to the extreme wear and tangles that I was dealing with during those early storms. I know there will be more extreme weather in my future, but I feel more prepared for it now. The other challenge for me is winter – keeping boats functioning well and working around the more extreme winter weather and temperatures definitely keeps me on my toes.
What is the key to attracting consumers?
Over the past three years, I've focused much of my time and energy on cultivating a robust retail side to my business and have had great success selling my oysters at local farmer's markets. I'm not sure if there is any one key to attracting consumers, but for me, I think it's been a twofold scenario of having really great art and design applied to everything associated with my business – website, merchandise, packaging and signage at markets – and also being very intentional about sharing as much of my personal story and day-to-day life as possible, on social platforms and in person. I really love what I do, and I think my enthusiasm for oysters translates pretty well through my social media marketing. Instagram, in particular, has been an incredibly powerful means of reaching consumers, and I really go out of my way to take and post the most beautiful as well as the most genuine snapshots of my work and product. I'm also a big believer in the power of the personal touch. I spend a lot of time making even the most mundane of materials, such as the mesh bags I sell my oysters in, into something a little more special with the added touch of an oyster shell attached to the drawstring. A lot of work goes into making my product stand out from others and I think the many word-of-mouth customers who regularly come my way speaks to the value of those personal touches.
What makes your oysters unique?
My farm is situated in a special location within Casco Bay, and I (while definitely biased) think that this provides my oysters with something a little extra special that makes them stand out from others that are farmed in the area. I picked a spot that's right at the mouth of the tidal Harraseeket River, which is largely made up of salt marsh estuary habitat. Because of my proximity to the river's mouth, and the big tidal exchanges in this part of North America, my farm is right in the middle of a nutrient superhighway between the estuary and the larger bay. Positively tons of food run in from the sea and out from the river, through my farm all day every day. This mixing of environments also seems to lend a best-of-all-worlds sort of flavour profile – not too much of any one flavour. My oysters have a nice amount of clean ocean brininess, balanced with really prominent sweetness and other interesting and subtle notes of minerality, grassiness, floral accents or bright lemony flavour that seem to change throughout the year. They're mostly grown on the surface, but my site is very shallow at low tide, and I also sink the majority of my crop to the bottom for the winter months. I think these daily and seasonal transitions also enhance their unique appearance and taste.
What impact has Covid-19 had on your work and how are you addressing this?
Because I operate a largely retail business dealing with local customers, I've seen a Covid-related boom in my business. And, because I still work largely by myself, I haven't had to make many changes in operations to protect employees, for example. Aquaculturists are considered essential food producers here in Maine, and the farmer's markets I sell at weekly are essential food services, so I've been able to operate more or less as I normally would. We've seen a real boost in interest in supporting local food systems and farms as a result of Covid-19 in Maine, which has been wonderful to be a part of. Concerns about food shortages have driven more customers to farmers markets than ever before, and I've also found many customers coming my way simply because they want to learn how to shuck oysters for themselves. I think lots of folks are really missing eating out at their local restaurants and raw bars with the frequency that they used to, and it's been fun to expand how people think about when and where they can eat oysters.
How do you address sustainability concerns?
My operation is inherently sustainable. I don't use any fuel-burning equipment besides my boat and truck, and both are merely just a means of transportation. No feed, fertiliser or antibiotics are required to grow oysters here, nor is freshwater, and the oysters that I introduce to the farm every year as seed are a native species, bred in a local hatchery and tested by the state to ensure that they're disease-free. I try to generate as little plastic waste as possible, for example by asking customers to return the mesh bags that I use to deliver their oysters so I can clean and reuse them. When affordable, viable electric options for boat and truck become a reality, I'll be the first in line to eliminate fuel from my life entirely.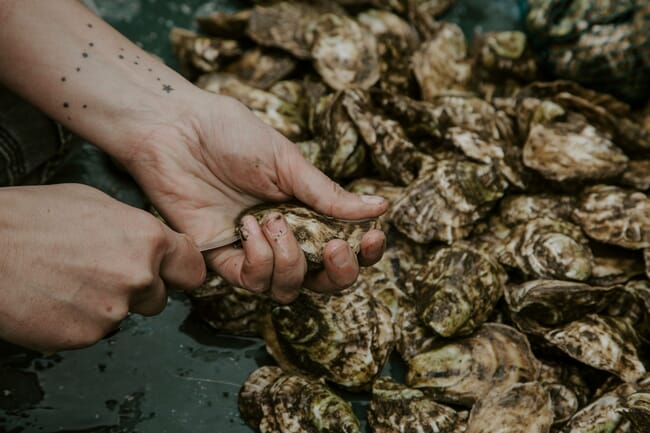 Is there an organisation or individual in aquaculture that you've found particularly inspirational?
I'm most inspired by some of the trailblazing women who have helped start and grow the Maine oyster industry. There are a couple who have really paved the way and continue to lead well respected, successful businesses in both the hatchery and the farming worlds. I'm also greatly inspired by my friend Amanda, who I mentioned earlier, as being my segue into aquaculture. She is steadfast support for me and I love having her nearby to collaborate with and share knowledge.
Have you faced any particular challenges as a woman in aquaculture?
I've certainly faced challenges as a woman in this field, just as I have in all my other work on boats and at sea. I learned a lot in my early seafaring experiences, however, mostly about what I didn't want to have to deal with in my work life anymore, and I think those years provided strong guidance in how I went about structuring and building Emily's Oysters. Partly by design, but also because of my wealth of knowledge in working on the water, I've built this business such that I don't need to rely on anyone for anything – help, money, or means of selling oysters. Which, after years of being underpaid, of being hired for my knowledge but still having to fight to be heard, and of just plain being held back, feels amazing.
By getting licensed to do my own wholesaling and by retailing much of my product myself, I've successfully cut out any need to rely on a separate seafood dealer or wholesaler to get my oysters out into the world. This means that I'm garnering a much better price for myself, keeping full control over where my product goes, and truly calling all the shots. It took significantly more work and start-up costs to get my business off on this track, but it has been well worth it – both financially and personally.
What advice would you give to women looking to start a career in aquaculture?
Just start! In many places, it's pretty easy to get a small experimental plot to try growing seafood, and I wholeheartedly believe this is the best way to learn. In Maine we have lots of awesome, free resources out there for learning, which are also great to take advantage of – but there are many, many ways to grow an oyster (or any other species you might be interested in), and many models and resources you might come across on farm tours or in classrooms can be intimidating in their scale and in the audience that they're often geared towards – this is still a male-dominated industry and, as a result, much of the education is done by men, with men in mind.
Women are historically widely underrepresented and go largely unnoticed in pretty much all maritime trades, so you don't see examples of how they've adapted common farming practices and equipment to meet their particular needs. But we are out here, some of us have the space and capacity to take on volunteers or share knowledge, and if we've figured out how to build gear and farms that we can manage on our own, so can you.