Can you briefly describe your aquaculture career?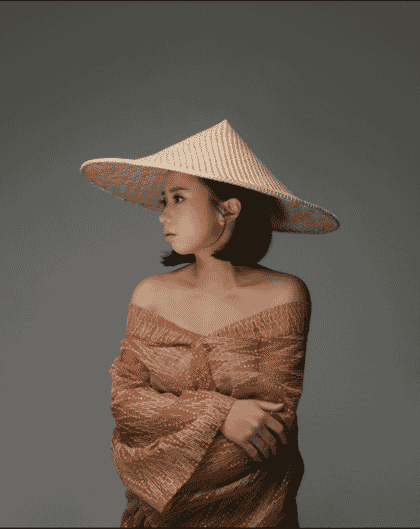 I joined the company my family started – Delta Marine – in 2016. My family are shrimp traders in Indonesia and we also own farms. I shadowed my parents and began to understand our operations as a whole. As I took a key role in purchasing and began to understand the operation, I started to modernise the whole company, beginning with the back-office administration and then using computers and modern data collection methods. I wanted to see if I could make the business as efficient as possible when it came to communication. We have to act as the intermediary between farmers, our harvest team and our purchasers, so harmonising all of those activities was crucial.
I slowly took the role to manage the whole operation of Delta Marine Group and expand the company little by little. I want to identify new opportunities and expand the capacity of the business – I'm on my way to doing just that.
What drew you to the aquaculture sector?
My family has been in the industry for about 40 years, mainly focused on shrimp trading. Over the years, they've expanded into logistics and processing. I never really had much interest in aquaculture when I was younger – my passion is in design and architecture. However, after I graduated college, I realised that I owed it to the people my parents employ, who have been loyal and tirelessly working on the field every day, to pitch in. It's not sophisticated work – it's hard work that they're doing. So, when my parents told me that they need help, I decided to give it a shot. Over time, I started to think about my ultimate life goals and I realised that It could be done and with bigger impact in aquaculture.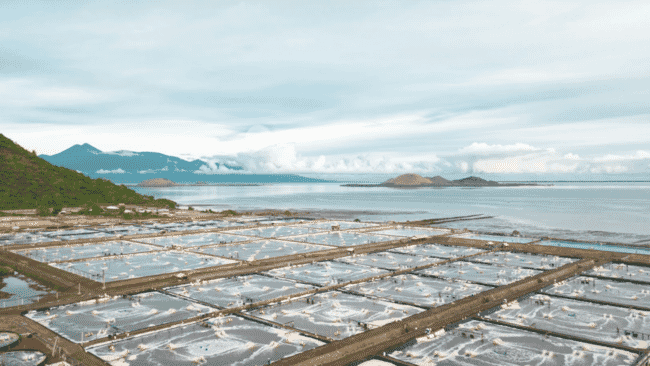 I'm also happy to say that I can apply my design knowledge in aquaculture. My main focus was on architectural design and restoration – so I've been able to handle Delta Marine's internal design, planning and construction projects such as offices, warehouses, factories and farms. When designing something for farm sites, I'm able to liaise with contractors and see how we can improve the design to meet our productivity and efficiency benchmarks. A lot of new farmers think they can just dig a pond and then add water and stock it with shrimp, but it's a lot more complicated! We've made our new builds as efficient as possible and now we can harvest during high tide, or catch the shrimp directly at the harvest house instead of having to move our stock with cars.
What species of shrimp have you been working with?
We used to do many kinds of shrimp for trading (blue shrimp, river shrimp, black tiger prawns, etc). But we have been focusing on Litopenaeus vannamei – whiteleg shrimp – since 1999.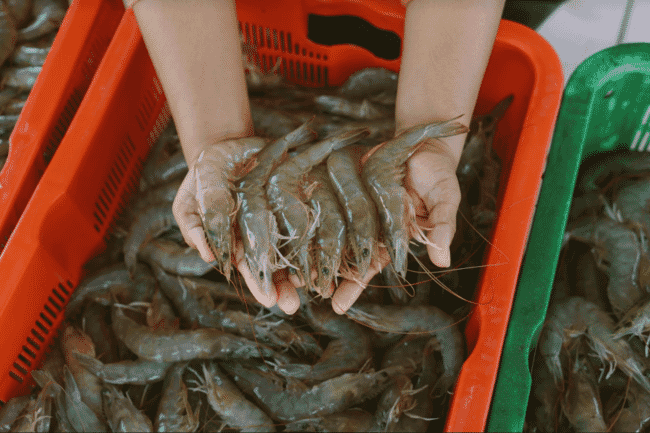 What does a typical day in your current role look like?
With shrimp trading, my typical day consists of a lot of travel and phone calls. Indonesia's shrimp sector is unique, a lot of the farms are privately owned by companies instead of having the government subsidise them. The farmers decide when to harvest and at what size. There's a lot of disconnect between the farmers and processors – that's where we come in.
When I'm trading, I bid with farms for their stock. That means a lot of back-and-forth communication with farmers, our team and processing plants. Usually, a farm would contact us and inform us that they have a certain amount of shrimp at a specific size, and that they're planning to harvest on a particular date. We bid on the crop, and if we win it, the team goes out and helps with the harvest and quality control of the raw material and transporting it to a processing plant.

When you work as a trader, you have to work with hundreds of farmers and you need to know all of their business approaches. There are days that are busier than others. Some farmers call me the way they'd call an ambulance – like I need to get to them with a bid and the team immediately, or Delta Marine will lose out.
When I'm working at our farms, it almost feels like my downtime – a way to enjoy a simple routine. I feel like I can catch my breath when I'm working there.
What's your favourite part of working in aquaculture?
I love that there is always something new to learn. It can be about people, science, farming, nature, the market, construction – there's something for everybody.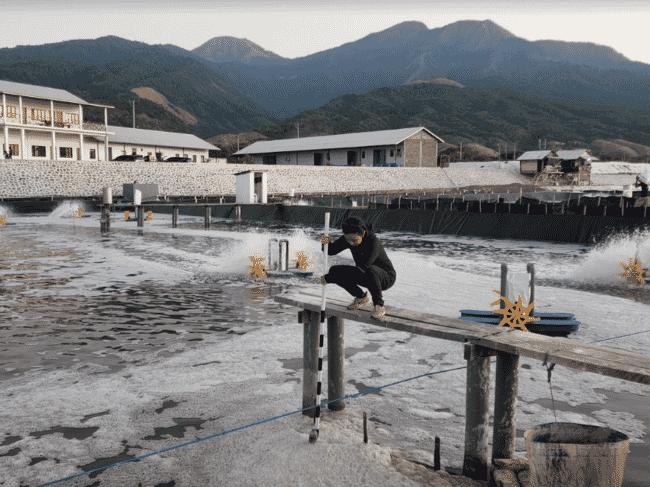 I'm the second generation in the family business and it can be a burden at times. However, aquaculture has been booming in Indonesia for the last few years. A lot of that has to do with news articles and social media. Even though the information online can be misleading and say that you're guaranteed to make money, it's good to see the sector welcome new talent, generate opportunities and grow. There are a lot of young farmers coming into the shrimp industry, and many of them feel comfortable speaking to me. I like that I'm accessible to them and that I can work with them.
On the farming side, since the nature of the business doesn't urge competition, we can openly exchange information and visit our partners and learn about their approach. We can see different construction and husbandry practices, and learn how these techniques are evolving.
What work-related achievement are you most proud of?
Most of my achievements are internal – I don't really like putting numbers on it. I'm really proud that I helped the company become one of the biggest shrimp traders in Indonesia. A few years ago, we would oversee about 500 tonnes of shrimp per month – but now we have the capacity to oversee more than 1,500 tonnes a month if things are busy.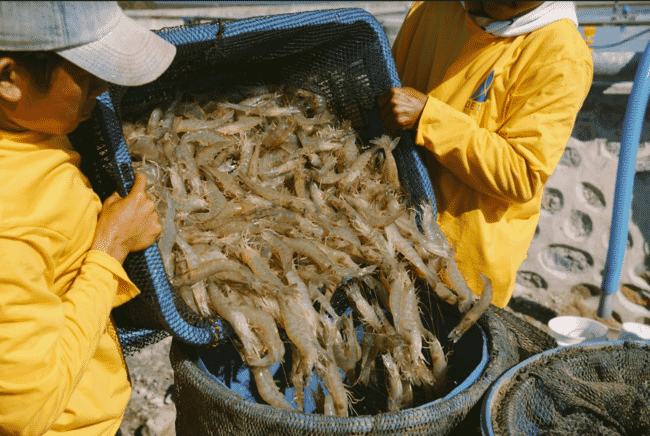 One other key achievement involves PMI (Petambak Muda Indonesia), the young shrimp farmers' association in Indonesia. During an APA (Asia-Pacific Aquaculture) event in 2015, my brother founded it and I helped build it. It is a family affair after all! The association started as a group chat between a group of young shrimp producers and now PMI hosts seminars and arranges training for hundreds of farmers. Many of the original PMI members were second-generation like my brother and I. It was great to connect with people who had similar experiences and interests to mine. Now, PMI is a 200-strong and includes farmers from all over Indonesia.
What challenges have you encountered working in the sector?
One of my biggest challenges is time management. The constant phone calls can get crazy – you never know when it's going to be a busy day or when it will be quiet. You always have to be alert and it can be hard to separate your work-life balance.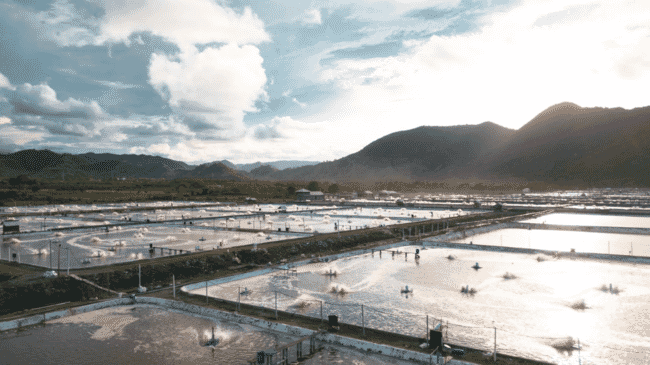 Working in a family business can be difficult as well – even though it's very rewarding. Working with family isn't the easiest thing to do. You know how to push one another, but when it gets chaotic, that can quickly turn into pushing each other's buttons.

Have you encountered (or hear of) any gender-related challenges in the sector?
Of course. In the industry is male-dominated and I often find myself to be the only woman in the room. They'll sometimes exclude you because they prefer to be dealing with men when it comes to business decisions. You will often become an outsider because they won't speak as freely with you.
But, I came from an architecture background – it's already a male-dominated field. Since I was exposed to that mentality, it wasn't a huge shock. In both areas, I had to learn how to gain people's trust and show that I was willing to do the work. Some people thought it was strange that I'd want to go to the farm and do field work – they'd make comments to my parents. But I earned their respect that way. Over time, it gets easier for them to speak to me. I sort of cross a threshold and become "one of the guys." They realise that I know what I'm talking about.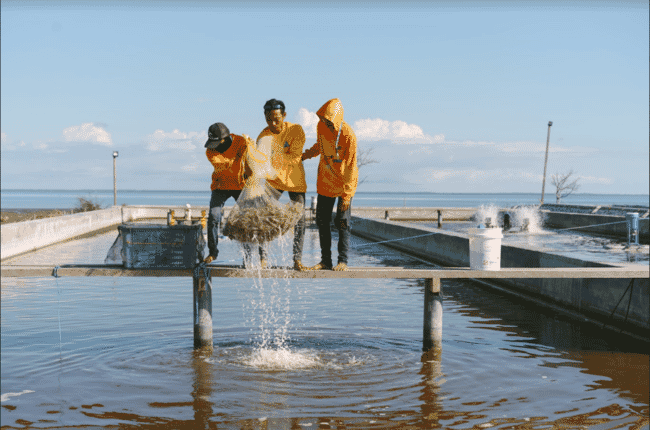 Are there any individuals or organisations in aquaculture that you've found particularly inspirational?
Zuridah Merican or Dr Z as we like to call her – she's the editor of Aqua Culture Asia Pacific. She organises The Aquaculture Roundtable Series (TARS) and has over 40 years of experience in the industry. She's very petite and doesn't seem intimidating, but she's a force! Everyone falls into line when they deal with her!
What advice would you give to women who are considering joining the aquaculture sector?
You'll always be able to do it your own way. There is no need to feel discouraged by your disadvantages – they'll make you more creative on your approach. There will definitely be moments where you feel like an outsider and maybe won't be included in certain things, but you'll slowly find your way. You'll figure out how to relate to the people you work with and connect with them. The key is to never back down.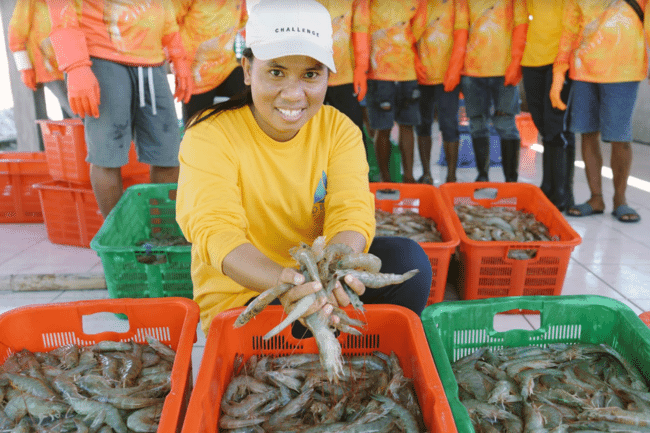 What's the most surprising experience you've had in aquaculture?
How big, varied and diverse the community is. When I first joined the field, I felt like I was going backwards and would be "stuck" in my hometown, but that hasn't been the case at all! When I was working, I started meeting so many new people with unexpected experiences and backgrounds. Between the farmers, scientists, businessmen, government officials, international traders and companies from different parts of the world – I saw how big the aquaculture community is and how much I can learn from it.

As Delta Marine is growing, I have so many opportunities to evolve at the international level. I recently got to tour to an indoor shrimp farm in Germany. The job has given me the opportunity to travel and learn from other countries' aquaculture sectors.
If you could solve one issue in aquaculture, what would it be?
I would want to establish full traceability from farm to customer. I think that the biggest hurdle to achieving that is at the farm-level and the government-level. It's hard to get a good picture of what's happening on the ground, so it's hard to make it happen.

The farmers, traders and processors aren't connected to each other unless they're vertically integrated. That's a big roadblock for full traceability, and sometimes, it feels like integration is the way to solve it. From my perspective as a trader, I want all of these components in the value chain connected. I have the links and I'd like to use them!
Which species that you've worked with do you think is the most promising for aquaculture?
I've only worked with one species, Litopenaeus vannamei – whiteleg shrimp, which I believe has a promising future. However, I think that algae are very versatile and have so much potential. We're thinking of integrating algae production with our farms as a waste management solution. We're looking to close the loop on production, and maybe explore algae as a feed ingredient. Delta Marine is starting its own research and development on it to see what the business opportunities are. We're also looking into downstream uses for chitosan.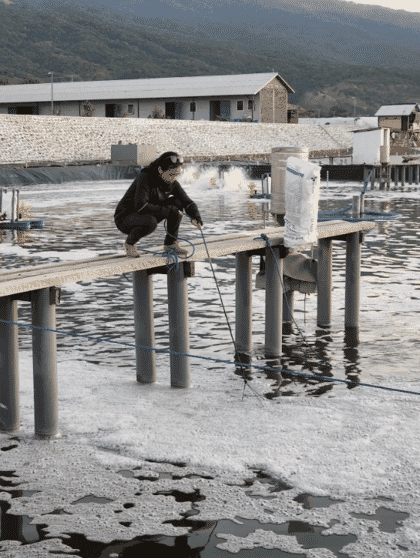 What would you like to be doing in 10 years' time?
I want to be in a position where I can oversee a sustainable company and manage an international brand for Indonesia's aquaculture sector. We have a vision and I hope to reach it within 10 years' time.
As for the progress, I'm working on projects to vertically integrate Delta Marine. We recently did a Joint Venture with Mitrabara Adiperdana Tbk – a coal mining company that is looking to diversify and pivot towards eco-friendly businesses – to work towards creating a fully integrated aquaculture business. My brother and I are also working on a project called NUSEA for an ever-evolving sustainable aquaculture farm and VISEA for traceability tech with an aim to steadily building a path towards our goals.