Wetlands prove their worth for extensive carp farming operations
Farming a variety of Indian major carp species in the wetlands of Bihar State is proving to be a profitable alternative to agriculture for many former terrestrial farmers.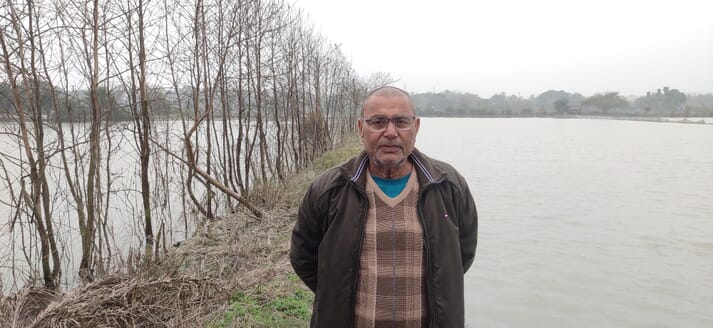 Kaushal Kishore Thakur comes from a long line of farmers but found the income was barely enough to feed his family.
The 65-year-old, who resides in remote Shahjadapur village, concedes that taking up fish farming in 2009 brought a drastic change in his life and has made him financially stable.
"We have been traditional farmers for the past several generations, farming over 10 acres of land. But the high production cost, coupled with climate change, caused severe losses. We were left with hardly enough income to live on," he says.
"I now do fish farming on around 6 acres of wetland and am able to produce around of 5 to 6 tonnes of fish, which generates an annual revenue of 120,000 rupees (US $16,066)."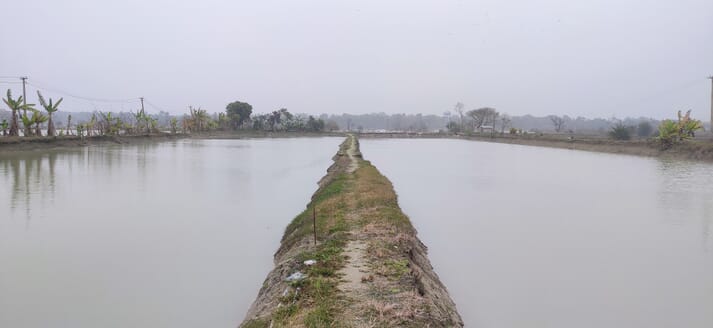 The farmers provide commercial feed to the fish twice a day, in the morning and evening. They also add fertilisers in the form of cow dung, jaggery (a type of palm sugar), rice bran, minerals and salt to the water every fortnight. They also spray a mixture of lime powder and water once in a month to prevent the water from becoming too acidic and to help maintain suitable oxygen levels.
During the hottest days in summer, they aerate the ponds by rowing across them a day to maintain oxygen levels.
Wetlands prove profitable
Thakur is not alone, but belongs to a group of 40 farmers involved in community fish farming in around 100 acres of wetlands (locally called chaurs) near the village, which is around 100 kilometres northeast of Patna, the state capital of Bihar.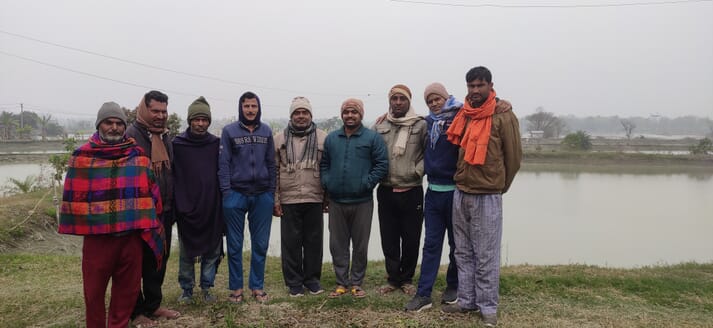 Villagers say that the area has around 120 acres of land that remained waterlogged throughout the year, but they never realised its potential to convert it into fish farming until the government officials intervened in 2010.
"Several acres of our land remain waterlogged for several months across the year. The crops get destroyed due to floods that affected our livelihood. But fish farming in the stagnant water has been proving to be a profitable affair for us," said Sunil Kumar, 53, who farms around 1.5 acres of wetland and earns around 250,000 rupees ($3,347) annually from it.
"The officials of the fisheries department toured the village and began to guide us in farming the waterlogged area. We slowly started converting the wetland into productive use and began fish farming in 2010. The government also gave us training and we started with 60 acres which have now been expanded to 100 acres and 70 ponds. We have a hatchery here and mostly produce Rohu (Labeo rohita), catla (Labeo catla) and mrigal carp (Cirrhinus cirrhosus)."
The utilisation of wetlands for fish farming has also been attracting young farmers who were searching for fresh livelihood venues due to dwindling farm income.
"We were planning to migrate, as farm income has been declining due to rising cost of seeds and fertilisers," says Sonu Kumar, 30, another fish farmer in the village.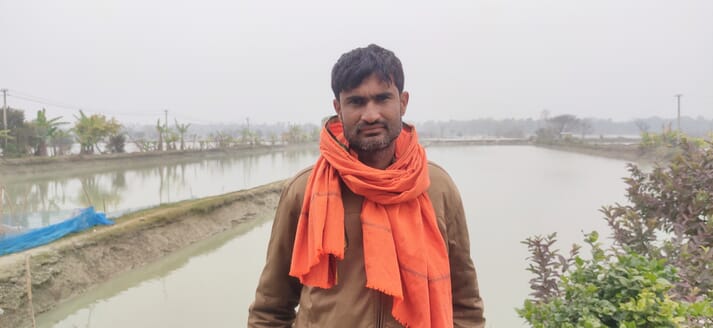 "But then I started fish farming on over 2 acres of land last year and have earned around 300,000 rupees ($4,015) from it. It is a sustainable business and the buyers pick up the produce from the field and supply it directly to markets. We also sell directly to consumers. We start farming from March and end in November."
The government is also promoting integrated farming in which farmers are encouraged to keep four cows, 300 ducks and 500 chickens in order to generate organic manure to fertilise the ponds and increase their productivity.
"The poultry not only provides nutritious food for the fish but can also be sold. But we have to be careful as poultry can be attacked by dogs, so we need to use double-layered nets for their protection," points out Laddu lal Singh, 52, a fish farmer in Surmarmeyari, 1 km from Shahjadapur
Senior government officials believe that fish farming in wetlands will play a major role in making the state self-reliant in fish production.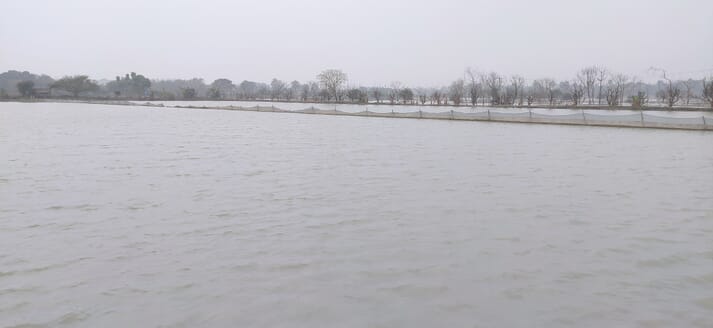 Availability of ample natural resources
Bihar has around 940,000 hectares of wetland area spread across 38 of its districts and over 100,000 farmers involved in fish farming in the state.
"The government has had been keenly watching the efforts of the farmers in utilising the wetlands for fish farming. It started the direct intervention in the financial year of 2020 when six districts across the state were chosen for the pilot project. The aim was also to create additional employment and replenish the ground water supplies through an eco-friendly approach," said Tuntun Singh, a lecturer at Bihar's fisheries training and extension centre.

"The farmers are offered a cash incentive of 700,000 rupees ($9,368) per hectare to develop fish farms in the wetlands. The government is also keen on protecting the environment – only wetlands of less than 5 acres which are silted and do not have any river connection are chosen for farming. We do not allow fish farming in places like Kanwar Lake which is a Ramsar Site and other large wetlands," he adds.
The government has also earmarked 15 districts for fish farming in wetlands for the financial year 2022 to 2023, according to Singh.
Bihar far from becoming self-reliant
Despite the efforts by the state government, Bihar has a huge deficit in production and consumption of fish.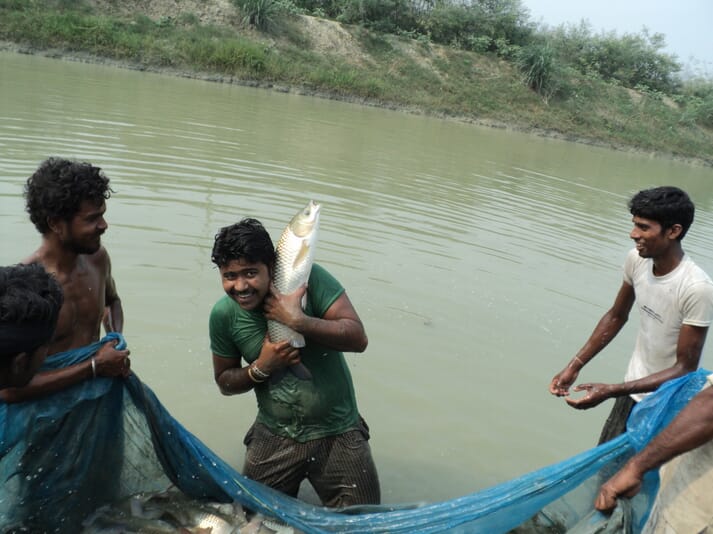 According to senior fisheries department officials, fish production in the state stood at around 653,000 tonnes in 2020-21 – up from 344,000 tonnes in 2011-12. The fish seed production that stood at 342,400,000 tonnes in 2011-12 has risen to 1,706,900,000 tonnes in 2020-21.
"The per capita human consumption of fish is 9.60 kg annually against the demand of around 11 kg. We manage the deficit by importing fish from the southern states, mostly Andhra Pradesh. We have around 195 hatcheries which produce around 1.7 billion juveniles every year," points out Rashid Farooqui, Bihar's deputy director of fisheries statistics and marketing.
A section of farmers, however, advocate for greater support from the government in order to scale up their production.

"We are getting subsidies from the government but we need more support to produce more fingerlings and enhance production. A lack of adequate financial resources is proving to be a major hurdle to increase our revenue and also hampering the efforts to make the state self-reliant in fish production," stressed Anil Kumar Singh, 45, a farmer in Siwan district of Bihar.
Tuntun Singh conceded that the fish farmers are facing a host of problems.
"The mortality rate is around 15-20 percent. Besides, farmers also face the problem of floods that lead to loss of catch, fish diseases, manpower shortages and climate change, especially in the winter. The state government is trying to offer better support to the farmers," he says.