From January to August, Vietnamese companies upped pangasius exports to this market. As a result, since May, export value continuously reported significant growth at 16-49% year on year, reports VASEP.
Latest data from the International trade Centre (ITC), in 2014, Vietnam was the only pangasius source to Saudi Arabia.
In the first 9 months of 2014, whole fresh, frozen fish (coded HS 0302) made up the largest share in imports of Saudi Arabia. Tilapia was the species most consumed.
On average, each month, this country imported 639-840 MT whole, chilled tilapia and 450-854 MT of frozen tilapia (HS 030323). In addition to tilapia, the Islamic consume much shrimp, sardine and some other sea fish.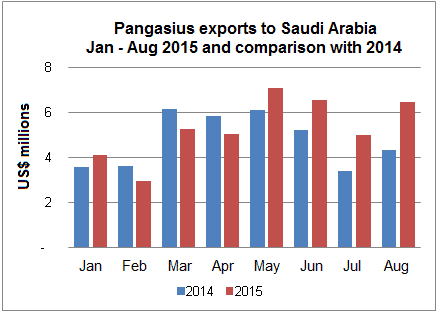 This country imported 800-1,725 MT of pangasius from Vietnam each month. Major products were frozen fillet (HS 030462). In addition, Saudi Arabia also imported chilled pangasius (HS 030432) with average volume of 50 - 200 MT/ month.