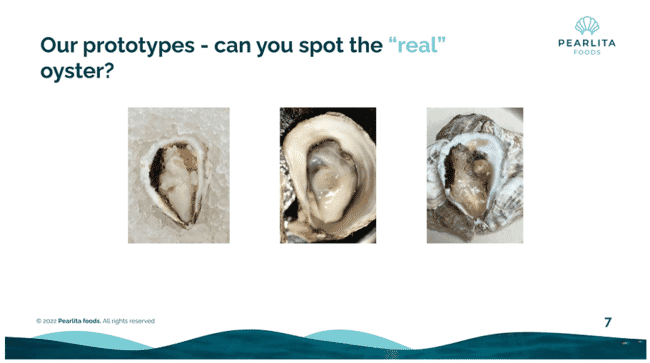 According to a news release on Pearlita's website, the plant-based oyster prototype was made with a formulated blend of mushroom and seaweed, as well as the startup's novel flavour mixture – giving the plant-based mollusc a "pure, delicate and authentic ocean flavour." The company is also developing biodegradable oyster shells to make the dining experience more authentic.
Pearlita, which also specialises in cell-culture technology, is currently working to scale up production and bring its alternative oysters to tastings. The company is taking a hybrid approach to developing alternative seafood products, where cell-cultivated ingredients are mixed with plant-based ones to create seafood substitutes. The company is also refining its oyster cell lines and hopes to launch cell-cultured oysters and scallops at a later date.
Like other startups in the cell-cultured space, Pearlita says that growing seafood from harmless tissue biopsies can eliminate our reliance on wild fish and shellfish populations. Using cell-culture will also remove the threat of bacterial contamination, as the oysters will be produced in sterile bioreactors.

Pearlita recently secured investment from investment firm CULT Food Science to help scale its oyster prototype. "We are impressed by and proud of Pearlita's successful production of its first cultivated oyster prototype. Pearlita's commitment to making the world a better place and doing its part to increasing the world's food security is encouraging as we possess the same goals," Lejjy Gafour, Chief Executive Officer of CULT, said in a statement.
"Pearlita is taking great steps to advance the production of cultured seafood on a mass scale. We are energised by the positive contributions that their team is making to the cellular agriculture industry."