While there is not much movement, in terms of rankings, sixty per cent of the species saw an increase in consumption.
"The US is a huge market for seafood, but per capita consumption is much lower here than in other developed countries," said NFI President John Connelly.
"This report is a good reminder that public health professionals and the government must seize momentum and re-energize efforts to promote important nutritional benefits associated with seafood."
The latest Dietary Guidelines for Americans list seafood as a food to encourage, specifically suggesting consumers swap out higher fat proteins for fish.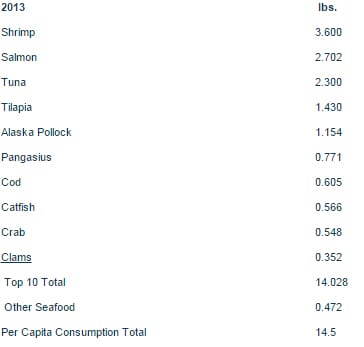 The Top 10 make up almost 97 per cent of all the seafood Americans eat. Experts say the bump in salmon may be a reflection of record runs of Alaska salmon in 2013 that contributed to canned and frozen supplies.
For more than 60 years, the National Fisheries Institute (NFI) and its members have provided American families with the variety of sustainable seafood essential to a healthy diet.