A statement released by IFA details how the organisation's personnel have been "shocked and deeply saddened to learn of the sudden passing of our friend and colleague".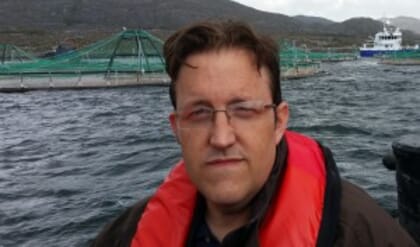 Richie worked in IFA for 27 years, joining the IFA press office in 1991, before moving to the organisation's aquaculture section, where he represented fish and shellfish farmers around the coast for the last 22 years as aquaculture executive.
He also served as the first President of the EU Aquaculture Advisory Council, which was established in 2016; a board member of the Marine Institute; chair of the EU advisory committee on aquaculture (2001-2011); and President of the European Shellfish Federation (2012-2016).
Marine Harvest's Jan Feenstra, who worked closely with Richie as Chairman of the Irish Salmon Growers' Association, said he would "always remember Richie for his loyalty and his fearless work in promoting fish farming."
IFA President Joe Healy said: "Richie was a well-respected colleague and somebody who was utterly dedicated to his work in IFA. His commitment to farmers for his entire working life was steadfast. On behalf of everybody in IFA, I want to offer our condolences to his family, in particular his wife Trish & their two children Liam and Róisín, his mother Helen and his sister Sinéad."
As a mark of respect, IFA's National Office in the Irish Farm Centre and the Roscommon regional office that services Leitrim, Sligo, Roscommon & Longford was closed on Wednesday.