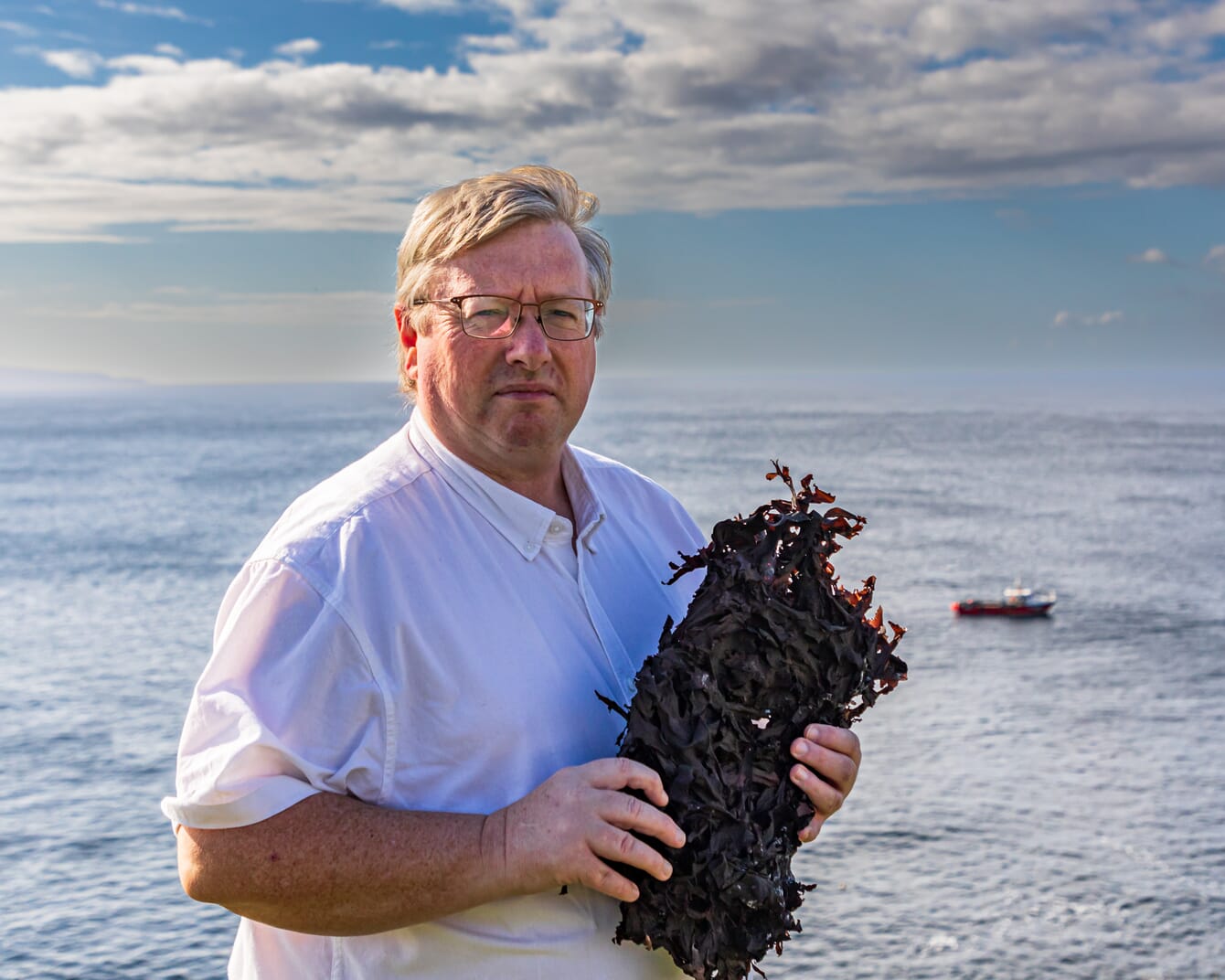 "This is where the airplane goes – and there's another one right next to it," Pure Ocean Algae's Michael O'Neill joked during The Fish Site's recent visit to the facility. According to O'Neill, the 600 m² building is – to his knowledge – the biggest seaweed production facility in Europe.
It is a scaled-up version of his tank-based dulse hatchery and – once fully-fitted – could potentially produce one million metres of seed material every year. Though Pure Ocean Algae started farming dulse in 2019, O'Neill has plans to branch out into different varieties of red and brown seaweeds – including saccharina, alaria and digitata.

Breaking through the seaweed supply bottleneck
The push to scale up his seaweed hatchery came after he identified a key bottleneck in the European seaweed industry: biomass. Though firms have identified a myriad of uses for farmed seaweed, there is a perennial struggle to source enough material for processing. This shortage begins early in the farm cycle as well, with farmers struggling to source quality seed material for grow-out. O'Neill explained that the lack of biomass is preventing the industry from meeting its sustainability potential. Seaweed-based products – from food and feed ingredients, nutraceuticals and bioplastics – are struggling to come online, as they can only be produced in low volumes. This shortage makes it more difficult for seaweed-based products to supplant readily available hydrocarbon-based materials, or other ingredients.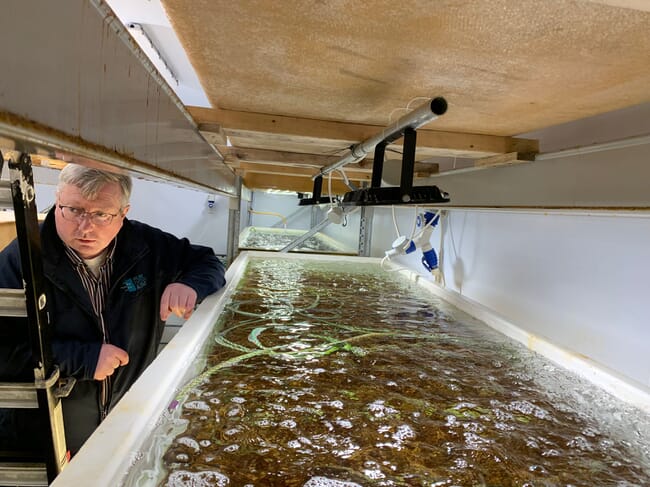 "For a seaweed business, you have to have biomass. If you don't bring that biomass capability, you'll have an expensive commodity, but you won't have any scale in the overall industry. That limits the amount of production. The industry needs to produce high levels of high-quality and low-cost cultivation and seed material," O'Neill explained.

"The hatchery isn't the most economically valuable part of the value chain – but it's utterly necessary. That's the thing, you have to have it. So it you have to have it, might as well make it fit for purpose," he added.
Design considerations and seaweed husbandry
When designing the new hatchery, O'Neill wanted to take the best elements of his modular, tank-based pilot facility and use them at a larger scale.
"We had a seeding area and we focused on the seaweed's absorption and nutrient levels. It was about creating a fantastic growing environment for the dulse," he said.
Water quality was the key consideration at that stage, but he quickly learned that the ideal growing environment for seaweed encouraged other organisms to grow as well. That meant investing in commercial grade biofilters for the water, as he upgraded the hatchery infrastructure. O'Neill also invested in UV lights that disinfected the water and encouraged photosynthesis. The hatchery now boasts three different light regimes that are optimised for the seaweeds' different development stages. The facility is also temperature controlled – allowing different macroalgae to grow in ideal conditions before being deployed at sea.
O'Neill explained that he now has 750 metres of upgraded growing space and new storage and nursery capacity. He plans to use the mezzanine level for additional kelp growth trials and storing raw seed material. He plans to embark on a "crop science" approach and selectively breed different dulse samples.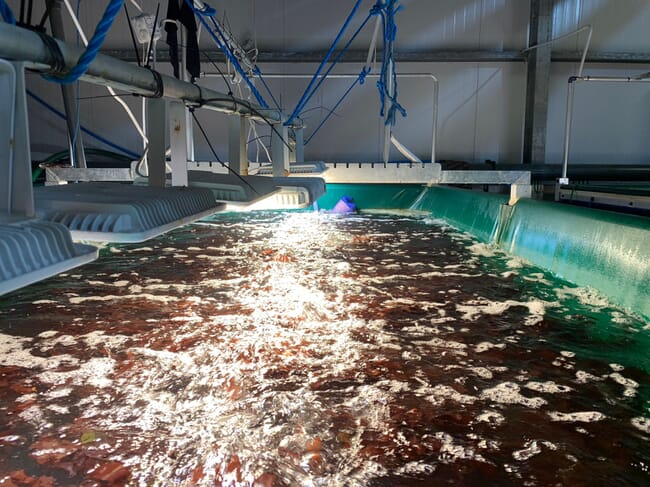 O'Neill said the company learned how to adapt different reproductive elements of the dulse life cycle for early growth and conditioning in tanks. This allowed his team to domesticate dulse and reduce their reliance on wild seed materials. The land-based hatchery also lets the seaweed condition for a longer period – growing through its juvenile stage in a controlled environment. This meant that the plants tended to be more robust when they were eventually deployed at sea. O'Neill found that using tanks at the start of the life cycle led to denser growth and improved yields. It also let him extend dulse's natural growth window.
He explained that relying on wild seeds wouldn't yield the same results. "Wild sources for seed only start to become productive in the wild during the last week of November. Using wild seeds gives growers a very limited window – usually until the end of January – to ensure that everything is seeded well enough to last in the water. That limits your capacity in a big way. I mean, you can do it, but you can't produce enough material to make it viable," he observed.

The hatchery system means that they can produce seeded nets throughout the year and put them at sea in October when growth conditions are ideal. This reduces biofouling and makes them less susceptible to environmental shocks.
"At the moment, we have the capacity to deploy between 100 and 120 100m² nets this year, and we're targeting annual production of 600 nets in the next two years," O'Neill said. "Our best yields are around 750 g per linear metre – but those are increasing fast. It'll be interesting to see what we get this year."
The increased hatchery capacity – and the potential to develop a broad macroalgae seed portfolio – means that the wider Irish seaweed industry could gain access to more – and better quality – seaweed material. In O'Neill's view, that could help get the other elements of the value chain from a simmer to a rolling boil. "This is the first step in the value chain," he explains.
An inside view of the industry
O'Neill explains that, because the European seaweed sector can't produce biomass at the same scale as its Asian counterparts – and because the prices of raw materials and labour are high in the West – players in the EU industry will likely concentrate on food ingredients, biotech and nutraceutical applications.
"China's industry doesn't face the same pressure when it comes to raw inputs. They can target high volumes and have a large labour pool. Their approach is more appropriate for their geography. Europe is going to be different," he said.
But the biomass bottleneck needs to be addressed. O'Neill hopes that Europe's seaweed producers will be able to embrace commodity strategies to increase volumes and lower prices. In his view, the price of cultivated kelp needs to fall to €500 a tonne (current levels for good quality farmed kelp can be as high as €1,300 a tonne) to meet demand from downstream industries. Reaching this price point also means that it will be more feasible for companies to include seaweed-derived products in their portfolios.
"I like seeing companies develop all of these uses for seaweed… But if you don't have the seaweed to give them, you're stalled at the gate," he said.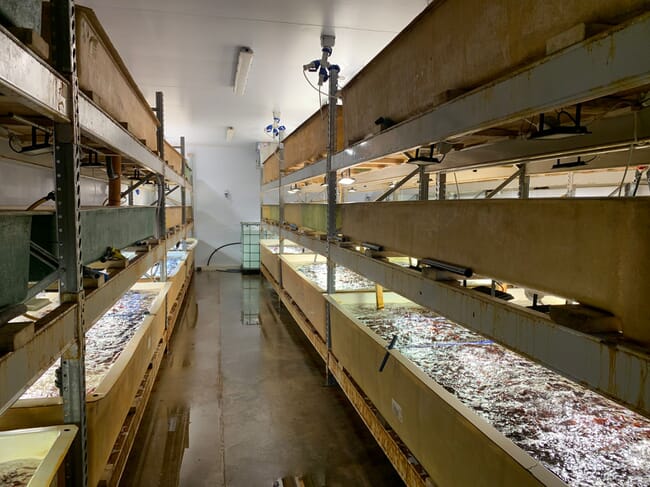 Addressing this is a key component of Pure Ocean Algae's business strategy. O'Neill plans to provide seed material to macroalgae sites around Ireland and then buy back the biomass they produce. It's a model that's similar to the country's dairy co-operative model. In his view, this both helps address the biomass issue and removes the market challenge when farmers look to sell their stocks.
"We don't want to become a bank – but giving people cultivation material and equipment that's risked in our favour and promising them a market is what we're thinking," he said.
As well as his hatchery, O'Neill currently on-grows dulse, alaria and saccharina over 45 hectares of marine concessions and he hopes these sites will reach capacity this summer. These will be followed up by a further 50 hectares, which will be ready for 2024.

"We're only touching on the technology in seaweed – there's so much room to expand production. There are so many 'eureka' moments in our industry that have yet to happen," he says. "We need to get our yields up; we need to get material in the water. There's so much R&D to be done and I want to get started."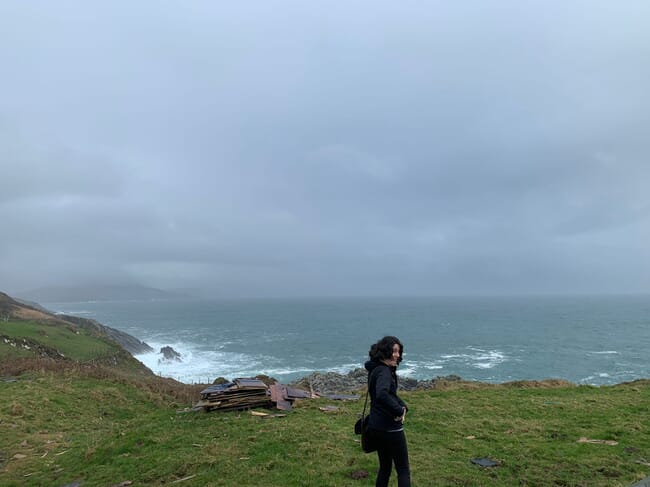 Next steps
The company is in the beginning stages of its next funding round.
"We are looking to implement a capital investment plan, in-excess of €30 million, over the next five-year period. Our next raise will support this plan and allow us to expand all aspects of the business. We would intend to have this round of funding completed by the end 2023," he explained.

In terms of products, he plans to bring a dulse supplement to market in the next two months.
"Dulse is brilliant from a nutritional perspective. It has a high protein level and it's packed with vitamins B12 and B6," O'Neill says. He is also continuing his work on the BioDulse Project with the University of Limerick and expects to develop additional seaweed products.

"Our latest fundraise is going to be significantly bigger than the first, and it's going to let us look at our opportunities at an industry level instead of our own industrial one," O'Neill said. "The next major investment step for the company will be in processing."
O'Neill said that the main opportunities at that end of the value chain lie in drying, fermenting and freezing different seaweed species. For dulse specifically, there's significant demand for dried and milled biomass. He's keen to continue his existing partnerships with the BioDulse Project and Carbery Group, an Irish ingredients company.
"We see ourselves ultimately as a biotechnology company. We're focused on what we do with the biomass; and want to break our dulse down into its constituent parts and utilise them. But first, we need to be able to create it. The new hatchery lets us do that," he concluded.